Craig and Marc Kielburger, founders of Free The Children and Me to We, introduce us to not-so-ordinary Canadians who are making a difference.
ChangeMaker: The Honourable Justice Murray Sinclair
The incredible work of the world's most dynamic ChangeMakers inspires us all. Yet the inspiration behind their deeds typically stems not only from a tremendous capacity for compassion, but from experiencing hardship firsthand. And that can be a dark place indeed.
The Honourable Mr. Justice Murray Sinclair has been witness to atrocities and great sadness, recognized the need for change, and stepped forward to make it happen.
Justice Sinclair was born near Selkirk, Manitoba, on what used to be St. Peter's Reserve. He was named Mizanay Gheezhik in Ojibway, which means "the one who speaks of pictures in the sky." A promising student, he was voted valedictorian for his graduating high school class, as well as athlete of the year in 1968.
After serving as Special Assistant to the Attorney General of Manitoba, Justice Sinclair attended the Universities of Winnipeg and Manitoba and, in 1979, graduated from the latter with a law degree. He embarked on a successful legal practice, specializing in civil and criminal litigation and Aboriginal law. In March of 1988 he was appointed Associate Chief Judge of the Provincial Court of Manitoba and to the Court of Queen's Bench of Manitoba in January of 2001. He became Manitoba's first Aboriginal Judge.
Later Justice Sinclair was appointed co-commissioner of Manitoba's Aboriginal Justice Inquiry. Today, as Chair of the Truth and Reconciliation Commission of Canada, he is building a lasting and meaningful legacy for every Canadian.
Justice Sinclair is a ChangeMaker.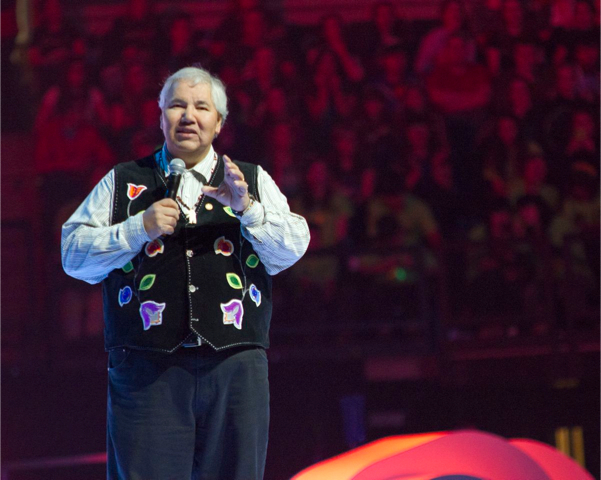 What pressing issue matters most to you?
Education. I am now heading up the Truth and Reconciliation Commission of Canada. And we're looking into the issue of Indian residential schools in this country, not from the perspective of how they educated children but how they were centres of indoctrination. And the experience of most of the children in the schools was pretty negative, not just in terms of the abuse, which many people focus on, but how these schools were trying to drive the identity out of the children and trying to force them to become like white Anglo-Saxon children.
That caused a lot of damage to their identity, caused them to lose connection to their cultures and their languages, and that continued for seven generations -- about 130 years in this country. As a result there are several communities in which they are generations of survivors and survivors of survivors -- the children and the grandchildren of survivors who have no sense of who they are or what their culture is or what their history is.
BLOG CONTINUES AFTER SLIDESHOW
What can the Commission do about this?
We need to look at education as a tool by which we can correct this, so we can repair the damage that those schools did with their policies. If we ensure that every Canadian has a proper sense of the identity that they have as Canadians, including the history of residential schools and the history of Canada's treatment of Aboriginal people and other visible minorities; that would be the right thing to do.
But, in addition to that, schools need to teach respect between cultures, between people, so that people can grow up as Canadians in this country with a full understanding of who they are. And for Aboriginal children, schools need to receive an education that is consistent with their culture, consistent with their sense of identity and with their plans and hopes for the future. If that single but very difficult change is made on a permanent basis it will go a long way to establishing respect between Aboriginal and non-Aboriginal people in this country and also respect for culture. That's our ambition. We've spoken with ministers of education across the country about the need to ensure that educational curriculums reflect the reality of Aboriginal people and also fulfill their need to be who they are.
What gives you hope?
I've been largely focused on working with residential school survivors for the past three years and so a lot of what has been going on with me personally has been a result of that experience. And I would say that the one thing that really struck me emotionally has been the understanding that there is room to talk about forgiveness and putting all this pain and misery behind and looking forward. When we see the family victim and the family offender come together at our events in an act of reconciliation and forgiveness...that's an amazing experience to observe and be a part of.
What would you instantly change about the world if you could?
If I could change the world it would be to change the way we talk to and about each other. We need more respect for each other both in terms of our own individual personalities as men and as women, and in terms of our own cultural beliefs, cultural imperatives and cultural ambitions. To find ways for those to be compatible for the future -- that would be my ambition. Because I think a lot of the dissension we see in society, a lot of the contributing factors that lead to war and international strife are based on the fact that people just don't like the way that other people live. And we need to overcome that. We need to learn to respect each other.
What is your message for young people?
One of my ambitions is to open the eyes of Canada's youth to the reality that they're living the legacy of history as well. All Canadians have been affected by the residential school question, including young Canadians today because while Aboriginal kids were being indoctrinated into believing that their cultures were inferior -- the same message was being given to the children in the public schools. Legacy is something they have inherited as well. They have been damaged as much by this history. The difference is it's given them a false sense of superiority. They need to understand that they haven't got a full picture, what the full relationship was between Aboriginal and non-Aboriginal people, and what it ought to be. So I'd like to think that young Canadians can become aware of that and can ensure that the future relationship between Aboriginal and non-Aboriginal people is corrected.
What's the greatest lesson you have learned?
My mother died when I was a baby and I was raised by my grandparents. My grandmother was a huge influence on my life. And her most important message to me was: "Do something." You have a responsibility to do something. You cannot wallow in your own weakness; you must take advantage of your opportunities and do something. And that has always been the single most important lesson that I carry with me -- I can still hear her voice today as an elderly person myself. Even today when I have those moments of weakness, when I think I'm going stop doing my work, she'll say, "No -- you have to keep doing this." It's like a calling. She gave me a calling.
This interview has been edited for publication.
Craig and Marc Kielburger are founders of international charity and educational partner, Free The Children. Its youth empowerment event, We Day, is in eight cities across Canada this year, inspiring more than 100,000 attendees. For more information, visit www.weday.com