 Craig and Marc Kielburger, founders of Free The Children and Me to We, introduce us to not-so-ordinary Canadians who are making a difference.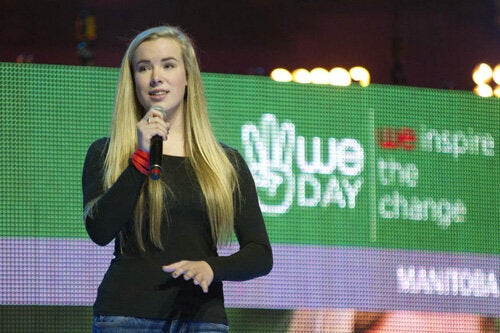 Some people avert their eyes or cross the street to avoid an encounter with a homeless person. Not Hannah Taylor. At age five, she watched a man dig through a dumpster, braced against the unforgiving chill of a Winnipeg winter in search of his dinner. He was the first homeless person she'd ever seen, and Hannah refused to do nothing about it.
In 2004, at age eight, Hannah founded The Ladybug Foundation, an advocacy organization that raises funds and awareness to help Canada's homeless. She's since spoken to thousands of people across Canada and around the world, authored a children's book and had an audience with Prime Minister Stephen Harper.
She just turned 16, which Hannah says is now old enough to "officially" volunteer (in Winnipeg, age restrictions vary depending on placements, but range from about 13 to 17). "Well, I was volunteering before now," she confesses. "I would go to a soup kitchen and sweep the floor -- and even serve -- so I think I was kind of breaking the rules." She says this mischievously, as if she'd really gotten away with something.
We met up with Hannah while we were in Winnipeg, her hometown. We talked about her first power lunches with potential corporate donors (at the age of five), the advice she'd give her peers, and why she hopes to one day go out of business.
Hannah Taylor is a ChangeMaker.
What's the biggest social issue facing our world today?
Because caring for others, especially those who are homeless, is a passion of mine, of course I think poverty and homelessness and hunger -- but there are so many different things that the world needs us to care about.
Maybe the biggest issue is that too many people don't know how to get started, and don't feel like they can do something about what they care about. I ran into this a lot when I first started speaking to classes about homelessness. So many young girls in my class -- I was at an all girls' school at the time -- they were all so excited to start helping, they just didn't know how to start.
Too many people think that one person can't make a difference or that they aren't powerful enough to do so.
What advice would you give your peers about getting started?
The first thing you have to realize is age doesn't define what you can do. You can be five or you can be 55, but if you care about something you can make a difference for the better.
The second thing you have to do is learn as much as you can about what you care about. That was the first thing I did with The Ladybug Foundation -- learn everything about homelessness and what I could do.
The third thing you need to realize is that you're probably not alone in what you care about. One person can make a big difference, but together we can make a bigger difference.
Lots of young people look to you as a role model; who is your hero?
I have a great friend named Rick and he's been on and off the street for about 28 years. I call him my Mooshum because it means "grandpa" in Ojibway, and he's Ojibway. I met him through the first shelter that Ladybug Foundation supported, the Siloam Mission in Winnipeg, and I've known him since I was seven. At the moment he has a job and place to call home and he worked so hard for that.
He taught me a lot about unconditional love. Because he struggled with addiction for a very long time. After he finished his addiction program he stayed with us because he's like family. And one day he didn't come home from work. He'd gone back to his old life. He'd gotten quite sick. We searched for him everywhere, me and my family. After we finally found him and he'd gone back to the hospital and back to his program, I met up with him. I hugged him and said that I loved him no matter what, but that what I needed him to do -- what I still sometimes need him to do -- is to see what a great person he is and that he should try again.
He taught me about unconditional love and about not giving up.
We're all about living me to we: making choices that positively impact the world, instead of just ourselves. Describe the moment you decided you wanted to give back.
I was five and I was driving down a back lane in my mom's car and I saw the first homeless person I'd ever seen before and he was eating out of a garbage dumpster. I remember what he looked like, I remember that he looked up at our car quickly, as we passed, and then kept digging around for what would most likely be his dinner. And I could not let it go. It was so shocking to me.
For a year I worried about that man and I started learning about homelessness in Winnipeg and Canada. But that was the moment. My parents told me that I was always worrying about this man -- when I was being tucked into bed I would ask "where's he sleeping tonight, mom? Where's his family?" I couldn't figure it out. The moment my heart couldn't let it go I realized I had to do something.
Young people often feel that they're powerless to change things. Where did you get the courage, at five years old, to ask for lunch meetings with top executives to solicit corporate sponsorship?
It came from me not knowing better. I didn't even think about my age, I just knew I had to do something. That comes a lot from the adults that were around me.
My parents, but also my Gr.1 teacher. When I approached her and said we need to do something she took me seriously. She looked me in the eye and said "that sounds good, let's have lunch and talk about it." She didn't brush me off. She was the first [big boss lunch]. I think that courage, if you're going to put it that way, came from me not even thinking that being five made a difference. It doesn't.
If people from the future were talking about you, what would you want them to say? What kind of legacy do you want to leave?
When people remember me I'd like them to remember me as just a normal person who believed in the power of caring for others. That's it. A normal person who believed in the power of caring.
Caring is such an incredible thing. Once you care for something...it's hard to explain. From caring for someone comes the idea that you can do something. I see this when I'm speaking at schools when young people have the light bulb come on and they think "if she can do it, I can do it too."
It can be about whatever they care about, but the caring makes that moment happen.
If you could have a socially conscious superpower and change one thing about the world, what would it be?
My biggest dream for The Ladybug Foundation is that our work will be done, that we'll go out of business. That will be when every Canadian and every person in the world has a roof to sleep under and food to eat and love and care. If I had a socially conscious superpower I would eliminate poverty...I could be a ladybug with a cape.
Craig and Marc Kielburger are founders of international charity and educational partner, Free The Children. Its youth empowerment event, We Day, is in eight cities across Canada this year, inspiring more than 100,000 attendees. For more information, visit www.weday.com or follow
Craig on Twitter at @craigkielburger