Star Power: A series of questions for celebs making a difference. Craig and Marc Kielburger, founders of Free The Children and Me to We, check in with some of their favourite actors, singers and activists to find out how they are changing the world.
Lights became a seasoned world traveller long before concert touring had her crisscrossing North America with hits like "Toes" and "My Boots." Born Valerie Anne Poxleitner in small-town Timmins, ON, she was soon whisked around the globe by her missionary parents.
The now 26-year-old Juno-winning electro-pop musician spent her childhood in the Philippines, Jamaica, and in Eastern and Western Canada. Along the way, she absorbed cultures and witnessed the world's beauty as well as its hardships -- like those in the squatter city of Baseco, on Manila Bay. Tens of thousands of people live in this square mile of land that is to this day cramped, disease-ridden and constantly flooded.
"Growing up on the mission field, I was young but I was watching it all," Lights told us back stage at We Day.
"I thought, 'How do you change a place like that?'"
Lights has been making her mark, and her own change, singing on tracks to raise money for cancer research and bullying help lines, and devoting time and performances to global non-profits.
She told us what advice she would give her high-school self, and why she believes that education can break the cycle of poverty.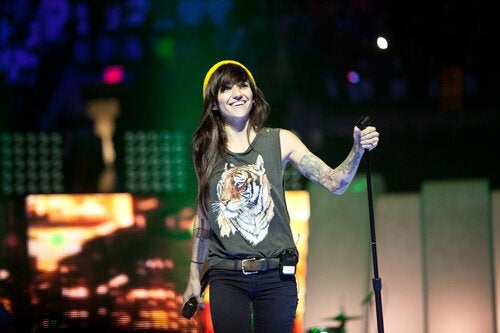 If you could have a socially conscious superpower, what would it be?
I would generate a crazy wind that would blow all of the pollution out of the atmosphere. And with it we could clear away so much disease, since pollution is at the core of a lot of health issues -- it's a matter of life and death for so many people. Living in the Philippines when I was young, the amount of pollution in the air actually caused me to contract tuberculosis. You come to understand that the cleanliness of the air is so important.
What social issues are most important to you?
One thing that I've always put my focus on in any work that I've done is world hunger. For me, growing up on the mission field, I would see people struggling in Manila and in Jamaica. Access to food is a basic necessity that so many people go without.
Another incredibly important issue is education for women. Women in the world generally don't have opportunity to be in the workforce. That's half the population that's unable to make a contribution, to help change the world and help it grow.
You have legions of fans that look up to you. Who is your hero?
First of all, my parents. Together they were such great leaders for me. They offered unconditional love and the sense of empowerment that I needed growing up. They told me to go after what I wanted no matter how absurd it seemed.
Later on, one of the female role models for me would be Bjork [the Icelandic recording artist]. She has her own genre. She does her own thing and has control of what she does. As an artist, that's what I strive to be. Bjork's so talented but doesn't feel she has to make her work more accessible for the sake of making money. She follows her intuition.
We believe in living me to we, helping others instead of just ourselves. What made you decide to give back?
Growing up as a kid on the mission field, I was too young [to work] but I was watching it all. And it hit me when I came back to Canada -- I realized how different it really was--that these two worlds were so far apart. It can seem almost hopeless.
In a squat area like Baseco you have 60,000 people living on reclaimed ocean in cramped quarters that's constantly flooding. How do you bring 60,000 people out of that? As I grew older I understood that it's about the next generation, empowering them through education to get out of there.
What would you tell your high-school self if you could go back in time?
I would tell myself not to get disheartened by rejection, and not to get your back up so easily. Be very confident, because you are good at what you do. We've all got to learn by experience, so I don't know if the high school me would listen! But if you go in confident, it's all going to work out.
What's one message you'd like to share with your young audience?
Wanting to help one another is in our nature. We all need to get back to that. And no matter what you do in life make sure it is done through love. Love is what's going to carry you through everything.
Craig and Marc Kielburger are founders of international charity and educational partner, Free The Children. Its youth empowerment event, We Day, is in 11 cities across North America this year, inspiring more than 160,000 attendees from over 4,000 schools. For more information, visit www.weday.com