Star Power: A six-pack of questions for celebs making a difference. Craig and Marc Kielburger, founders of Free The Children and Me to We, check in with some of their favourite actors, singers and activists to find out how they are changing the world.
We've known Munro Chambers since his TV character, Eli Goldsworthy, pulled into the parking lot of the fictional Degrassi High in his vintage Hearse. Whether he's starring in a satirical fundraising video to benefit Haiti, or building a school in Ghana, 22-year-old Chambers is making a difference.
We caught up with Chambers at a build site in the small coastal community of Asemkaw, Ghana, where he and his fellow Degrassi: The Next Generation cast members were volunteering to build a school with Me to We Trips. While the rest of the crew mixed cement, Munro took a short break to talk to us about culture shock, reality checks and building foundations.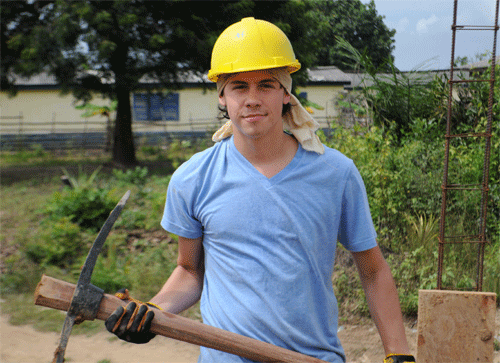 Munro Chambers lending a hand.
You're a veteran of volunteer trips. You've been to Haiti, India and now Ghana. Which country was the biggest culture shock?
One hundred per cent, it was India. The only slums I'd ever seen were in Toronto, which is still a problem we need to address, but seeing something as devastating as what I saw in India was really shocking. The poverty and the living arrangements -- the fact that their houses were made of mud and sticks. And everywhere, there were kids -- on the street, running around, crying. I've only seen those things in movies, so to actually witness it... you really turn yourself inside out and look inside of you. It was a big shock.
But instead of letting it get to you, you're doing something about it, having volunteered all over the world. What's your goal for this trip to Ghana?
We're building the foundation of a school and hopefully we'll get to put in a few walls [before the next set of volunteers arrive to finish it]. Right now -- literally in the middle of this conversation -- we're making the cement and we're hauling it over and laying it all down. But my personal goal is to learn about the culture. I can learn from them, and they can learn from us.
So...what have you learned?
We brought water, like how the mothers of the community do, on their head. It is so hard: you have no idea. You. Don't. Even. Know. You can imagine how hard it is, but it is [so far beyond] the imagination. Your neck hurts, your shoulders hurt...my butt hurts and I don't even know why. You see [the Ghanaian mothers] carrying these huge containers that I can barely carry with two hands...and they're doing it on their heads, with no hands. You really come to respect them, the strength of this community.
That's what I've learned, about their strength, on three different levels: how physically strong they are, how morally strong they are and how emotionally strong they are.
Actually, we do know. We've done it, and it's a humbling experience, to say the least. Marc used to play rugby for Oxford University. He's got nothing on those mamas. Is that what struck you most about Ghana? This strength?
Yes, but also how friendly the people are. To come from a place where [the outside perception is that] everybody has "everything,"and these guys, in our minds, have "nothing," and yet they are far happier than the kids at home, who feel crappy when they can't get a new shirt. [Here], they enjoy family time, they enjoy their community, that's what they pride themselves on. It's beautiful to see that. You realize that your family, and your friends, that is your little community. That's what should be important. Not materialistic things.
Speaking of home, Ghana is a long way from yours. How has this trip changed your perspective?
I was born in Ajax [Ontario] and I've lived in Newmarket [Ontario]. And it's completely different; there is nothing similar at all. You're on...the other end of the Earth. No one you know around you, no cell phone, and you're an ocean away from home. It puts you in a...a state of realism.
It sounds like you had a very meaningful experience. Will this feeling stay with you? How will you think differently when you arrive home?
I feel like there's a big misconception that we come here, and we have only pity and sadness for the people here. But we're happy. We're here to help them. Help them, not by giving them things, but to build a foundation, to give them what they need for a sustainable future. I'll be happy.
Craig and Marc Kielburger are co-founders of international charity and educational partner, Free The Children. Its youth empowerment event, We Day, is in eight cities across Canada this year, inspiring more than 100,000 attendees.