Getty Images
Star Power: A six-pack of questions for celebs making a difference. Craig and Marc Kielburger, founders of Free The Children and Me to We, check in with some of their favourite actors, singers and activists to find out how they are changing the world.
Mikhail Gorbachev initiated the fall of the Berlin Wall, the collapse of communism and the end of the Cold War. At the heart of all his actions has been compassion for his fellow human beings.
"Everything I did, I did on the basis of conviction," he told us backstage at We Day Manitoba. "I never acted in revenge. I never acted out of spite. I acted because I felt I wanted to do good."
Gorbachev served as General Secretary of the Communist Party of the Soviet Union from 1985 until 1991, and was the first president of the Soviet Union from 1988 until its dissolution in 1991. He has been anything but idle since his career as a politician came to an end. His namesake foundation, created in 1992, has been built on the belief that we need a new interpretation of progress and humanism to establish a more equitable world order.
His many philanthropic endeavours stem from this want of a better world, but also from personal experience. In 1999 Gorbachev lost his beloved wife, Raisa, following her battle with leukemia. In her honour he co-founded the Raisa Gorbachev Foundation. The non-profit organization funds life-saving treatments for young cancer patients, supports their parents and supports research to combat the disease.
A conversation with Gorbachev is fascinating. To hear of the many times during the Cold War he was awoken in the middle of the night with threats of a nuclear crisis -- any of which might have ended humanity -- is downright chilling. You could argue that because Gorbachev held his nerve on those nights, our planet was saved. We had a chance recently to sit down with Gorbachev.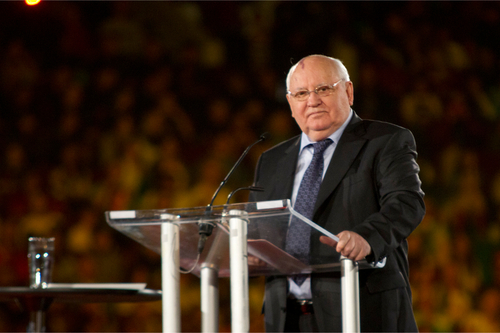 What is the most pressing issue facing the world right now?
Inequality. It affects people who are poor the most. The problem is that is that inequality is growing -- the gap is widening. Many wealthy people do not want to help or share. And I am very much annoyed by that. The parliaments (in developed countries) are not working on that problem. The other problem for all young people -- men and women -- is jobs. We see lots of inequality there too.
People around the world look up to you as a hero. Who are your heroes?
I had heroes in my life. My grandfather, who was a poor peasant who grew to become a very important person; he became what was called a middle peasant (relatively well-to-do) and he believed that he could do so because of the just policies that were pursued during the first years of the Soviet government. He was a role model for me in every respect, both as a man and as person who was extremely calm, as well as very attentive to others.
My father was a front-line fighter in World War II, took part in famous battles and was decorated with many medals. I was a young boy when he returned from the war -- I was 14. He was a very special person. I never heard anything bad from him. He criticized me just once, but not directly. He asked my mother to convey his criticism to me: "Please tell Mikhail that he has taken the habit of returning very late." I had started to spend time with friends. That was the only time. He indeed was an example, and was a role model in all kinds of ways [throughout my life]. When I lived in Stavropol and he would come to visit. He would say, "I need a half hour to do something." And what did he do? He always made sure he went to the shops to buy a gift for my mother.
Those are the people who meant a great deal to me -- their attitude toward other people, and to life. They had such modesty, great modesty, industriousness and they worked hard. These are the people who served as an example. But when I am asked what made the greatest impact on me? It is Russian literature.
When did you learn the importance of giving back?
Living in the village where I was born -- I am now 81 years old, but I still remember those years. Helping and sharing were very important traditions and it was something everyone did. I think there is a little less of that now. When a person was leaving their parents' home, there was a tradition of getting together to build a new house. And within just a few days a whole community would get together to build a whole house. That is something that no longer happens.
What was life like for you growing up?
I was very lively and very active person. Among my peers I tended to lead, and I certainly don't regret that. Although I didn't have enough time to swim in the river [with the others]! We were growing up as free individuals, and as young people even we knew a great deal -- we had knowledge. We had learned a lot and that was useful. On the other hand, of course, the place was very backward, there was no electricity, no radio, no telephone, nothing... but we did not waste our lives.
Looking back, do you feel the changes you were responsible for have met or surpassed your expectations?
It meets expectation in terms of direction, but it doesn't meet expectations in terms of the achievements -- in terms of what has been done. So had I had a second chance I wouldn't have changed anything in terms of the approach, the direction, or where we were going. But I would have acted differently in term of certain methods.
Where did the courage come from to make such profound changes?
Frankly I don't know. But there was something within me -- the courage within me. I knew real life, I knew people's problems. And I knew something needed to be done. At a time when I found myself in a position to make an impact, I knew that I had to act. That was my principle. That was my way throughout my life, but of course when I came to be leader of the country, my possibilities widened.
I would not call myself a person of some extraordinary courage. But I am certainly not a coward.
Also, everything I did I did on the basis of conviction: I never acted in revenge. I never acted out of spite. I acted because I felt I wanted to do good.
Craig and Marc Kielburger are founders of international charity and educational partner, Free The Children. Its youth empowerment event, We Day, is in eight cities across Canada this year, inspiring more than 100,000 attendees. For more information, visit www.weday.com