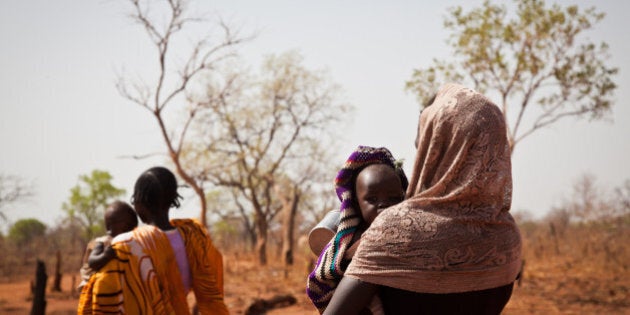 By Craig and Marc Kielburger
The bomb blast ignited the hut's roof. Flaming thatch fell into a foxhole full of cowering children. A young brother and sister died horribly, and six more children suffered terrible burns.
These children were among the thousands of casualties of a months-long indiscriminate bombing campaign that the Sudanese government carried out in that country's southern Nuba Mountains this past spring -- supposedly to attack rebel guerrillas.
Almost as shocking as the attacks, themselves, is the fact that, had it not been for one brave columnist, we'd never have known about them. Nicholas Kristof of The New York Times risked his life to enter the afflicted region and bring the story to the world. He is possibly the only mainstream journalist to have recently done so.
We have yet to see a single report in Canadian media about this horror.
The shocking absence of this story in our news highlights a worrying trend: the decline of foreign reporting. It's an issue we're very passionate about. When Pakistani child activist Iqbal Masih was murdered in 1995, we learned about the carpet industry, and its horrible legacy of child labour, through the reports of journalists like veteran Canadian correspondent Kathy Gannon. Those stories led to Craig's activism and the launch of our international charity.
Over the past decade, Canadian media outlets have slashed jobs and closed many foreign bureaus abroad. We talked to Gannon and Tom Henheffer, executive director of Canadian Journalists for Freedom of Expression, about this critical issue.
The problem, they tell us, is two-fold: hard economic times for media, and a world that has become far more dangerous for journalists. "It's a real perfect storm causing a complete dearth of info from around the world," says Henheffer.
"We need and should have greater coverage of international issues," adds Gannon.
The economic downturn and the rise of digital media hit media outlets hard. Henheffer notes that sites like Kijiji have replaced the print classified ad -- the bread and butter of newspaper revenue. A Price Waterhouse Cooper study found that, although 70 per cent of Canadians still read newspapers, newspaper revenue in Canada is expected to fall by 20 per cent between 2013 and 2017. "There's been a lot of downsizing and that's been reflected in foreign news coverage," observes Gannon.
Meanwhile overseas, journalists are targeted as never before, both by insurgent groups and authoritarian governments. Sixty journalists were killed around the world last year, and many more wounded. Gannon is still recovering from the six gunshot wounds she received in Afghanistan last year. Her accompanying photographer, Anja Neidringhaus, died in the attack.
Greater risk means greater security costs to protect reporters, which again many media outlets simply can't afford. They are increasingly looking to local freelancers as a lower-cost option to expensive permanent foreign bureaus, say Gannon and Henheffer. But they note these freelancers are vastly underpaid and under-protected.
There is much readers can do to support international journalism. We can call on our governments to take a strong stand against groups and regimes that attack and persecute reporters. We must also get past the freebie internet content culture that has evolved. If we want good content, we need to be willing to pay for it -- and reward good journalism with our readership and dollars.
We can also support media that are not just covering the "big headline" conflicts. Look for journalists like Gannon and Kristoff who dig deeper and bring us stories of real people from places where no one else is reporting.
Our organization encourages Canadians, especially young people, to care about what's happening in the world, and take action. But it's hard to care if you don't know what's happening. Could humanitarian heroes like Nelson Mandela and Malala Yousafzai have accomplished all they have if the world had not heard their stories and risen up to support them?
Knowledge is power. Global journalism gives us both the knowledge and power to change the world.
Brothers Craig and Marc Kielburger founded a platform for social change that includes the international charity, Free The Children, the social enterprise, Me to We, and the youth empowerment movement, We Day.