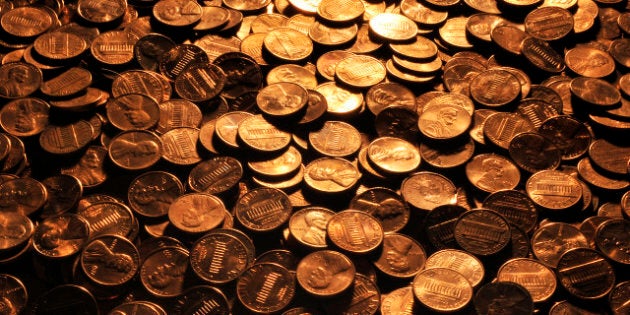 Craig and Marc Kielburger, founders of Free The Children and Me to We, check in with some of their favourite actors, singers and activists to find out how they are changing the world. Today, they hand over they blog to Hedley lead singer Jacob Hoggard.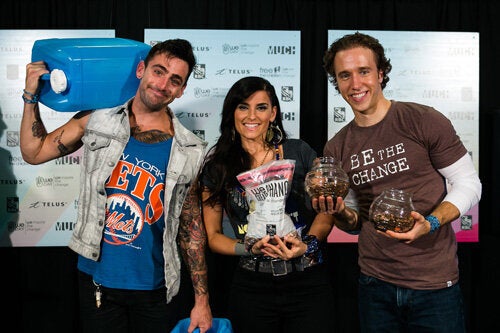 "Every day I find a penny / Every day it bring me luck."
- Canadian musician Chris Murray, The Penny Song
Suddenly taken from us, in its 155th year, the great Canadian penny was one of our country's most recognizable -- and least valuable -- cultural symbols.
The final penny was minted in Winnipeg in May after the federal government decided it had outlived its usefulness. Indeed, this noble piece of copper-plated steel that could once buy a whole, glorious string of strawberry licorice more recently needed several friends to help purchase a mere sour candy. For the past decade, it had been sitting idle in our sock drawers (or sadly, getting pressed into souvenir Niagara Falls necklaces) instead of doing what it was made to do: make wishes come true.
I personally cherish the memories of competitively rolling pennies with my sister -- a good strategy by my dad to get his coins rolled -- and the kids' penny collection at my childhood church, which helped pay for the community piano I learned to play on. So thank you, penny, for Hedley.
The penny is survived by its cousins the nickel, dime and quarter, its nephew the loonie and its niece the toonie; and predeceased by its uncle the two-cent piece and its auntie half-dollar.
Toward the end, it was clear that our dear penny was feeling neglected under our couch cushions and behind our refrigerators, and grew tired of being stuffed into jars like the awesome rattlesnake mug from China on my kitchen counter.
And so, as a final tribute to this Canadian icon, let's demonstrate the power of the penny and make the wishes of so many around the world come true: let's collect enough pennies to provide clean water for life for 100,000 people. Just $25 in pennies provides a permanent source of clean water for a person in a developing country.
As its last wish, the penny asked to not be rolled because he believed it was too much of a bother. Instead, contact Free The Children for a special penny bag. You'll also be able to pick one up at an RBC branch in the new year. Pour all your pennies inside, and collect more from friends and neighbours. Once it's totally full and sealed, it's $25 in pennies: drop it off at RBC, where they have generously offered to process each bag of coins and donate every cent towards this lofty goal of helping 100,000 people.
I've seen firsthand the devastating effects of water-borne illness on families and communities in Kenya, and the huge difference that local access to clean drinking water can make: girls can go to school, get educated and empowered; parents live to raise their children; families are healthier and more productive. With basic community medical clinics and alternative income programs to provide stable income for women, the community is able to maintain their water source indefinitely: hence, water for life.
So, Canada, empty your jacket pockets, check under your couch cushions, and reclaim all that closet space holding the great Canadian penny back from its destiny: the ability to rest in peace having made life better for 100,000 people it's never met, in places it's never seen, making wishes come true that it's never dreamed of being possible.
For more information, see your local RBC branch or visit www.freethechildren.com/water.
Hedley front-man, Jacob Hoggard, is an ambassador of Free The Children.