The residents of 5a Akatsy Street in Sochi have an unparalleled view of Olympic athletes and visitors heading for the ice rinks via the nearby $635 million highway. We suspect the apartment dwellers would happily trade the new view for running water, or somewhere to go to the bathroom.
Despite the billions spent on Olympic infrastructure, many Sochi homes are still not connected to municipal water or sewage services. On Akatsy Street, according to the Associated Press, water comes from wells residents drill themselves. The only toilet was a communal outhouse. Now even that is gone -- torn down because city officials thought it was an eyesore for Olympic visitors.
Although it is a middle-income country, rolling in new found oil profits, Russia still faces massive social and development challenges. It is a nation grappling with HIV and a legion of orphaned children. As we watch the Olympics and cheer our athletes on, like many Canadians we think back to our own Vancouver games which cost $7 billion, and we wonder if at least some of Russia's $50 billion Olympic cost couldn't have been better, more compassionately, spent?
The wealth inequality in Russia is staggering, according to Lisa Sundstrom, an associate professor of political science at the University of British Columbia, and an expert in Russian affairs. "There are places you can go in Russia where you'd swear you were back in the 1920s. People have no indoor plumbing, no telephones," Sundstrom said.
Russia has the distinction of being home to the second largest population of billionaires in the world. Beneath those 97 billionaires, however, are 18-million Russians living below the poverty line -- that's half the population of Canada. That poverty has inevitably led to social problems like rampant drug use. There are about 1.8-million Russian heroin addicts.
And thanks in large part to the drugs, Russia has another, more dubious distinction: it is the biggest hotspot for HIV and AIDS outside sub-Saharan Africa. According to Russia's Federal HIV Center, there were more than 700,000 known cases of HIV and AIDS in Russia as of the end of 2012. Last year health officials found a new, more virulent strain of HIV emerging in Russia that is fuelling the spread.
At least 70 per cent of Russia's HIV and AIDS patients are users of injected drugs. Perhaps establishing needle exchange programs, like Vancouver's Insite clinic, might have been a good use for some of those Olympic billions.
Numerous studies have shown that supervised injection sites like Insite reduce HIV infection rates and drug overdose deaths. They also act as point of contact for drug rehabilitation programs to help users kick their addictions. In 2012, Insite worked with 9,258 Vancouver drug users, at a cost of $2.8 million.
Using Insite as a rough guide, we calculate it could take less than one billion dollars to create enough supervised injection sites to cover every heroin addict in Russia.
Russia's other major social crisis, according to Sundstrom, is its orphans. There are an estimated 650,000 orphans in Russia. As many as 95 per cent are "social orphans" -- children with living parents who were either abandoned or removed from their homes because of abuse or other family problems.
A BBC investigative report last April found that once in group homes, the system abandoned the orphans as well. It was assumed the children, many with disabilities, have no future, so why bother providing an education or even stimulation. For many years, in some of the large orphanages, they were fed, then left to stare at blank walls until they died.
According to the BBC, Russia is starting to invest in education and activity programs for its social orphans. These programs could undoubtedly benefit from a billion or two. And how about a few billion to strengthen the social welfare network so Russian families don't abandon their disabled children in the first place?
One of the basic principles enshrined in the Olympic Charter reads: "The goal of Olympism is to place sport at the service of the harmonious development of humankind, with a view to promoting a peaceful society concerned with the preservation of human dignity."
When the International Olympic Committee evaluates cities bidding to host the Games, they take into account the environmental impact, and the impact the Games will have on creating jobs and beneficial infrastructure in the applicant city. Why not also evaluate how the host city will improve the human dignity of its residents and the development of humankind?
We suggest a new requirement for host cities. Whatever the final cost of their Games, the host city must give an additional percentage of that cost to support programs and services to benefit the underprivileged of the city.
Were the Olympics to do that, sport would indeed serve humankind, and every medal victory would be so much sweeter.
Craig and Marc Kielburger are co-founders of international charity and educational partner, Free The Children. Its youth empowerment event, We Day, is in 11 cities across North America this year, inspiring more than 160,000 attendees from over 4,000 schools. For more information, visit www.weday.com.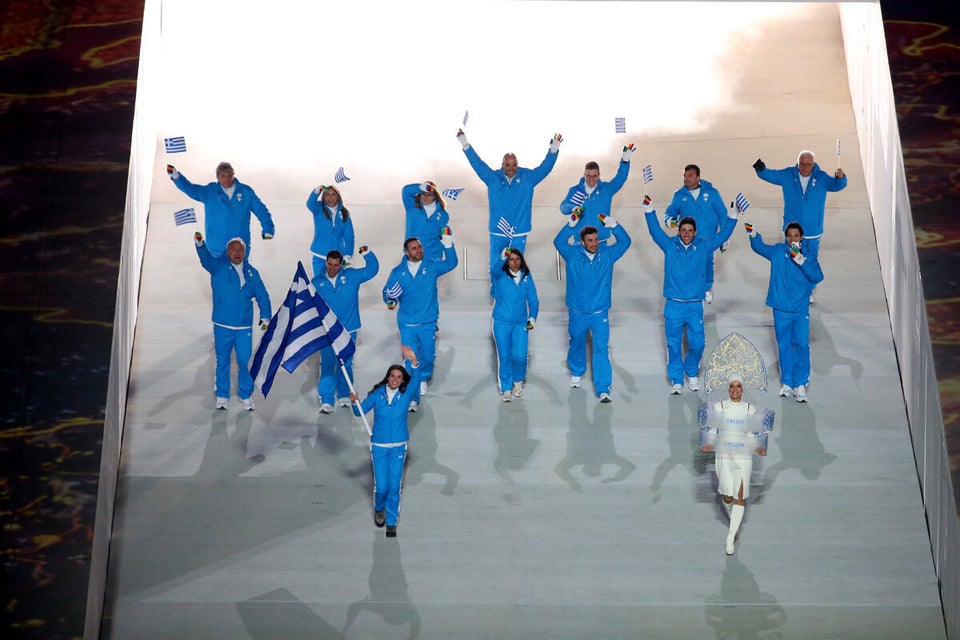 2014 Sochi Olympics Opening Ceremony