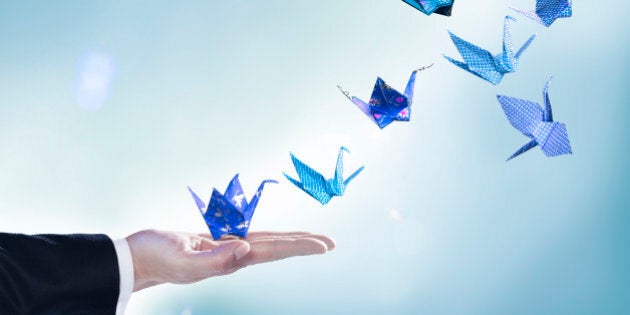 Michelle was tired of slinging drinks as a bartender. At 42, she dreamed of a more fulfilling career. But as a high school dropout, her reading, writing and math skills were nowhere near good enough for the competitive Canadian job market.
So Michelle enrolled in an initiative at B.C.'s Douglas College that gives unemployed and low-income Canadians brighter futures through skills training in basics like literacy and math. In just 11 weeks, Michelle improved so much, she was accepted into a college tourism management program.
Today, the Douglas College program has changed hundreds of lives. It's also Canada's hottest investment opportunity. As of this September, the initiative is piloting our country's first federally-funded national social impact bonds initiative.
This public-private partnership between the federal government and Colleges and Institutes Canada (CICan), the non-profit overseeing the Essential Skills Social Finance Pilot, will use social impact bonds to expand Douglas College's program to three additional colleges in Saskatchewan, Ontario and Quebec, ultimately helping 400 unemployed Canadians to enter the workforce.
A social impact bond provides a novel way for governments to tackle issues from unemployment to the environment by leveraging the power of private capital. Investors buy into a project just as they might a business start-up.
These bonds could forever transform the way we fund positive change, effectively creating a Dragon's Den for social entrepreneurs, who must present truly sound and innovative ideas that achieve specific social outcomes to win over potential investors.
We are strong believers in the power of business approaches, like social enterprise, to tackle global challenges.
But the real innovation of the Essential Skills social impact bond is its pay-for-performance model. Participants will be tested before and after completing the program to determine how well they have improved their skills, David Kelley explained to us. Kelley is the director of business development and social finance with CICan.
In order to maintain funding from investors, the colleges must hit a minimum benchmark for upgrading students' skills. Investors are repaid, and earn a return of up to 15 per cent if positive results are achieved. This reduces risk for all involved, providing incentive to try new approaches.
The model is a powerful tool for increasing impact, forcing organizations engaged in social programs to measure their outcomes.
We are strong believers in the power of business approaches, like social enterprise, to tackle global challenges. And we have closely followed the development of social impact bonds since they were first introduced five years ago in the UK. There, private backers funded a prison rehabilitation program that has reduced recidivism by eight per cent.
All along, we waited for Canada to catch on to the idea. And we were pleased to see Prime Minister Justin Trudeau recently make social finance a priority for his minister of employment, workforce development and labour.
"Social impact is no longer seen as a trade-off to financial results, but rather as a key factor in investment decisions," says Tania Carnegie, one of Canada's foremost leaders in impact investing. She sees an increasing number of investors who want to achieve positive social results as well as healthy returns in their portfolios.
Carnegie founded and leads Impact Ventures, a new practice at global consulting firm KPMG that helps businesses improve both their bottom line and their social impact. Global Ventures is working on the Essential Skills Social Finance Pilot as a financial advisor to CICan.
At a minimum stake of $150,000 per investor, the Essential Skills project is currently out of reach for the average Canadian, but great for foundations and investor funds that are looking for a financial return while doing good.
And if the pilot proves successful, it will help hundreds more people like Michelle--who is now working for a B.C. tour company -- and open the door for ordinary Canadians to invest in improving their communities and their country.
Brothers Craig and Marc Kielburger founded a platform for social change that includes the international charity, Free The Children, the social enterprise, Me to We, and the youth empowerment movement, We Day. Visit we.org for more information.