Star Power: A six-pack of questions for celebs making a difference.

Craig and Marc Kielburger, founders of Free The Children and Me to We, check in with some of their favourite actors, singers and activists to find out how they are changing the world.
Dr. James Orbinski is one of our greatest unsung heroes; he is the only Canadian since Lester B. Pearson in 1957 to hold the Nobel Peace Prize in his very capable, and life-saving, hands.
In 1999, as Médecins Sans Frontières' international president, Dr. Orbinski, accepted the award on behalf of MSF for its pioneering approach to medical humanitarianism, particularly for its approach to witnessing -- making the atrocities they observe known to the public.
Craig was a student at the University of Toronto when he came to know Dr. Orbinski, who is a senior fellow and doctor affiliated with the university, among his many impressive titles and roles. They would sometimes sit in the garden outside the Munk School of Global Affairs and talk about international politics.
Dr.Orbinski helped build a celebrated global organization. Craig had a small charity, with big dreams.
Craig hung on his every work, as Dr. Orbinski shared stories of his many missions for MSF. Among them, he was medical co-coordinator in Baidoa, Somalia during the civil war and famine of 1992-1993. And he was MSF's Head of Mission in Kigali during the 1994 Rwandan genocide.
Dr. Orbinski told Craig of the feelings of futility, that overwhelmed working as a doctor in Rwanda, where he'd patch Tutsis up, only to watch them walk out the door to be slaughtered by waiting Hutus.
One day, a mother came in cradling a small child to her chest. She asked if Dr. Orbinski could "fix" the toddler. The mother held her child's severed head in her other hand.
It's hard to imagine getting beyond that horror.
After acting as MSF's international president for three years, Dr. Orbinski returned to Canada, where he is scholar, doctor, humanitarian and global medicine specialist.
He has graced the We Day stage a number of times, most recently last September to introduce retired Lieutenant-General Romeo Dallaire. We got a chance to sit down with Dr. Orbinski.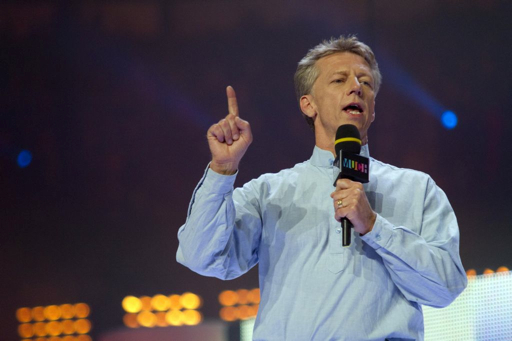 Many people look up to you? Who is your hero?
Who is my hero? Anyone who has the courage to go through his or her fears and create a better world. And there are many many people that I see who are heroic and who do heroic things every single day.
Many of them are very well known, people like General Romeo Dallaire (retired Canadian Lieutenant-General and humanitarian).
But most heroes are not publicly recognized but they are known in our families, in our schools, in our towns, in our provinces and country. And they're known in their living communities.
And I can give you lots of examples of people. But you know, just one example. I met a mother who in Malawi last year who walked 15 kilometres with her sick child. She brought him to the clinic, got him some treatment and then walked him 15 kilometres back home. To me that is heroic.
If you were a superhero and could change one thing about our world, what would it be?
We all have superpowers. And the one thing that I would change over and over and over again is my own forgetfulness that I am actually living and part of the world and able to affect the world.
And each of us has that ability; each of us has that power. But you have to be in it. And you have to constantly find yourself in it. And this is what being alive is.
On the way here this morning, literally outside this building on the sidewalk, there is a man sleeping on a piece of cardboard. I watched hundreds of people walk by this man. I was one of them. Cars, buses, police officers, me, people like me, kids coming to We Day, teachers coming to We day. And he is still out there.
And is one of hundreds of people in this city, one of thousands of people in this country who are homeless and hungry. So you don't need to go to the other end of the world to see need, it's right here.
The change is in us. And how we see. The change that I would like to see is for all of us to realize that we are not alone, to realize what you do to one person is literally what you do to yourself. What you avoid in another you literally avoid in yourself. We are literally interdependent and that is true whether you talk about climate change, the global food crisis, warfare, homelessness, the global financial crisis or global governance.
At what point did you start trying to change things around you for the better? And then, why did you?
As a child I was involved in my different activities in my classroom in elementary school and high school. There were other people supporting me -- my teachers, my parents, the parents of other kids in the schools, my neighbours, my coach, the guy I worked for when I delivered newspapers, the guy that I worked for when I worked as a dishwasher.
These were the people, who in various ways, gave me encouragement and gave me help. Sometimes it was concrete help for very specific things. Sometimes they treated me with kindness, clarity, focus and discipline, for example. They allowed me to do and to thrive. And my actions are a response to that...and I think that understanding of causality of relationality and interdependence, which is revolutionary.
What advice would you give your high school self?
I would say if you're learning something, there is a lot of skill to be learned. There is a lot of effort and conscious exercise and concentration that you have to bring to learning. Do that, but don't forget to enjoy what you've learned. If you're learning to be a dancer, do the hard work but remember to love dancing.
Is there any lesson or message that you cherish from a parent or mentor, that has guided you in your life?
I had a teacher, Mr. Lieberman. He pushed each student to his or her limit. And what I loved about Mr. Lieberman is that, and also that I saw him sing once, and he sang with a joyful pure love, and that is a very powerful thing. So what did I learn from him? Discipline, focus, and to push my own limits. And when I do, do it with a full heart.
What do you want your legacy to be?
I've never been asked that before. That I made some small or big contribution to making the world a better place. Simple. Just really simple.
There are many challenges in today's world. Poverty, homelessness, environmental degradation. For you, what is the most pressing issue?
I think the important challenge for our time is for each of us to recognize that the future literally is in our hands. We have the capacity to make a difference.
A person can see the world differently and themselves differently in the world. And in a way that embraces possibility and embraces the beauty of the world. It is a very difficult world, but it is also a very beautiful world.
Craig and Marc Kielburger are founders of international charity and educational partner, Free The Children. Its youth empowerment event, We Day, is in eight cities across Canada this year, inspiring more than 100,000 attendees. For more information, visit www.weday.com