Star Power: a six-pack of questions for celebs making a difference. Craig and Marc Kielburger, founders of Free The Children and Me to We, check in with some of their favourite actors, singers and activists to find out how they are changing the world.
Few celebrities seek out the most dangerous places on Earth. Actor, mother, and activist Mia Farrow is one of them.
In the aftermath of the Haiti earthquake in 2010, Farrow contacted us to say she'd like to help. But instead of rushing to the scene, she said, "They need emergency workers now, not more celebrities." One year later, a million people were still confined to squalid tent cities. We traveled with Farrow to the country's capital and the centre of the destruction, Port-au-Prince, to bring back a spotlight that had faded with the exodus of aid workers and TV crews.
Landing in the midst of post-election violence, we watched as this soft-spoken, petite woman walked into an angry crowd to seek the perspectives of rioters. She photographed burned-out vehicles and remained steadfast as the mobs pounded on our car.
Most know Farrow as a celebrated actor for her appearances in more than 50 films, including the acclaimed horror movie Rosemary's Baby. But we know Farrow as our Free The Children Ambassador, and for using her fame, compassion and love of photography to document atrocities in little-publicized conflict zones.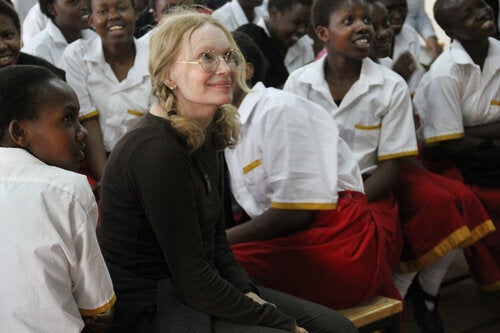 Her life's work is on behalf of the people of the Darfur region of Sudan, where more than three million people have been forced out of their homes to live in wretched camps. She returns again and again to collect their stories, and raise her voice on their behalf.
We are proud to call Farrow our friend and inspiration, and we always take the opportunity to catch up when we meet. This time, Farrow told us what she wants her children to remember about her and why she can't presume to know the world's biggest problems.
What do you think is the biggest social issue facing our time?
"I think you have to pick your priority as an individual. As a young person or anyone who is new to the idea of putting your shoulder to something: you have to find that thing that you feel you can use everything in your own arsenal to make a difference.
Would we say food over water or water over food? No, I don't know. I tell my children that with knowledge comes responsibility, and so a young person will read about these things and something will call out to you. You'll say: I can do something about this.
For me, it was civilians caught in conflict zones. It began in a serious way with my first trip to Darfur--the first of now 14 that I've taken to Darfur. It really reconfigured the way I need to live my life."
Many people look up to you; who is your hero?
"I would not single out one person. For me, it's the aid workers, since I find myself in people's worst nightmares so often. Those who devote themselves to sustaining lives, they're unsung, we don't know their names. Those are my heroes.
But if I go back to my childhood, I remember reading about Anne Frank, who was every little girl's hero. But then I thought: what about this person who sheltered Anne Frank's family? Miep Gies. I went to see Miep Gies. The big question for me was not just: why did Miep Gies risk her life to do this for people she scarcely knew, but--why doesn't everyone? That's the bigger question. Miep herself provided no answers. She said, 'Yes, that was very difficult but what could I do?' So in a way that was the answer."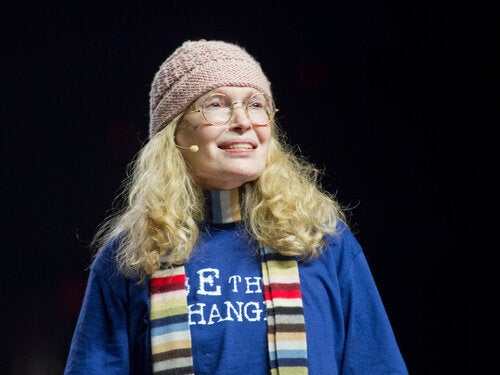 (Farrow at We Day: Michael Rajzman photo)
When your children and are talking about you in the future, what would you like them to say?
"For my children, I would like them to know I tried. That's enough."
Tell us about the moment you decided you wanted to give back.
"I think I always felt it. I can't say why, but even as a child I felt it through thinking and wondering and asking questions. I was very sick as a child; I had polio. It gave me time to think and also to acknowledge that there was suffering in the world and realize that there was a world outside of my world, a privileged world. But one doesn't know what to do about that as a child. Finding out, even in a very limited way, what you can do will change your life."
If you had a socially conscious superpower and could change one thing about the world, what would it be?
"The president of Sudan is still in office despite the fact that he is indicted for the crime of genocide, no less, against the people of Darfur.
I'd like to have a neutral, multinational body to go in and halt genocide and mass atrocity crimes before it's too late. Of course that intervention group would first be political negations--sticks and carrots-- loans not forgiven, aid not leant--whatever is meaningful to that country. The last resort would be meaningful force would come in. You don't get to be president when you're killing your own people.
I understand that it's more complicated because then it's: what then? But this is a short interview."
We work with so many young people. What advice would you give your high-school self?
"As a high school student I remember thinking: I must be the only lonely person in the world. There's a sense of isolation and that your own life, at this point, has no meaning.
Find that person or project that needs you and get involved. That will give your life meaning.
You will find a solution that no one else will see. If young people knew this, they would look up at the end of the day and say, 'This day had meaning. I helped someone.'"
Craig and Marc Kielburger founded the international charity and educational partner, Free The Children. Its youth empowerment event, We Day, is in 11 cities across North America this year, inspiring more than 160,000 attendees from over 4,000 schools. For more information, visit www.weday.com