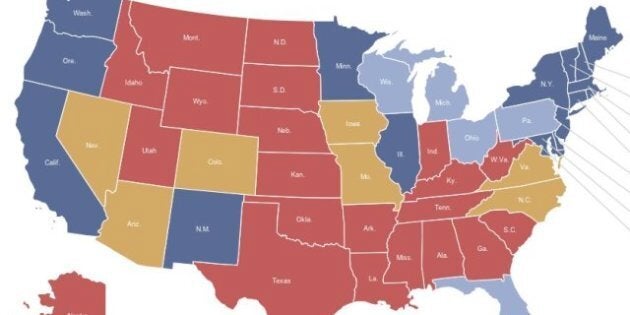 Behind The Headlines: In a unique take on daily news hits, Free The Children co-founders Craig and Marc Kielburger go behind the headlines to explore how the stories you read are connected to the causes you care about. You'll never read the news in the same way again.
In the weeks since Republican presidential candidate Mitt Romney said that he loved Big Bird, but as president would cut PBS funding, and President Obama fired a zinger after Romney's critique of a shrinking fleet of U.S. naval ships ("There are also fewer horses and bayonets," Obama said to suggest that Romney's idea of war was obsolete) the post-debate campaign has been overwhelmed with the superficial and the silly.
"Thank goodness someone is finally cracking down on Big Bird," Obama has quipped.
Talk about the Muppet replaces serious talk about serious issues in an age of distraction.
Ours is a time in which presidential debates can be reduced to doctored images of Sesame Street characters as cavalry. When post-debate analysis includes heat maps of the candidates' body language and Photoshopped images of what Obama and Romney might look like if they swapped hairstyles, what hope do we have that anyone is paying attention to politics?
And can we engage voters -- especially young people already prone to apathy and boredom? In this age of infotainment and indifference, everyone is worried about what young people will do at the polls Tuesday. Or if, in fact, they'll show up at all.
News outlets have flocked to college campuses in battleground states like Ohio, where one Yahoo News article canvassed young people: some won't bother to vote; some don't grasp the issues; one 18-year-old says it's a choice between "the worst of two evils."
Evidently, these youth have got better things to do than exercise their democratic right to help determine the leader of the free world. We're willing to bet that this same demographic helped Big Bird trend on Twitter.
But as much as these inane interruptions are an excuse for apathy, there are also fewer excuses for the uninformed to remain ignorant. It's easier than ever to become engaged. There is ample opportunity to use distraction as an entry point for actual political scrutiny. You just have to dig deeper, click further, and look harder.
For every Sesame Street mention, there's an analysis of Mitt Romney's stance on federal funding for public broadcasting. For every bayonet reference, there's a story about military defense spending. News outlets tweet real-time analysis of candidates' speaking points during debates.
In fact, distraction -- from disruptive technologies to "infotainment" -- has never been such a useful tool for engaging young people in the electoral process as they (hopefully) head to the polls.
Robert J. Thompson, founding director of the Bleier Center for Television and Popular Culture at Syracuse University, says young voters respond more to the political commentary-cum-entertainment offered by satirical news anchor Jon Stewart on The Daily Show than they do to conventional news mediums.
"[The Daily Show] is trenchant and insightful and compelling. Some of my students would take a bullet for Jon Stewart, and these are the ones who think in 140 characters at a time, and answer their cell phones during lectures," Thompson told us.
Stewart might be a mock news anchor, but on some days, Thompson continues, he offers the best political analysis on TV. Maybe young people respond better when that diversion manifests in the campaign itself.
It's probably no coincidence that the 2008 U.S. presidential race drew young voters in record numbers, since it offered more in the way of public spectacle: Obama's celebrity, his potential to make history as the first African American U.S. President, the chance for a real organizational shift in the White House. And Sarah Palin (just in general).
This time around, (if you get the majority of your news from Twitter and aggregate sites), the most exciting things to happen to the presidential race are horses and Romney's "binders full of women."
But leading up to the vote, there's no shortage of distractions to help keep voters informed. If you can blog or download a television show, you can use your search engine to seek out party platforms. Both candidates have Twitter handles.
We know young voters care about the issues -- long-term environmental protection, affordable post-secondary education, health care and employment. And without as much economic might at their adult counterparts, they can't bankroll super PACS and TV advertisements, so they have to struggle harder to make their voice count in politics. That includes volunteering for candidates, launching social media campaigns, and yes, even voting. Especially voting.
Unfortunately (at least until an x-marking app is invented), American youth will have to vote the old fashioned way. They'll leave their screens, go outside and brace their retinas for sunshine, wait in line at their nearest community centre--marking a dead-tree paper ballot with their choice.
Craig and Marc Kielburger are founders of international charity and educational partner, Free The Children. It's youth empowerment event, We Day, is in eight cities across Canada this year, inspiring more than 100,000 attendees. For more information, visit www.weday.com