As the sun crested over the forest just outside Fraser Lake in northern British Columbia, Raven Lacerte took out her knife.
Her father had just taken down a moose. Before he fired the shot, the two were deep in conversation and Lacerte's thoughts lingered on their painful topic: Violence experienced by Indigenous women and girls.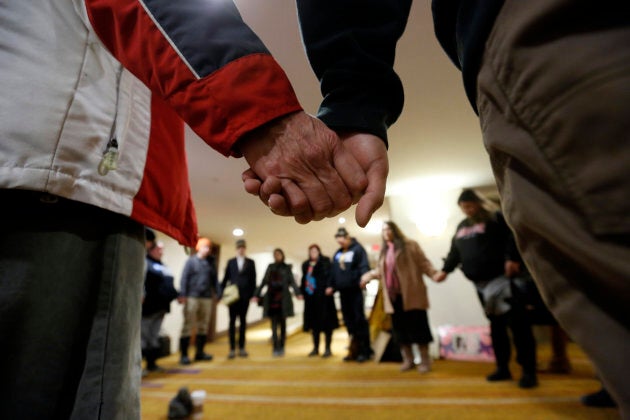 While she field-dressed the animal, prepping the meat for a feast in her hometown of Victoria, her mind raced. Her father had just attended a conference for Indigenous leaders on the crisis with 300 participants — only four of them were men.
"For a long time, it's been only women in this conversation," Lacerte says. "This lets men off the hook."
She decided to help hold men accountable. Getting a moose is a big honour, the 22-year-old member of the Carrier First Nations tells us, and provided an opportunity to appeal to men as warriors. Lacerte and her sister tanned the moose hide and cut it into squares, which men now wear to signify they're taking a stand against violence.
"We're creating a space for men to say 'this is not OK.'"
Lacerte has since handed out over 600,000 patches across Canada as part of the Moose Hide Campaign, distributing each for free with a handwritten note about being a strong warrior for good. The patch is a public symbol meant to start conversation. The campaign itself is much more, with regular healing circles, marches on provincial legislatures and online resources for women who have experienced violence and men who want to end it.
Grassroots responses like the Moose Hide Campaign are balms to the wound at the heart of the inquiry.
When Lacerte started the campaign in 2011, there were growing calls from Indigenous leaders for a government inquest. Now, there are growing calls for its reset.
The National Inquiry into Missing and Murdered Indigenous Women and Girls is nearly halfway into its two-year mandate, and is plagued by resignations, accused of poor communication and general inertia in the face of the mounting crisis.
The one thing that everyone can agree on is that a lot of work remains. Grassroots responses like the Moose Hide Campaign are balms to the wound at the heart of the inquiry.
Desperate to solve open cases in the Winnipeg region, Drag the Red started in 2014 with volunteers walking along the Red River. Hundreds of volunteers work together each summer to search for evidence of missing Indigenous women that might bring closure to families.
Walking with Our Sisters is part collective art project, part awareness and commemorative campaign. Metis artist Christi Belacourt called for submissions and received nearly 2,000 pairs of handmade unfinished moccasin tops, each one standing in for an Indigenous woman or child's life lost. The travelling exhibit has visited 20 cities and towns in Canada and the U.S.
For Lacerte, these types of community efforts don't absolve the government of responsibility to tackle systemic racism with the inquiry.
"We need to work one hand in the soil, one hand in the stars," she says of the bottom-up and top-down approaches needed.
And until the inquiry provides an official way forward, all Canadians can join her in the soil.
Craig and Marc Kielburger are the co-founders of the WE movement, which includes WE Charity, ME to WE Social Enterprise and WE Day. For more dispatches from WE, check out WE Stories.
Follow HuffPost Canada Blogs on Facebook