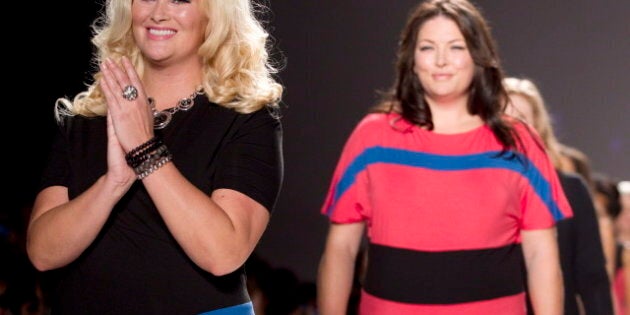 This was not a response to the Toronto Standard piece about the models being laughed at, but an honest review about the show itself. It was not an all-rosy review, which was apparently something that I was expected to write. I suppose I was expected to be only positive so that I won't "offend" a line that is not "traditional," but that would not be an honest review. One should never lie, after all.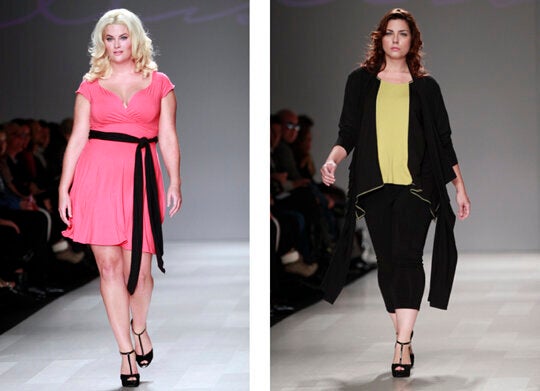 While I did not get a slew of negative comments, I was a little surprised that the emphasis on the Toronto Standard piece was almost all on body image/size of the models. I understand that the size issue is always going to come up first, but do we really know that this was the one and only issue? Could that chuckle have come because that person thought the clothes were not up to par? While yes, it's very rude to do this while a show is going on, we shouldn't automatically assume that it is about size. Thinking that is very one-track minded and needs to stop. It isn't always about size.
This brings me to the issue of specialty size clothing and style, or rather, the lack of style. Generally, specialty sizes are usually limited to budget and middle-ish markets -- save for lines like Marina Rinaldi, owned by Max Mara or premium denim lines (the latter is more a petite issue, however). If they fit well, they tend to be very basic -- a collection of simple skirts, dresses, pants and tops that are not meant to stand out well on their own. In the world of fashion, both plus and petite sizing (and of course, petite-plus) focus on plain, office-appropriate pieces and very rarely on FASHION or even something that is somewhat "stylish."
The lack of "style" was definitely the case with Allistyle. If this had been a non-specialty size collection, it probably wouldn't have even been shown at World MasterCard Fashion Week as is, unless the designer was already well known to those who are familiar with the Canadian fashion industry (e.g. Joe Fresh). As I mentioned in my post, I had high hopes that Allistyle would be different and that their debut at Fashion Week would have included a complete makeover of what they started as. I had hoped that they'd be less "catalogue" and more "fashion."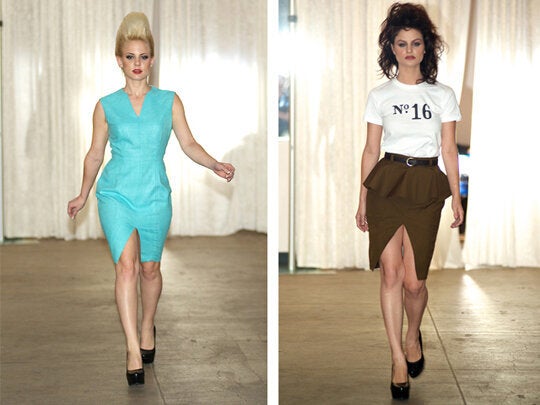 Two looks from the new petite-exclusive collection, The 16th Bar. Notice the interesting hairstyles.
Of course, there is still room for improvement. If basic is still what they want to be, there are plenty of things they could have done in terms of styling. While getting accessories and shoe sponsors might be difficult without connections, make-up artists and hair stylists are at Fashion Week for a reason. When you are showing basic pieces, you might want to make the models' hair or make-up stand out.
Take, for example, The 16th Bar, an exclusively petite line of dresses and skirts, which recently showed their debut collection in Los Angeles. While the pieces aren't too different from looks currently available at other mass retailers, the models' hairstyles are clearly very "unique" and stand out -- different from what one would expect to see in a petite-exclusive collection. It is NOT catalogue looking. This is something that a basic specialty size line should consider doing for a runway presentation, especially if the line is more mass retailer/catalogue.
I hope that the Allistyle team takes these points into consideration for future seasons. I'd hate to, once again, only see "standard" size models on the runway. By showing at World MasterCard Fashion Week, Allistyle has possibly opened doors for other exclusively specialty size designers and I hope to see more of the line, and perhaps other exclusively specialty sized brands, in the future. At the same time, people should not jump to conclusions and assume that it is always a body image issue nor should media feel that they have to be positive in the name of political correctness.