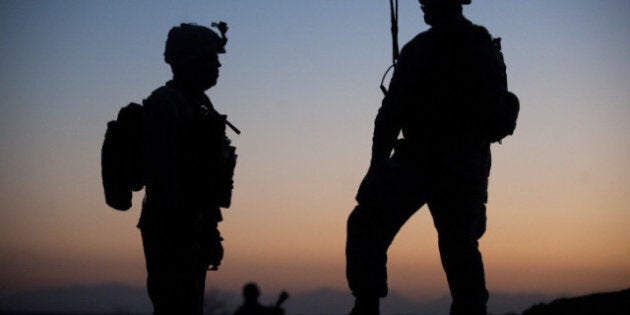 HuffPost contributor Daniel Portoraro spent a week with the Canadian Forces undergoing basic training. His unique perspective gave him a more personal insight into our soldiers' daily lives, and indeed into the broader debate over the future role of the military post-Afghanistan. This is part one of a four-part series, which will run every day until Thursday.
It would be a mistake to imagine CFB Petawawa -- one of the largest Canadian Forces bases in the country -- as the ravaged, grey flatlands of military camps one sees in the movies. It may sound like an exaggeration, but the camp is more akin to a golfing resort than to something out of Full Metal Jacket. Huge, the base is filled with lush greenery, even at its centre. There are the obstacle courses, yes; the drab, gray office buildings I saw earlier in Ottawa; the QC building where one can pick up his helmet, kevlar vest, and weapons; Base Supply, where one finds clothing and uniforms (not to mention a tailor), check -- but all these are surrounded by the same type of lush greenery that Canada's cottage country is famous for. It doesn't matter that this is the "Training Ground of the Warriors." Their heavy boots have left nature virtually untouched.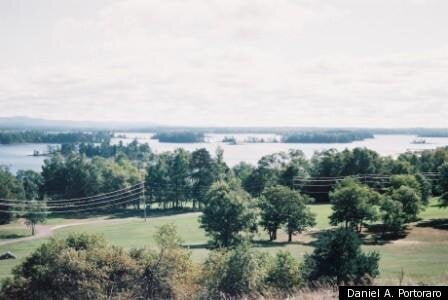 I arrive at Camp Pet -- as its inhabitants refer to it -- via a Greyhound bus from Ottawa, one afternoon in early September. I'm here to find out what the life of a soldier is really like. A university student with a skewed sense of entitlement, I only know the army through the camera lens of Hollywood, and the fierce protests one sees about campus. I'm an English major, and I smoke, and I drink like any run-of-the-mill student; and I'm silly enough to think I'll stick out of our green-clad soldiers like a flare gun being shot from a forest. Labouring under a recently acquired cold that would soon become a case of pneumonia, I longed to learn more about the military, and, like all young men at one point in their lives, see if it was something I could hack. Surely, my college peers, what, with their leather-bound novels, and Starbucks cups seemingly attached at the wrist, couldn't have given me a true idea of what the army life was like.
I take a taxi to the base. My driver is kind and talkative, punctuating every other sentence with "eh." We pull to the front gate of CFB Petawawa, and my thoughts of a Checkpoint Charlie-like wait dissolve like Alka-Seltzer in a glass of water. I meet my escort, a captain in her early 30s, who swiftly picks me up in her car at the front gate, and we make our way into the base. There seems to be no security check, and I'm surprised to find out it's easier to get into Camp Pet than it was past the security gate at the Greyhound station earlier that day. Notice of my arrival surely helped, but still, the base isn't separated by a wall, but rather by trees.
We drive along a long road. On either side of us are various buildings, and decorative, out-of-commission tanks, trucks, and planes. Had they not been here, I would think I was driving through a suburb.
We park the car in a lot reminiscent of that of a Zellers. There are various makes, from Fords to Hyundais to BMWs. There is even a long strip of concrete reserved for motorcycles, and over the duration of my stay, I will see a great deal of green-infantry men zipping around base on these striking red street bikes.
The captain leads me through the base to the QC (Quarter Master) to pick up my kevlar vest and helmet. The inside of the building is modern. It's one of the newer ones, my escort tells me, and looks like your average office. The officer sitting at reception's eyes grow wide at seeing my camera dangling around my neck. Understandably, the Canadian Forces are sometimes wary of the press, especially after the Rwanda fiasco. Minutes later, I don not the uniform of the Canadian Forces' soldiers, but rather the one they use during exercises for "enemy" troops. I take this as a joke at my being a journalist, but am assured such is not the case.
On my first day on base, my escort gives me a tour of the premises, which seems to be a land of contrast. There are the buildings meant to house weaponry, uniforms, and officer quarters, but at the same time, on the other side of camp, there is a world almost of its own, seemingly completely separate from the shouts of sergeants and the stinging hands of soldiers climbing rope.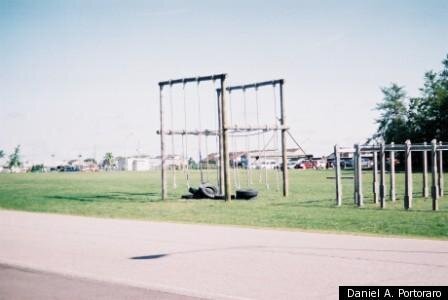 Imagine what every small town has: a community centre, a church, maybe a museum, a Tim Hortons, a school, a grocery store. Now, superimpose that small town onto a military base, and you should have a good idea of what the other half of Camp Petawawa looks like.
The PSP, Personnel Support Programs, a unit of the Canadian Forces that exists to "enhance the morale and welfare of the military community, thus contributing to the operational readiness and effectiveness of the Canadian Forces," is omnipresent throughout the base. In short, it exists to blur the line between civilian and military life. Hop to one side of Camp Pet and all the amenities of civilian life seem to be right there, down to a yacht club. The community centre, Dundonald Hall, is a perfect example of this duality on base: In the early morning, the gymnasium is used by soldiers in physical training (PT), and by late morning until night, it looks like any other Extreme Fitness location, filled with wives and mothers doing spin classes, and children getting ready for that week's cross country tryouts as well as soldiers just there to work out on their own, feeling they still have energy pent up after a full day's work.
A notable and unique aspect of "civilian" life on Camp Pet, is the Canex -- the Canadian Forces Exchange System. While at first sounding like the army's version of the stock market, Canex is in fact the CF's version of Walmart, a chain of stores that offers everything from subwoofers to toothbrushes at competitive prices.
The sheer quantity of amenities may seem rather excessive for a military base. Indeed, with the Canadian Forces no longer in Afghanistan, some may even argue that such things can be done without. These should be easy cuts from the military budget. However, it's important to note that while these amenities may strike civilians as luxurious, none of them are underused (the Jubilee Lodge Marina -- i.e., the yacht club -- for example operates at 95 per cent capacity when open during summer months); furthermore, they aren't over-luxurious, as they are, for the most part, amenities most civiliana enjoy. Also, it's paramount to stress that the military, whether in Canada or overseas, is one of the most difficult places to maintain morale, and it's not difficult to imagine why.
The burden placed on military families is something not only appreciated by individual soldiers, but by the Canadian Forces as well. There is a clear divide between life and work, and such a thing is vital to maintain, as it helps guarantee the concept of normality for soldiers' lives; it emphasizes the idea that being in the military is a job, just like any other.
This is a world unto itself. Although it's not geographically isolated from civilization--the town of Petawawa is a mere few minutes away by car, and has all the amenities of your average city (read: Shoppers Drug Mart, Kelsey's, McDonald's)--one cannot help but feel he is still separated from the outside world. Maybe it is because the military's work focuses on something that is alien to my civilian ears; maybe it's because the Canadian Forces seems to have a language of its own, one primarily composed of acronyms and alphabetisms that are reduced forms of already foreign sounding terms. The reason for this sense of isolation certainly isn't geographic; it's cultural, and it's a culture that will take me some time to get used to. But this culture also extends beyond the base and into the town of Petawawa.
Being from Toronto, I do not often make contact with the military. When I do, it's either through newspapers, television, or student-led protests against such-and-such war. However, in Petawawa, and in the nearby town of Pembroke, the culture is entirely different. These towns play host to soldiers when they're off-duty, and are clear examples of how proximity humanizes. Whether the war in question is right or wrong, it doesn't seem to matter for those near the base, because those fighting it are Canadians, and for that reason alone ought to be supported.
I see numerous marquees that read "We Support Our Troops," in front of everything from feed shops to kitschy motels -- even on a Kelsey's. My favorite sign of support is a bumper sticker that reads, "If You Don't Stand By Our Troops, Feel Free To Stand in Front of Them." This provides for a refreshingly uplifting sentiment that one doesn't necessarily find in the country's larger cities. Closer to the military base, there is less philosophizing, less arguing, and protesting. It seems that being so close to the reality of the army, there is no room for over-intellectualization. The soldier who walks into a bar today in Petawawa, may be sent off to a conflict zone tomorrow, and the possibility that he, as an individual, may not make it back the day after is enough to incite the community's support.
Walking on the green grounds, passing by the pristine-coloured Ottawa River, the sheer natural beauty of Camp Pet is at the same time uplifting, but also odd-feeling. A contrast between pine trees and steel and bullets, the sensation of isolation does not end there. It isn't necessarily a bad feeling of isolation, as much as it is one of being in a different ecosystem entirely. But while the PSP does everything within its power to make a base to feel as normal, everyday as possible, one cannot let go of the fact he is... on a military base. I imagine it must be a similar feeling for computer technicians who work on the Google Campus, or programmers on Apple's Infinite Loop. It's clear to see where those Silicon Valley corporations got the idea from. And it's one of the key ways not only to increase productivity for workers (for that's what soldiers are, regardless of their C7 assault rifles), but also to maintain the feeling of being looked after and appreciated.
This tour, and preliminary introduction to military life, while giving me a taste for what our men in uniform experience every day, and how they live, would do little to ready me for my first assignment. Sneezing, coughing, and shivering in the early September air, I would soon be thrown out of an assault raft, and into the glacier-like waters of the Ottawa River to train in an exercise that until now, had been reserved only for the Canadian Special Forces.