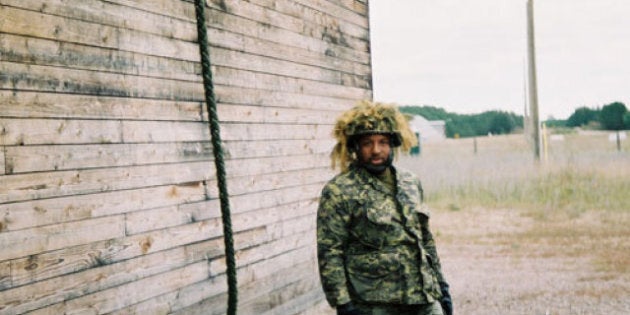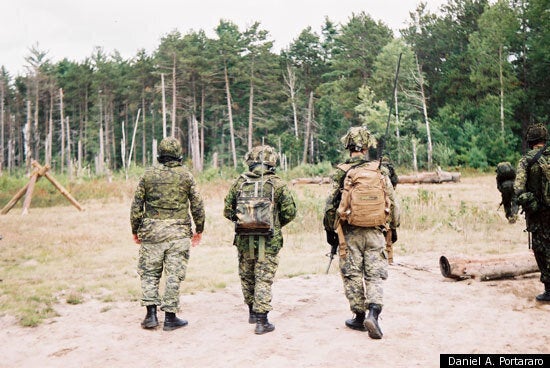 HuffPost contributor Daniel Portoraro spent a week with the Canadian Forces undergoing basic training. His unique perspective gave him a more personal insight into our soldiers' daily lives, and indeed into the broader debate over the future role of the military post-Afghanistan. This is the last of a four-part series.
Afghanistan is over. Many in Ottawa have been calling for a reduction in the military budget, insisting that now we simply don't need to invest in the Canadian Forces as much we once did.
While those removed from the military think the Forces exist 'on-demand,' those actually involved have a very different view. Merely because a conflict doesn't currently exist, doesn't mean it won't. Conflicts, especially today, are spontaneous, and can appear without a moment's notice, almost like forest fires. And Canada, being the country it is, has a role to play in the global sphere. Canadian soldiers know this when they sign up.
Regardless of the public's criticisms, the Forces recognize the ongoing threat of the unknown, and have embarked on a new military exercise, the largest in recent memory: Exercise Maple Resolve. Maple Resolve is the successor to Exercise Maple Guardian which "ran for several years as the confirmation exercises for troops heading to Afghanistan," according to Colonel Simon Hetherington, Commander of 2 Canadian Mechanized Brigade Group.
"Wainright (location on the exercise) became little Kandahar," Hetherington told me. "It was a complete replication of the battleground. But now, with Afghanistan behind us, Wainright will act as a general framework terrain. It will allow us to meet the wide range of operations we could be called to perform at a moment's notice."
Wide range of operations; it sounds like a vague term, and it's meant to. Our Forces will be trained to tackle any situation that's thrown against them, from a humanitarian mission such as disaster relief to a request from domestic or foreign governments for military intervention.
"It doesn't matter where it's situated," Hetherington said, "whether it's Arctic, woodland, desert, or even the Ottawa Valley, it doesn't matter. What does matter is that our soldiers are able to do anything, anywhere in the world. We are small, we are agile, we are flexible," -- and here his voice began to boom-- "we've been everywhere from Bosnia to offering relief for floods and fires, to Afghanistan, even offering protection for the G8 Summit in Deerhurst (a resort in rural Ontario)."
Thus Exercise Maple Resolve is all about introducing new capabilities to the Forces. Capabilities, Hetherington explains, "are things such as fast-casting, rope-casting, or helocasting. They're things the Forces are capable of.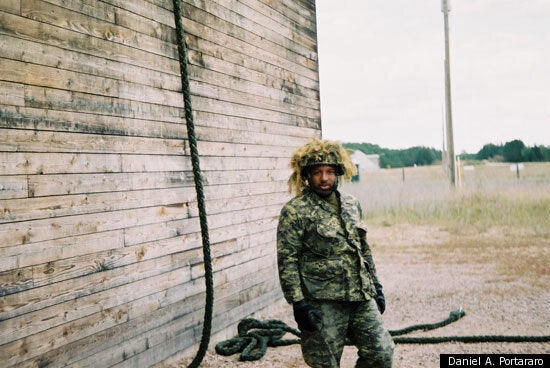 "At the brigade level, we're exercising what is called 'enablers,'" he said, "which means allowing light infantry units to operate in various environments. To do so, you need to know how to work with electronic warfare, how to deal with military cooperation, as well as integrating different platforms such as air surveillance and manless airborne vehicles."
As warfare evolves from the mere guns and mortars of the 20th century, and adapts to the electronic age of the 21st, it's clear there will be a lot to learn: "We are also training our troops in kinetic influencing, and non-kinetic influencing."
Kinetic influencing, as Hetherington explained, is when you storm a village and get rid of the enemy. In Afghanistan, however, this proved to be difficult as there was no front line, and one didn't know exactly who was the enemy; often, they didn't wear uniforms. It was very complex. How do you deliver humanitarian assistance to a village in which the controlling group doesn't want it? You can go through the kinetic method, but the problems with that are obvious.
"Now, non-kinetic influence is winning the support of the people," Hetherington continued. "You have to influence the leaders of adversaries to let you in. There are different ways of doing this, and our Forces have gotten very good at it. There's always more than one way to solve a problem, and that's not always with violence or aggression."
While the Forces may be training their soldiers to work peacefully in certain situations, Hetherington stressed that by no means are they trying to build an army of peacekeepers. "We did that in the 1950s, and were successful, as Leslie B. Pearson so often said. But today, things are different, and we fight alongside those at the highest level. We've accepted the clause of unlimited liability. We're literally prepared to die for our job. When we sign on the dotted line, we're prepared to go into dangerous places and potentially not come back.
"We're not meant to be diplomats. We are Canadians first and foremost, and while we have our stringent beliefs about human rights and equality, and have a code of conduct which expounds on these things, we're still soldiers. And first and foremost, we train our men to be just that."
But being a soldier still doesn't just mean firing a gun. "In CFB Petawawa we provide a large contribution as a disaster response team," Hetherington said. "We have folks here who are tasked at a moment's notice to support the country. We have immediate reaction units that move for domestic response, for Ontario. But this applies across Canada too, with the Army at large. When we look at Exercise Maple Resolve, the activities and exercises we undergo are used for everyday situations. There will be 3,000 of us at Wainright training for just these types of situations, and any others that may arise in the future.
"We are here to represent Canadians. To protect Canadians, and their interests, both home and abroad. We need to train across a wide spectrum of conflict. And this takes time, it takes effort, and it takes money."
It takes money. Merely because we are not involved in conflict today, doesn't mean we won't have to answer the call to duty tomorrow. Being the country it is, Canada cannot have an army-on-demand; it must constantly be ready, and prepared to tackle any issue that comes its way. This comes at a justifiable cost.
Furthermore, it's a cost not squandered by the forces. I saw it for myself: Food doesn't go to waste. Resources are cherished. Live ammunition isn't used willy-nilly. This last point is seen with the sheer amount of training and explaining and debriefing I witnessed on base when it came to mere exercises. Dry rehearsals save expensive bullets. Long briefings for fast-casting save boat gas.
While I was talking with a private, he explained to me, with a sense of child-like excitement, that even our troops' snowshoes serve a dual purpose: they walk on snow, yes, but are also able to start fires because "their edges are made of a material like flint." This may be a small example, but it is nonetheless representative of the Forces at large; when something can be saved, it is; when something can serve more purpose than one, it's engineered with what could be called a "Swiss Army knife" mentality. Canada shouldn't shun its men and women in uniform for its increase in military spending over the past 10 years.
If there must be cutbacks, they shouldn't affect those on the front lines, or reduce troop numbers. Rather, cutbacks ought to be made on the huge amount bureaucracy that plays behind the scenes.
Cutbacks to troops will undermine our armies, not merely in terms of supply, but in terms of morale as well. This must be avoided, as it's a slap in the face to the brave men and women who sign that clause of unlimited liability, which effectively is a contract stating that if they die, they can't sue. It sounds trite when one puts it that way, but that's the level of dedication our soldiers have.
With a government that doesn't stand behind its army, it is unlikely the people will. When I initially came to CFB Petawawa, I expected to meet soldiers who took up the rifle because they couldn't get any other job, but I had a hard time finding them. One corporal told me that he'd enlisted the moment the war on Afghanistan was declared. "I believed in that war," he told me. "I'd be a coward if I didn't join."
These men are physical manifestations of bravery and valour, and as I've written before, our lack of proximity to them dehumanizes them. This is wrong. We may not always support a war, but we must always support our troops, and avoid the story of a soldier being spat on in a bar when he told a college student of the same age he was a private.
Appreciation for our men in uniform must extend beyond military families, and become prevalent, especially amongst my generation which believes tweeting is enough to make a change in the world. There's the apocryphal story in the United States that if a soldier says he's a soldier at a bar, he won't be able to buy himself a drink for the rest of the night. It's time that we bring this type of appreciation back to Canada, and certainly, maintaining, or even increasing financial support of the troops is a step in the right direction.