Most Canadians have a favourite team. And we are extremely loyal to our teams. These loyalties are often based on where we live, and are regularly passed from generation to generation. In fact, the debates about our teams can become so contentious that our pleasant Canadian temperaments are quickly abandoned during rants of team superiority. I once witnessed a bar fight in Ottawa where a seemingly docile civil servant and a mild-mannered professor were reduced to fisticuffs over their contradictory alliances. True story.
But, incidentally, I'm not talking about hockey here folks.
I'm talking about the airline carriers across our fair northern nation. Each citizen of Canada (with the means to fly) has a preferred carrier, and they're not shy to tell you about it. In Canada, there are three airlines occupying the bulk of the domestic market: Air Canada, WestJet and Porter.
Each carrier has its unique history, and vision of where it would like to go in the future. Air Canada is the nation's largest airline by the numbers, and holds the lengthiest lineage. Although it was privatized in 1988, the airline is still considered Canada's flag carrier (a special designation granted by the state for preferential rights or privileges).
Founded in 1996, WestJet is Canada's second largest airline. The low-cost public carrier is a rarity in the industry as it is non-unionized, instead employees are given ownership and voting rights. It has received numerous awards for customer service and corporate culture. To round out the list, the quickly expanding Porter Airlines is nipping at the heels of its larger corporate brothers, with 19 current destinations in eastern Canada (and little doubt that the airline is considering expansion in the west). Each of the airlines has proved itself as a viable brand in one form or another.
When it comes to hockey, we've got playoffs to determine who's the best in the league. But when it comes to airlines, it's not so cut-and-dried. So how do we know which airline is better? How do we pick one from the other? Is it just about flight paths and ticket prices? Or should these companies be held to a higher set of standards and values? The answer shouldn't be about which has cozier seats, better in-flight movies, or tastier $10 bags of chips. In fact, it's not even about who's best anymore.
It's about who is doing the most good.
The airline carriers in Canada are missing a major opportunity here: to put social and environmental cause at the core of their businesses plans, and subsequently win the hearts of the nation. Yet none of the major airlines in Canada have claimed the title of "The airline for the people and planet."
Here's a quick rundown of attempts by the top three airlines to be good corporate citizens:
TEXT CONTINUES BELOW BLOG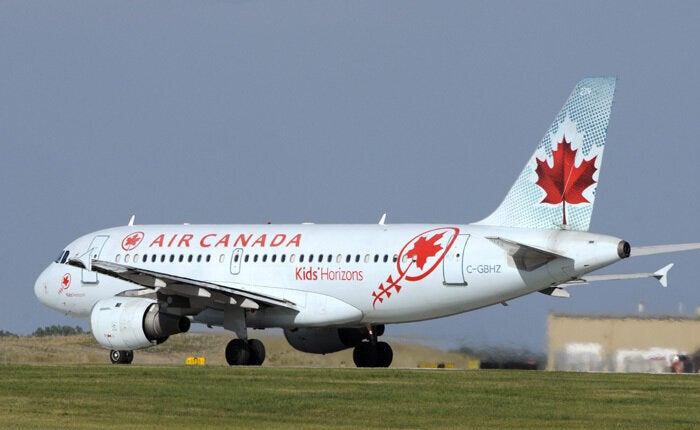 Which Canadian Airline Does the Most Good?
Air Canada has its own foundation "to help connect sick children to the medical care they need, alleviate child poverty, and make the wishes of ill kids come true." The airline is also involved in disaster relief. During the six weeks following the 2010 earthquake in Haiti, for example, Air Canada delivered 183,650 kilograms of relief supplies. In terms of environmental initiatives, Air Canada is part of the Carbon Disclosure Project. And according to the airline's website, it aims for a 25% reduction of emissions by 2020.
Report card notes: Not bad, Air Canada. But not awesome. And why the heck don't any of us know about the good things you are trying to do? I bet nine out of 10 Canadians don't know that the Air Canada Foundation even exists.
Westjet is also actively involved in children's charities, as well as having an elaborate commitment to the environmental. The WestJet Cares For Kids program was launched in 2007 to support six national charities that address children's health and wellness issues. On its website, the airline states explicitly, "We are committed to making our planet a better place to live." It has spent over $2 billion on a fleet of Boeing Next-Generation 737-series aircraft. As a result, it supposedly features one of the youngest and most fuel-efficient fleets in North America. As an airline, its goal is to achieve a 45 per cent improvement in fuel efficiency by 2020.
Report card notes: Respect to you, Westjet. But still room for improvement, keep going. Your "Cares For Kids" program could use some attention.
Porter has no official communication of a brand commitment to social betterment or environmental sustainability on its website. However, I did reach out to the media team who responded with a statement regarding social commitment in three categories: Operations, Aircraft and Industry. Porter's unique positioning on Toronto Island reduces the emissions of long commutes to distant, suburban terminals. Plus they donate hundreds of thousands of dollars in travel support to worthy causes each year.
Report card notes: You're cute. But you have a lot of work to do, Porter.
[A side-note to note to all the carriers: Pushing the needle in terms of social and environmental good has to go beyond fuel-efficient planes. "Green planes" are wonderful, but are also bought to simply save money on fuel.]
Critics would argue that it would be foolish to take such a moral positioning of environmental piousness, especially in an industry known for pollution. Yet it's not foolish -- it's entirely possible to be sustainable. Take one of Canada's regional carriers as an example. Through a partnership with Offsetters (a Canadian provider of carbon-management solutions), Harbor Air has been a Carbon Neutral Company for nearly five years, and has bragging rights as the first airline in North America to attain such environmental excellence. This very achievement negates the claim that air travel automatically equates environmental disaster. If I were an executive at any of Canada's big three airlines, I'd be taking some frantic notes.
The winner of the race to win the title of "The Best Airline Carrier in Canada" will successfully be able to facilitate and communicate a vital shift. And the shift will look like this:
From: "We bring people together."
To: "We bring people together, and make the world better."
It's a minor modification in brand mission that could have major implications across the industry. Yet, which of Canada's big three airlines will be brave enough to step up and position themselves in this light? Time will tell. But it will take bravery. It's a scary positioning because it requires a real commitment. But guess what? Real commitment is what the future is demanding.
The first major airline in Canada to actually make a commitment to betterment will inarguably be the best airline in Canada. They will be awarded the Stanley Cup of air carriers.
Now, which one of you has got the gumption to make it happen?