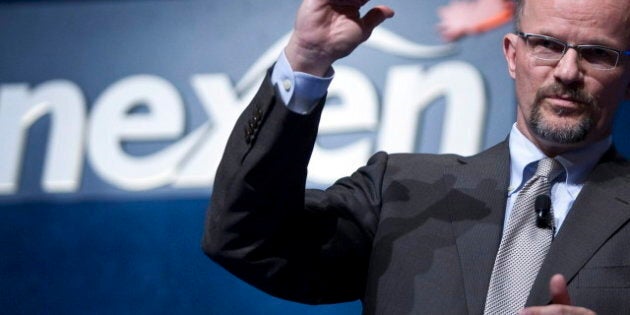 There might be perfectly legitimate reasons why Ottawa may decide to block the proposed acquisition of Nexen Inc. of Calgary by CNOOC Limited, the state owned energy giant from China.
But the notion that "foreigners are taking over Canada's natural resources" is not one of them.
That argument is factually and demonstrably false. Our governments own the vast majority of these natural resources. That isn't about to change any time soon. Canadians should be aware that there is no risk whatsoever that we would lose ownership or control of them.
Government's -- usually provincial -- provide firms with rights to these resources for a contractually defined period of time. For their part, companies invest heavily in the very significant plant, equipment, infrastructure, and people that are required to develop, "exploit," and market natural resources. These firms assume substantial financial risk in doing so. There's execution risk and there is always market risk in the volatile global commodities business. It is capital intensive and firms appropriately require a reasonable return on their capital and a premium for the risk they assume.
Typically, the contractual arrangements between companies and governments take the form of a lease. The province provides licenses and permits for companies to operate within a specific territory. It is not unlike owning a house and renting it to a tenant.
For the sake of discussion, let's say it is a forest company. The company acquires the right to harvest and sell timber, but doesn't own the land. The province puts conditions in these contracts. Those include fees to hold these licenses, a "stumpage" fee -- or royalty -- for every cubic meter that is harvested. Stringent conditions must be met around environmental protection, logging road construction and maintenance, reforestation, and First Nations issues.
At no time does the province ever give up its ownership of "Crown Lands." Moreover, the province continues to regulate activity on those lands, and aggressively enforces them. Broadly speaking, the same regime is in place for all resource extraction activities, including oil and gas exploration and development, and mining activity, which includes potash, a fertilizer.
In 2010, BHP Billiton, a widely held global Australian mining colossus, made a hostile bid for Potash Corporation of Saskatchewan. It was an unsolicited offer of $38.5 billion, or $130 per share, which represented a modest 16 per cent premium. The Potash Corp management and board responded by saying that the offer was "grossly inadequate."
Expecting BHP to sweeten its offer, the market pushed up the price to over $150 a share. But the shrill voices of economic nationalists and faux populist -- or simply ignorant -- politicians created the pretext for the Harper government to turn down the deal. The mechanism was a flimsy interpretation of the hilariously nebulous "net benefit" clause of the Investment Canada Act. That clause was designed specifically to drive a truck through it.
In this case, what purpose did turning down this transaction serve? The only thing I can think of is that it solved a short-term political problem for Stephen Harper's Conservatives before the 2011 general election. We also know that the shareholders of Potash Corp -- almost evenly split between Canadians and foreigners -- can't be too happy. Their stock today is trading at about $43.
Healthy and sophisticated economies can only function efficiently if the rules of the game are clear. On that point, the inaction of Stephen Harper's government has cost Canada dearly.
I don't believe the Government of Canada had any reasonable economic or policy basis to block the transaction between BHP and Potash Corp. As far as I am concerned, that was a matter strictly between the owners of both companies -- their stockholders. There was no serious public policy rationale for interfering in that transaction. It was a calculated and strictly political intervention. As such, the move undermined confidence in Canada as an investment destination in the eyes of world capital markets.
Since the BHP-Potash debacle, Mr. Harper promised to clarify rules that would govern foreign investment in Canada. He didn't fulfill that commitment. Because of that we are faced again with a situation where Canada's reliability is in doubt. And the world is watching once again.
Although Nexen management, directors, and shareholders have voted overwhelmingly to accept the CNOOC offer, theirs, understandably, is a strictly financial calculation. It's a great deal for shareholders and the holders of stock options. Parliamentarians, however, must exercise a very different and much broader responsibility and be diligent in doing so.
For instance, should state enterprises wholly owned by foreign governments be allowed to acquire Canadian firms without an additional layer of strategic and security review? If so, what process should be established to ensure rigor and fairness in assessing the national interest? If a transaction such as this is allowed to proceed, should we not insist on a guarantee of reciprocity? In other words, shouldn't Canadian companies be able to invest and acquire in China on the same basis?
A more fundamental question is would that even be a realistic goal for China at this juncture? After all, it must be said that China is a communist country where property rights don't exist, where contract law is in its infancy, and where the rule of law is whatever the people in charge decides it is.
So reciprocity, as some trade experts are calling for as the one and only precondition to approving this deal, is somewhat naive, in my judgment. What Canadian company would be allowed to acquire a Chinese broadcaster, telecommunications firm, or construction company? Could a Canadian company, or Canadian consortium, acquire CNOOC? I think not.
Therefore, we have to figure out how to build a relationship with the Chinese where a shared framework for how that relationship is governed is clear and fair, with a mechanism in place for settling disputes.
Our parliamentarians must insist upon it. My sense is that the Chinese want and would enthusiastically welcome such an arrangement as much as we would.
The Harper Government is reportedly working on a trade agreement with China. That is indeed a very positive development. The ties between our two countries are too significant and trade growing too rapidly for there not to be one.
China has been a member of the World Trade Organization since 2001 and has made tremendous strides to develop a legal system that a larger number of investors can trust. WTO membership is critical to China. The Chinese will do nothing to jeopardize its standing as a trusted trading nation. China is and will remain a major trading partner for Canada. Moreover, the relationship between peoples is always enhanced and improved the more we interact through trade.
In the final analysis, Canadians need not fear that "foreigners are taking control of our resources." They are not and they will not. We own them and we set the terms for how they are developed and what we get paid for them.
There should be no confusion about a basic point: the intelligent and environmentally clean development of our abundant natural resources is a good thing for Canada. It creates many well-paying, mostly union, jobs. It broadens and deepens the revenue base for governments so that they are better equipped to provide the services we demand. And it provides the financial capacity to build the schools, hospitals, critical infrastructure, and livable communities of the future.
Canada should be unambiguously open for business and investment. Stephen Harper's Conservatives should stop pussy-footing around with our lifeblood. What can't afford perpetual ambiguity, an uncertain investment climate, and governments that play short term-politics with critically important decisions that impact our trading relationships today, and the Canadian economy for many years to come.