The Conservative Party grassroots are gearing up for its biennial national convention, this year to be held at the BMO Centre in Calgary, Alberta.
The convention, originally scheduled for June 27-29, was rescheduled and relocated due to the Alberta floods.
The three-day convention is broken down into a mixture of information sessions, speeches, and debates on policy and constitution resolutions, concluding in votes on these debates. Debates either involve the policy declaration or the party constitution. The policy declaration serves as the Conservative government's mandate to implement the policies desired by the Conservative grassroots, while the national constitution governs the operations of the party.
Up for discussion are 199 policy proposals and 67 constitution proposals, not including those that may be introduced as motions from the floor.
Another proposal would create a "workers' rights" section which states workers should be allowed to "organize democratically... collectively bargain... and peacefully withdraw and withhold services. This proposal also calls for legislation that requires public service unions to disclose the amount of membership money that goes toward "political donations, donations to media organizations, and to political activism and campaigns."
A third proposal would create a "National Sunshine List" for all Crown corporations and federal agencies where employees make more than $120,000 per year. Such a proposal was tabled by MP Brent Rathgeber as a private members bill, for anyone making more than $188,000, but the bill was effectively killed when the minimum salary to be included on that list was raised to $445,000.
- Stating that the Government of Canada "must continue to defend the democratic countries of the Middle East and the right of Israel to exist."
- Developing a plan to criminalize the purchase of sex as well as those profiting from the purchase of sex
- Creating a "National Transportation Strategy"
- Amending the Criminal Code so that "harassing telephone calls" include harassing text messages
- Proposing that, following a balanced budget, the federal budget remain frozen at $300 billion until 2021
- Ending supply management
Proposals to amend the constitution focus more on the internal operations of the Conservative Party itself. For instance, making sure candidates for nomination are not allowed to take cash for membership purchases. This would require anyone purchasing a membership from the candidate to do so by personal cheque or credit card.
There is also a proposal to create an "ethics committee" that reports directly to National Council on the party's "compliance with ethical best practices in its fundraising and campaigning activities." It would presumably act as part-watchdog, part-research and advisory committee to ensure they remain focused on ethical best practices.
As well, the proposal to switch from an equal-weighting to a membership-based process for electing the next leader is back for debate. Currently, each Conservative riding association gets an equal number of "points" to elect the national Conservative leader. The proposal is to keep these points, but also give additional points to riding associations with large memberships. It would give a larger voice to those associations with more memberships, while smaller associations would have a smaller voice. The same proposal was introduced in 2011 and failed.
To combat this a proposal has been submitted that would not allow failed convention proposals to be re-introduced at the following two national conventions. If not silencing defeated ideas, it would at least give a six-year grace period before they could be raised again.
- Ensuring Conservative members are at least 14-years-old
- Ensuring National Council communicates "legislative initiatives and government policy" that has been implemented
- Proposing that national conventions not be held in the same year as federal elections
- Capping policy and constitution proposals at 10 per-province
- Ensuring the power to elect a riding candidate rests with the EDA rather than the national party headquarters
This convention will see Conservative grassroots give their leadership their mandate, a crucial one since it establishes the operating rules, policies, and groundwork until the next national convention, which will be just months before the October 2015 election.
It offers a unique and truly grassroots experience for Conservative members, unlike any other federal political party. Here delegates have the opportunity to sit right next to Conservative MPs, cabinet ministers, and Senators, and directly discuss Conservative policies.
Those attending the convention are broken into a few different categories. Delegates were elected by their local Conservative riding association (EDA) and serve in an official voting capacity on behalf of that riding association. Alternates also attend the convention, but cannot vote unless they do so in place of a delegate. Finally, observers are allowed to observe the convention, but cannot take part in the debates. There are a limited number of observers, usually Conservative members who were not elected as a delegate or alternate for their EDA as well as members of the media. Registration cost between $475 and $1050, depending on the category.
Follow the Conservative convention on Twitter by using #CPC13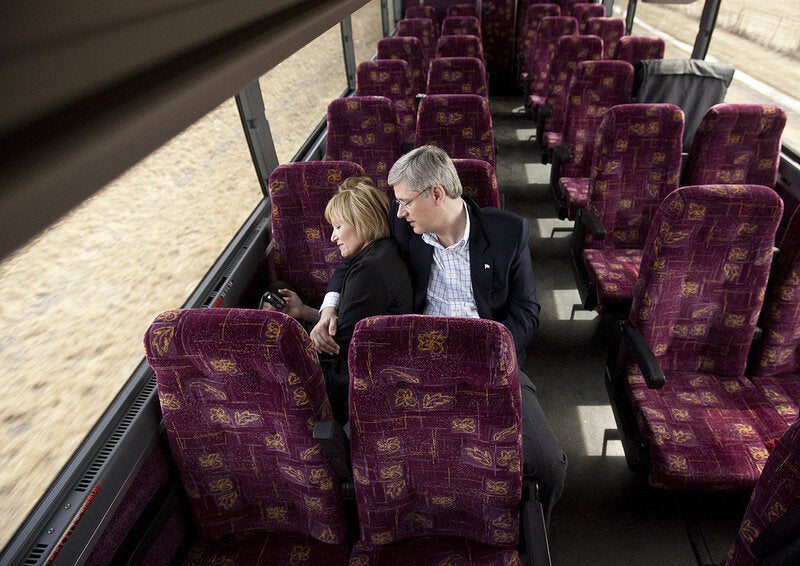 Memorable Stephen Harper Pictures