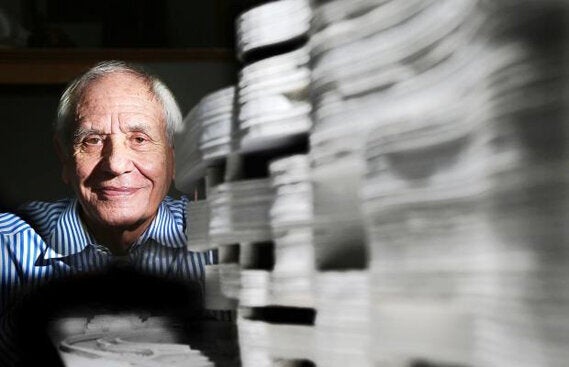 Photo by: Bruno Schlumberger
Canadian Style Icons is a bi-weekly column authored by Daniel Eckler, serial entrepreneur and founder of Piccsy.
Your heritage always leaves a lasting impression on the person you are, and there's no doubt that's the case for Douglas Cardinal. His aboriginal heritage has molded him into the artist and visionary he is, gifting Canada and the world with his unique vision of naturalistic, organic architecture.
Cardinal was born in Calgary, Alberta, the son of a game warden. He described himself as being "always more in tune with nature," as a youth. His father spent a great deal of time with Cardinal, and taught him his love and appreciation of nature. "I got a real feeling of the natural environments from him," Cardinal told CBC Radio in an interview from 1984.
Cardinal attended the University of British Columbia to study architecture, before his strong work earned him the scholarships that allowed him to study at the University of Texas's School of Architecture.
In Austin, Cardinal lived and saw the civil rights struggles that marked Southern American history in the 50s and 60s. He had also experienced racism as a Canadian Aboriginal, remarking that Canada "primarily, is a very racist country, when it comes to aboriginal people." These struggles left in Cardinal a strong belief in designs that benefit people.
Cardinal graduated from University of Texas at Austin in 1963, and he would return to Canada, creating homes throughout Alberta, before he was selected to design the Infirmary Building for the Alberta Hospital Edmonton. After that, he would develop more buildings for the government of Alberta, including housing projects, government service buildings, and the Grande Prairie College Theatre, since renamed in his honour.
Each of his buildings shows his characteristic attachment to natural shapes, and organic design, reminiscent of Frank Lloyd Wright. His work drew praise for their daring shapes, but functionality. Cardinal remarked, somewhat cryptically, "the build should reflect the feeling of the river, the winds, the erosion of time."
Nowhere is that more evident than his work on the Canadian Museum of Civilization -- one of Cardinal's most famous works. Cardinal was asked to design the new facility, and rising costs and his ambitious design raised concerns among many. Today, the building is seen as a triumph of modern sculpture, with a pleasing, uncomplicated, natural design, and a commitment to function.
Perhaps it's because of this appreciation that Cardinal's work looks the way it does. Cardinal said he hoped his buildings would look like "sculpture that grew out of the ground," and that he wanted his work to "reflect the actual origin of the continents."
Today, the idea that people would quibble over Cardinal's designs almost seems absurd. He is integral to the canon of Canadian architecture, and the world agrees. In 1998, he was involved in the creation of America's National Museum of the American Indian, and requests for his design have come from as far away as Saudi Arabia.
Cardinal has over fourteen Honourary Doctorates, and is an Officer of the Order of Canada. In 1999, he was granted the Royal Architectural Institute of Canada's Gold Medal, and in 2009, he was granted a Gold Medal from the Union of Architects of Russia. Today, Cardinal is still a working architect, with his Douglas Cardinal Architect Inc. based in Ottawa.
Read on below for Cardinal's thoughts on style...
What is your definition of style? And good style?
I believe that style is the unique expression of the individual based on their personal design philosophies. In terms of architecture, style is based in our connection to the community, to the people we serve, and in our connection to the land and environment in which the building is integrated. I believe that good style is measured by the passion and emotions that you put into your work and how well you are able to inspire and enroll other people into sharing your passion and emotions with others.
How do you describe your style?
My style of architecture is organic; inspired by the nature of man in harmony and in balance with our natural environment. I believe that architecture should be sculptural. It should be a powerful expression of the vision and dreams of the people we serve. My style is influenced by my belief that each structure should not only add beauty, but also raise the spirits of the people who enter the space.
As humans we have this amazing gift of creativity, and we want to and need to express it. Creating beauty around us is fundamental to the human spirit. We require beauty in the design of our clothes, our tools, our shelters, our vehicles; everything around us is enhanced by our need to express ourselves in a beautiful way. Even if we feel that we are not creative, we can still surround ourselves with the creativity of others, who have in some way touched us.
What makes someone or something a style icon?
The people, the public, make someone a style icon by declaring their love for their work, and supporting it. Through their creativity and style, they have found a connection with the people.
How do you describe Canadian style?
Any style that is rooted in the Canadian experience is inspired by the dramatic landscape of this country, with its powerful forms and colors, and the diversity of its people. There is so much inspiration in this country, so many beautiful cultures and settings to experience; and it is through our meaningful experiences that we create.