Canadian Style Icons is a bi-weekly column authored by Daniel Eckler, the founder of MIJLO -- simple solutions for small spaces.
Necessity is the mother of invention, as the expression goes, and Paul Rowan's story attests to that.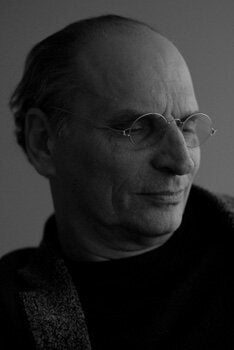 Photo credit: Justin Morris
Born and raised in Toronto, Rowan graduated from George Brown in 1974 with a degree in graphic design. As a young man, trying to decorate a new apartment, he couldn't find any blinds that he liked. So he made is own. Problem solved. Necessity begat invention. But then others noticed them, and they liked them. So he made more. Sensing an opportunity, Rowan teamed up with a friend, Les Mandelbaum, and together they founded Umbra.
Thirty years later, Umbra is a design powerhouse, having won numerous design industry awards, and in 2000 their mesh garbage can was added to the permanent collection at the San Francisco Museum of Modern Art. One of their designs -- the fish hotel -- was even selected by Oprah as one of her coveted 'favorite things' -- no small feat!
But even after finding so much success and recognition, Rowan hasn't forgotten that young man with a necessity; Umbra proudly supports Canadian design education by partnering with schools such as Carleton University, OCAD, George Brown and Humber colleges. They also create and hold design competitions around the world.
Umbra now sells more than 2,000 home products through 25,000 retailers in 75 countries. All because Rowan's apartment needed some shade. A fact that the company proudly takes to heart: 'Umbra' is Latin for 'shade'.
Read on below for Rowan's thoughts on style:
What is your definition of style? And good style?
I like new style. Fashion is a great leader of style, it's amazing how fashion has been such a leader of style for so many centuries, rather than objects, but now I see more of a convergence. That's why we were able to do so well. People thought that objects around them were just necessary and they put up with them.
Now they're much more critical about things that are around them, they don't want a bunch of junk, and they also don't want to relate to something that's so cookie cutter like IKEA.
I think there is always a contrarian view about anything that's available at mass, they want something that's a little more original. I love bespoke things, we have some concepts here that are quite interesting in terms of random manufacturing. That's the kind of style I like, more original.
How do you describe your style?
Style for me is really personal. I want to be on-brand, living a style that's innovative. My brand is a kind of young brand, I want to be living in a young area. I live in Leslieville now. I live where there are more people younger than me than older.
Most people transition to a place where the age of other people is the same or older. I've gone the reverse, I told my wife -- she said let's move to Rosedale -- I said that's where people go to retire and die. My style, our style at Umbra, it's flexible, open-minded.
Style's not just style on its own. Style is a reflection of who you are, it's like the objectcation of yourself. There's your spiritual self and style is the physical side. Also, I seek style in support of movements and design.
I support the way this guy hand dyed all his clothing. I support they fact that they take the time to do it. I support different movements in design, I am a symbol of it when I wear it. I live it. People always come up to me and say you have so much style, I'm my own curator of things I see, I like to have fun with it.
What makes someone a style icon?
Differentiation and being contrarian is definitely true, you never notice anybody that's a little bit different or following trend, they just blend right in. But people are attracted to that. There are a lot of unknowns about being attracted to newness -- how do you know you're not being stupid by actually liking something like that because you've never seen anything like it before. You have to have this kind of confidence in it.
There are a lot of reasons why you gain confidence about certain things. There are people that are models for it, particularly entertainers, thats why designers like to entertainers to wear their unusual fashion, because if they just put it on a normal person, it would be hard to believe. But when one of the divas wears one, "oh my god" -- it gives it credibility.