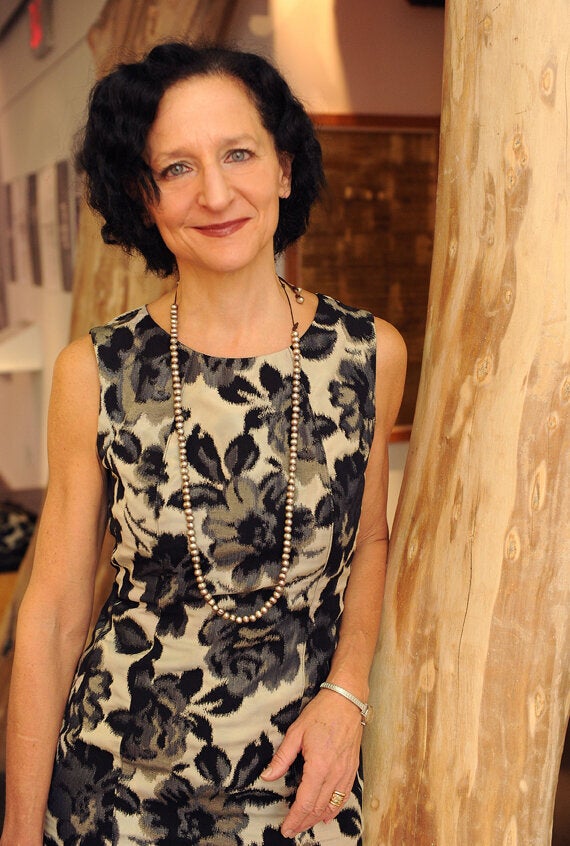 Photo courtesy of Sara Diamond
Presidency of a school is never an easy task, especially when the school is as unique as OCAD University. One of the most prestigious art and design schools in the world, OCAD is lucky to be paired with one of the most eminent digital artists in Sara Diamond.
Originally a school of art, growing into a the Ontario College of Art and Design, and eventually becoming chartered as a public University in 2010, OCAD U has grown with the times, becoming more than an art school. Diamond too, is more than just an academic, and her growth as an digital artist and administrator fits the school well.
Diamond's family first came to Canada in the 1950s, escaping what they saw as the instability of a McCarthy-era United States. Diamond studied at Simon Fraser University completing an undergraduate degree in Communications and History. Her MA would come from the University of the Arts, London in Digital Media Theory, and her Ph.D in Computing, Information Technology and Engineering, was earned at the University of East London, England.
It's hard not to notice the varying nature of Diamond's degrees, but they chronicle the growth of an artist heavily interested in the artistic possibilities that emerging media and technology present. Diamond has always been passionate about the potential of media and technology in relation to art, going all the way back to her first art videos, in the early 1980s. In "The Influences of My Mother", Diamond explored her complex relationship with her mother, and the socially charged times in which she lived. The tape is considered a critical part of feminist art video history.
In 1992, Diamond joined the Banff Centre as Artistic Director of Media and Visual Art. Her work there in new media was groundbreaking, and led to her founding the Banff Centre's Banff New Media Institute in 1995, and in 2003, she was made Director of Research. Diamond brought together artists, theorists, and new media experts to critically look at several major issues in the nascent world of new media and art at the time.
Some of Diamond's work in Banff is chronicled in "Euphoria & Dystopia: The Banff New Media Dialogues", which details the Banff New Media Institute's studies of new media, art and technology from 1995, until Diamond's departure in 2005. In Diamond's time at Banff, the Centre also fostered dialogue between Aboriginal groups while examining the role media, old and new, played in their communities. In 2005, Diamond left the Banff Centre to join OCAD as President.
Diamond has taught at the Emily Carr Institute of Art and Design, California Institute of the Arts, and is an adjunct professor at UCLA. In 2012, Diamond was granted membership in the Order of Ontario, and also serves on the Ontario Ministry of Culture's Minister's Advisory Council on Arts & Culture.
Read on below for Diamond's thoughts on style..
What is your definition of style? And good style?
Style is an accessible way to describe the continually evolving set of parameters that describe aesthetic values -- the sensory and formal expression of our senses through cultural expression in the broadest sense -- design, art, architecture, fashion, technology. Style is determined through the interaction of individual and collective identities and market forces. Style equally refers to the ways that individuals express themselves through speech, gesture, movement -- it is embodied.
Good style provides us with pleasure but sets on edge just a little.
How do you describe your style?
My style is eclectic -- in fashion, in my art collection, home furnishings, friends, reading, writing, intellectual pursuits. I love the blend of the very new and the historical. I have learned the vocabulary of modernism, with its simplicity, but I am very comfortable with the baroque, digital and difficult. I have almost infinite curiosity in relation to art and design expression. I ascribe to Canadian designers as well as international less conventional brands. I love to combine couture with the recycled and knock-offs. My personal style contains artifacts from my New York Jewish salt of the earth/risen childhood.
Style is important for many reasons. Style is an organizing principle. It helps us to create categories with which to compare fashion, the built space, music, etc. Any taxonomy means that we accept the principle of diversity -- diversity amplifies intelligence. Style is important because it allows the expression of identity by individuals and groups. Style is important because the identification of a specific style provokes counter reaction and new forms of expression. The quest for style drives consumerism.
What makes someone a style icon?
People become style icons because they are comfortable with their own form of expression, and that form of expression captures the zeitgeist of the time and its edges, or points towards an imminent future.
How do you describe Canadian style?
Is there "a" Canadian style? Not sure there is any homogeneity. If we suspect there is a Canadian style we should go the indigenous people of Canada to describe it. Whatever we do, let's not be earnest.