Something happened in Toronto real estate over the past year that really shouldn't happen in a free market. As home prices shot through the roof, the number of homes being built in the city dropped dramatically.
New housing starts fell by 46 per cent in the past year. And even though nearby Hamilton and Oshawa are seeing some of the country's fastest house price growth, building permits issued there dropped by 29 per cent and 14 per cent, respectively. That's even though the average resale price in the region soared 22.7 per cent at the same time.
Vancouver seems to be experiencing a similar problem.
"When you have a 40 per cent increase in prices in a year, the skyline should be absolutely saturated with cranes," Thomas Davidoff of the University of British Columbia's Centre for Urban Economics and Real Estate told Bloomberg. "That's not what you see in Vancouver."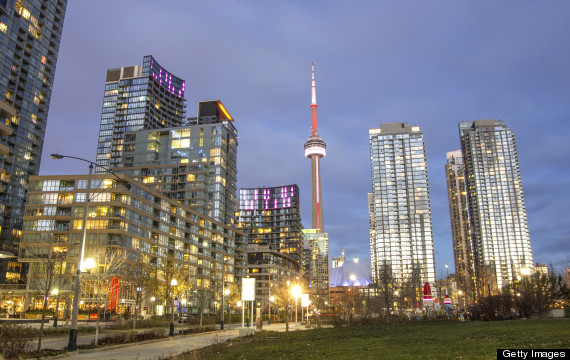 Condo buildings on Toronto's waterfront. The city has seen a large drop in new home construction, even as prices soar. (Photo: Getty Images)
So what's going on here? Why is the supply of housing not keeping up with demand, even though there is so much money to be made? The answer, according to a growing number of experts, is that local policies and public opposition to development are killing off home construction, causing home prices to skyrocket. Not a good thing in a country whose population grows by more than 300,000 every year.
A number of phenomena are working to fuel rapid price growth. Nimbyism and restrictive land use policies are two of the largest.
Why is the supply of housing not keeping up with demand, even though there is so much money to be made?
Nimbyism, the "not in my back yard" phenomenon, has made it difficult to densify existing neighbourhoods inside cities. Toronto and Vancouver, easily the two cities in Canada that most need to densify, are also two places where NIMBYs often set the agenda.
"Community opposition to intensification is a growing challenge in Greater Toronto, and outdated zoning bylaws play a significant role," BILD GTA, Toronto's building and development industry group said in a recent blog post.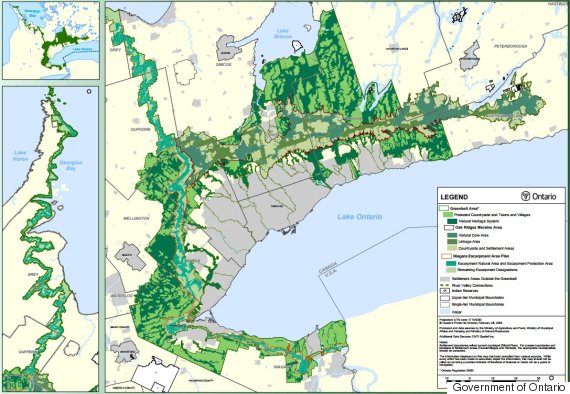 Ontario's Greenbelt is designed to limit urban sprawl and preserve nature and farmland, but it's also driving up house prices. (Map: Government of Ontario)
Zoning rules reaching back to the 1950s have frozen entire neighbourhoods in time, effectively barring new development -- and that's the way residents seemingly want it.
But halting development in these neighbourhoods isn't an option anymore. Urban planners have shifted their focus in recent years from building infrastructure to controlling sprawl. And sooner or later that will have to mean new, higher-density construction inside existing neighbourhoods.
That's creating a mismatch between supply and demand, driving up prices.
The 8,000-square-kilometre Greenbelt surrounding Ontario's Greater Toronto Area has been lauded as a visionary attempt at ending urban sprawl. The plan leaves a "whitebelt" of developable land inside the Greenbelt, but municipalities will have to build much of that as higher-density housing -- on the fringes of the city, where transit and highways haven't been built. That's creating a mismatch between supply and demand, driving up prices.
It's a similar situation in Vancouver, where, according to Anne McMullin of the Urban Development Institute, two-thirds of city land is zoned for single-family homes -- which now average more than $1.5 million. In other words, two-thirds of Vancouver's space is now reserved for the wealthy, or descendants of homeowners lucky enough to have bought at the right time.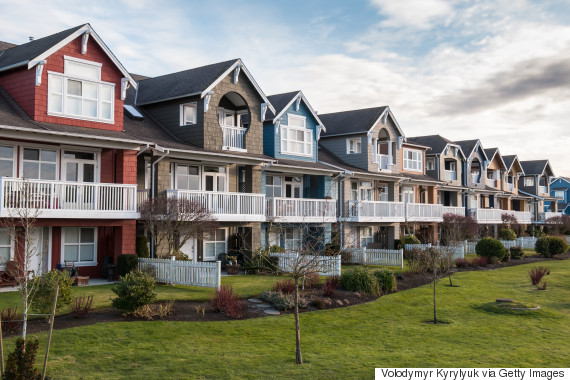 A row of houses in the Vancouver suburb of Richmond. Although the region is running out of developable land, two-thirds of it is zoned for single-family homes. (Photo: Volodymyr Kyrylyuk via Getty Images)
Meanwhile, federal policy -- under two consecutive governments now -- is to tighten mortgage rules, which reduces homebuyers' ability to pay.
"Those kinds of policies tend to favour those who are already in the market," economist Shamubeel Eaqub told me in an interview last month. "Young people, poor people won't meet the stress test" that the Liberal government has mandated for borrowers, he predicted.
Indeed, according to Ratehub, buyers will now need a 20-per-cent or more raise to afford the same house as before the new rules. (Or, more realistically, they will have to settle for less.)
If the problem is a lack of homes, then tightening mortgage rules is not the solution. People will simply borrow as much as they can, or spend as much on rent as they can. After all, everyone needs to live somewhere.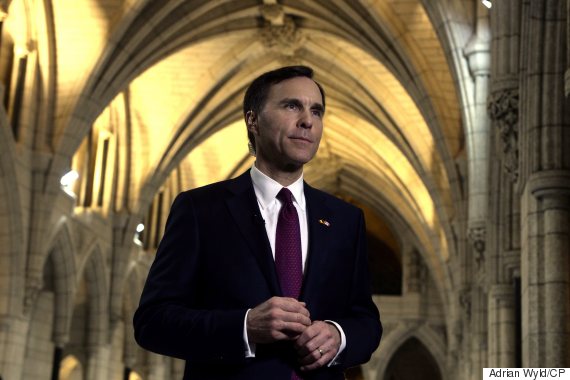 Finance Minister Bill Morneau introduced tighter new mortgage rules this fall, a move some economists say will hurt first-time homebuyers and lower-income homebuyers the most. (Photo: The Canadian Press/Adrian Wyld)
Faced with a housing shortage caused by government policy, homebuyers are simply borrowing more, and Canadians now have the heaviest debt burden of people in any G7 country.
Economists like Eaqub and industry groups like BILD are urging policymakers to allow more development -- either by standing up to nimbyism and densifying neighbourhoods, or by relaxing anti-sprawl measures. Some economists also suggest that governments get back in the business of building social housing, which they argue is part of the reason free-market homes were affordable in the first place.
None of these options are politically easy, but there aren't really any other alternatives.
Canada's most economically vibrant cities risk choking off their own growth.
But something has to change in government policy, one way or another. Otherwise, Canada's most economically vibrant cities risk choking off their own growth and doing serious damage to the Canadian dream of owning one's own home.
Follow HuffPost Canada Blogs on Facebook
Also on HuffPost:
What Canadian Bank Profits Will Buy You