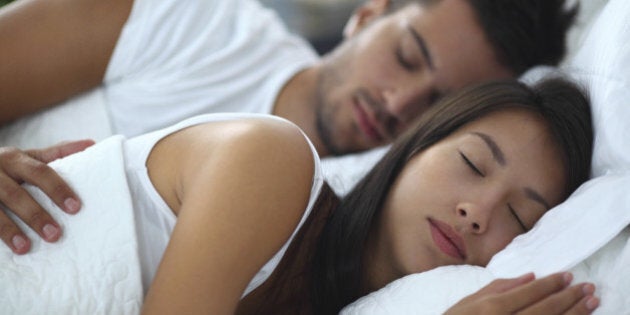 I love sleep. L-O-V-E it. Ask me what my favourite time of day is and I'll tell you it's the moment you crawl into a comfy bed, under a fluffy duvet (a "doona" for my Aussie friends), with a cool breeze in the air, and the indulgent, luxurious, exceptional knowledge that you have a full eight (or even better, 9, 10, or 13!) hours ahead of you to close your eyes and drift away into a sweet dreamland.
Sleep is amazing for our bodies and incredible for our minds. It slows the aging process, improves your memory, heals inflammation, and can help maintain a healthy body weight. Basically if you're not getting enough sleep it's like you're saying to the universe, "Bring on the wrinkles and Type 2 Diabetes, I've given up on life." And who would say that? No one.
The problem is, how many of us are getting that restorative rest every night? Or even most nights?
Sometimes it seems like life is determined to turn us into cranky bitches or bleary-eyed zombies. Sometimes it's because JLaw is on The Late Late Show with James Corden and you can't miss your #1 girl crush.
Sometimes it's because little niblets made up of half your DNA decided that 3am was an entirely appropriate time to wake up and demand to feed.
Sometimes it's because you and your partner have been too busy working and not busy getting busy, and the only time you can find for a little action is when you both finally crawl into bed. And sometimes most of the time it's because your tech-addicted brain has decided that you can't possibly go to bed without checking your email / scrolling through Instagram / Facebook-stalking your ex one more time before you go to bed.
(Newsflash: the photos of him and his new girlfriend in the Maldives will still be there in the morning).
I'm convinced that the technology that's supposedly supposed to make our lives easier, is actually conspiring to kill us, one sleepless-night at a time.
But before you renew that Ambien prescription, try one of these tech hacks first. Outsmart the machines. Catch some zzzz's. And cuddle up under that duvet, with visions of sugar plums (or Ryan Reynolds) dancing through your head.
TURN ON NIGHT MODE ON YOUR PHONE.
Do you know about night mode? Night mode is BRILLIANT! When turned on, this feature changes the colour of your screen to make it warmer (i.e. more yellow light) at night. This is because (in the simplest terms), blue light causes maximum disruption to sleep as it suppresses melatonin, a hormone that helps our body get ready to rest each night.
You can turn on night mode manually, or (even better) set it to automatically turn on and off according to sunrise and sunset in your current location. Full instructions here. Sweet dreams!
Did you get excited about night mode? Then you're going to love f.lux. f.lux is a program that does for your computer what night mode does for your phone. Download it from their website and it will adjust your screen display, changing from the cool conditions required during daylight hours, to a warmer display at night.
You can even customize the settings - tell f.lux what kind of lighting you have and where you live, then forget about it and f.lux will do the rest. So if you're still compelled to check your email or troll through Facebook before bed, you'll still be able to fall asleep.
GET YOUR HANDS ON A KOBO AURA ONE.
I love my Kobo. On more than one occasion I've written about how, despite being a staunch advocate for paper books, this e-reader completely changed the way I read. Well hold on to your hats because Kobo is getting even better.
The new Aura One (available for purchase in Canada, the US, and several other cities on September 6th) is not only massively water resistant (apparently it can survive submerged in two metres of water for up to an hour; if you can hold your breath that long, feel free to test it out), but it will also have a customizable colour temperature setting on the screen which can be set to auto-adjust throughout the day.
This is a huge deal, since even if I could give up checking my phone or my computer, reading is one thing I definitely do before bed. Well done Kobo. Now I can get through 40 pages and still get my forty winks.
Follow HuffPost Canada Blogs on Facebook