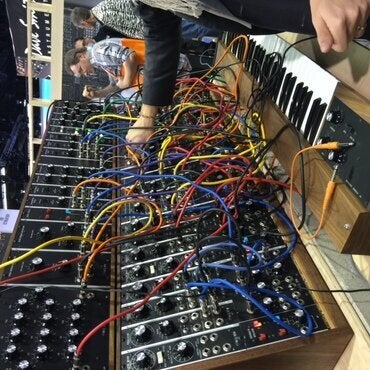 Plug Yourself! Photo Credit: Crystal Morris
1. BE CREATIVELY CONSISTENT
How do you plug yourself on social media? Create new relevant content on a regular basis to keep existing fans interested and make new fans. Sounds simple enough, right? Let's start with a few don'ts:
Don't be the boring status updater. No one wants to know what you fed your cat for breakfast. It's irrelevant to everyone but your cat. People will discretely un-follow you.
Don't be the confrontational or the whiny status updater. Don't be a cyber-troll! Your fans don't want to pick a fight with you on social media about your worldviews; they're on Facebook because real life is much too confrontational and annoying.
What type of content should you post you may ask? Eric Alper, Director of Media Relations, Licensing and Distribution at eOne Music Canada says, "your private life is part of your brand -- when you're promoting a song, you're not selling just the words and music -- you're selling YOU, the entire package. I know you think you don't have a life, but you do. Talk about the adventures you experience while not working. This could include concerts, other bands you're seeing, giving props to other acts." It doesn't all have to be music, or brand related. Eric goes on to say you can post "anything beautiful, funny, inspiring and entertaining. Share your city! Share funny moments from a movie, sports game or event of any kind."
Fans of brand and bands enjoy private moments. Building a brand on social media isn't just about "Likes" it's about creating meaningful connections with fans.
2. BE EFFICIENT, BUT HAVE VARIETY
Individually logging in to your Twitter, Facebook, Instagram, LinkedIn etc. to send out updates can eat up a lot of time in your day, especially if you're doing it five days a week. No one likes to waste time. Why not sit on your couch and count your dollar bills while a social media management platform does the dirty for you? Is it even possible to do this you may ask? Yes! Social media management platforms allow you to update multiple social media pages all at one time. You can even auto-schedule social media updates for whatever day or time you want. No multiple log in pages, no hassle. I like Hootesuite because they have a free version.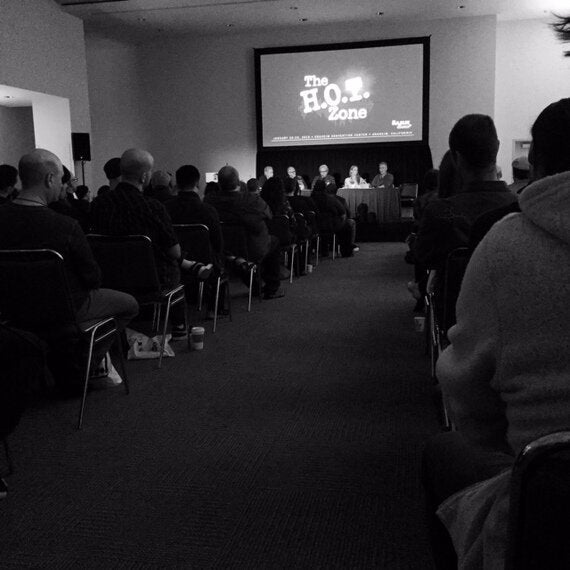 Photo Credit: Crystal Morris
However, don't use social media management platforms as a shortcut. Remember that each different social media site is popular because each serves a different purpose. The varying social media platforms are like milk. You can put milk in your coffee (if you don't drink it black like your soul); you can feed milk to your cat (if you don't mind cleaning up the litterbox after), you can give milk to a small child (that's it, no side-comment, you can give milk to a small child and they're generally happy after) and some people find milk disgusting. Like social media, milk appeals to different people (and animals) for different reasons. Both milk and social media have different, specific uses. Fortunately, animals do not use social media.
So how do you appease all of these people? Mike Johnson will tell you. Mike ran a lab on Social Media at NAMM 2015, a superb trade show were you can juxtapose popular bands and brands. Mike says, "I think it's key, nowadays, to treat each Social Media outlet as an individual entity. People follow you on multiple platforms because they are hoping for unique content from each one. For me I break it down like this...
YouTube: Long form information (four to six minutes) with a tad of promotion.
Facebook: Something deeper that allows people to see who [you] are, and always accompany the text with an image or video.
Twitter: Dates and times, straight to the point.
Instagram: The image is everything. Don't count on your followers to read the text."
So there you have it, you can streamline your content -- but try to vary a few things here and there based on the social media platform you're updating to!
Make sure to use relevant tags when you post on social media. When I say tag I mean a keyword that identifies and describes information so that it can easily be searched for, not when hoodlums deface your garage with spray paint.
Tagging allows your friends or random people on the interwebs to locate your content and potentially share it. The more people share your content, the more opportunity that content has to be shared or viewed by more people. If it goes "viral" you got yourself the next Gangnam Style video and an appearance in a pistachio commercial.
Tips for Tagging: Don't hashtag everything #doing #this #for #lines #and #lines #and #bananas #and #monkeyseatingbananas #seamonkeys #monkeyseemonkeydo. No one cares. Make sure your hashtags are relevant to the content. If you think you got the hang of this social media thing, see what hashtags are trending or "popular" and try to use them in your posts.
Also, don't directly "mass tag" groups of people in your photos or videos. The last thing people want is to get a status update on their phone every time someone comments on your content whilst they're in an office meeting. They will hate you forever. If they're interested in your content they'll follow you and see it at some point, no need to tag them directly.
If you intend to use social media to build an empire, you need to have a reference point. Analytics are very useful for this purpose. You can track your social media progress and then compare to similar bands and brands. For bands, Andy Hawke at Fontana North told me about a free useful tool is a website called Next Big Sound. It provides you with social media analytics, allows you to compare to other bands, and you can even export the report into a .pdf. All for Free! For your website try Google Analytics!