NAMM, short for the National Association of Music Merchants, is a not-for-profit association that promotes and strengthens the $17 billion global music products industry. This is Part 2 of a feature on innovative music products and the best gigs at NAMM 2014.
Read Part 1: NAMM 2014, A Musical Gearhead's Disneyland
1. Pioneer DJ DDJ-DZ Professional DJ Controller
EDM is here to stay and the DDJ-SZ is a beautiful beast. The DDJ-SZ is a convenient all-in-one system that truly emulates the design and feel of Pioneer's renowned CDJ players. Some of the innovative features include multi-coloured touch-sensitive performance pads that illuminate to quickly communicate the effects mode to the user. Dual USB Ports enable simultaneous connection to two computers. You can seamlessly switch between computers for transitions between two DJs or as an additional music source. If that's not rad enough, the controller also supports Digital Vinyl System Functionality (DVS) to enable an external player to be used as a Serato DJ deck.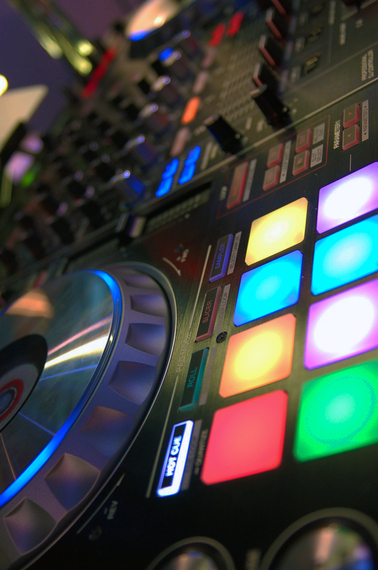 Photo Credit: Crystal Morris
2. VOX AmPlug Headphone Portable Guitar Amp
In a hotel room? Inspired on the road? Heavy amp? Intolerant neighbours or roommates? Ditch the 1-10W practice amps and pick up a VOX amPlug Headphone Portable Guitar Amp. I heard of the AmPlug before, but never had the opportunity to demo the device until NAMM. Plug the AmPlug straight in to your guitar, put on some headphones and achieve great tone with the flip of a switch. An AUX jack allows you to plug in your mp3 player and play along to tracks. The AmPlug comes in many different flavours including Metal and Joe Satriani. My personal favorite is the AC30, which features VOX's signature clean and dirty tones, and impressively conveys the character of whatever guitar you play. Want to ditch the headphones? No problem. Plug the Amplug into a VOX amPlug Cabinet and jam out loud.
3. Gibson Min-ETune
If you're a guitar player, you know it can be cumbersome to change tunings while performing live on stage. Gibson Min-ETune is an automatic tuning device that is now standard on most new Gibson guitars. Turn it on, strum all six strings at once and all strings will tune simultaneously in seconds. The Mini-ETune features a single string mode and 12 popular alternative tunings, including six self-programmable options. The Min-ETune device is rechargeable, battery powered, super light, and hidden behind the headstock. If you dislike it, you can even remove the automatic tuning device and put it on another guitar!
4. BOSS ME-80 Multi-Effects Pedal
If you're accustomed to stompboxes and intimidated by multi-effects pedals, the BOSS ME-80 is for you. Really! Like its predecessor, the Boss ME-70, the design of the ME-80 is extremely intuitive, which differs many effects processors on the market. You'll find the ME-80 interface as easy to use as your pedal board, but with expansive tone potential. The ME-80 is also sturdy and portable (powered by adapter or batteries) which promotes sound consistency and creativity. For $300 bucks, the possibilities are endless. Do yourself a favour and watch a video demo!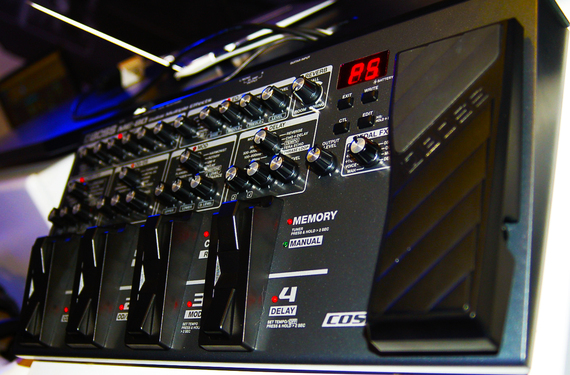 Photo Credit: Crystal Morris
5. Bonzo Bash: John Henry Bonham of Led Zeppelin Tribute and Randy Rhoads Remembered
NAMM brought two nights of star-studded tributes organized by the creators of Bonzo Bash. What better way to celebrate the life and legacy of one of the most influential drummers of all time than to feature 30 percussionist, ranging from Charlie Benante (Anthrax) to Stephen Perkins (Jane's Addiction), on one bill. Yeah, that happened.
No one was better suited to honour Randy Rhoads than his former student and mentee Brent Woods. Woods opened Randy Rhoads Remembered slinging a polka dot flying V inspired by Rhoads' signature guitar and jumpsuit. Posturing himself on the monitors, Woods hammered through solos that transported the entire room to 1980. It was one hell of a thundering kickoff to a night celebrating the life and legacy of a tremendous rock guitarist.
Devastated you missed it? Check out The Moby Dicks (Brent Woods, Brian Tichy, Chas West, Steven LaBlanc, and Michael Devin):
March 8, 2014 @ Vamp'd in Las Vegas
March 21, 2014 @ The Whisky in Los Angeles
March 29 - April 2 on The Monsters of Rock Cruise