In honour of Banned Books Week: the Huffington Post Canada and Indigo have teamed up to bring our readers' attention to books that have been banned or challenged, both in North America and around the world. Whatever your opinion, remember that in Canada you are free to read a book, judge it on its merits, and discuss it openly.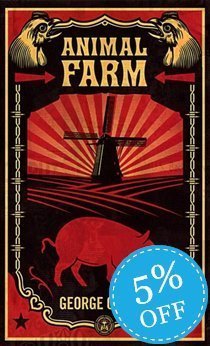 Perhaps the greatest novel ever written about the corruption of power and a civilized society's descent into totalitarianism -- all told in farm animal voices. Banned and objected to? Countless times. Literary effect: Priceless.
From Indigo.ca:Mr. Jones of Manor Farm is so lazy and drunken that one day he forgets to feed his livestock. The ensuing rebellion under the leadership of the pigs Napoleon and Wellington leads to the animals taking over the farm. Vowing to eliminate the terrible inequities of the farmyard, the renamed Animal Farm is organized to benefit all who walk on four legs. But as time passes, the ideals of the rebellion are corrupted, then forgotten. And something new and unexpected emerges...
Animal Farm -- the history of a revolution that went wrong - is George Orwell's brilliant satire on the corrupting influence of power.