In honour of Banned Books Week: the Huffington Post Canada and Indigo have teamed up to bring our readers' attention to books that have been banned or challenged, both in North America and around the world. Whatever your opinion, remember that in Canada you are free to read a book, judge it on its merits, and discuss it openly.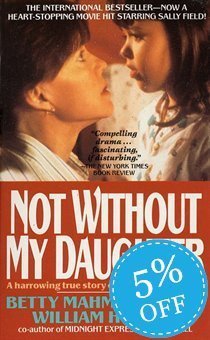 Timely reminder by an American mother about why Iran is bad news. You can't read it there but you can buy it here. The movie starred Sally Field.
From Indigo.ca: In August 1984, Michigan housewife Betty Mahmoody accompanied her husband to his native Iran for a two-week vacation. To her horror, she found herself and her four-year-old daughter, Mahtob, virtual prisoners of a man rededicated to his Shiite Moslem faith, in a land where women are near-slaves and Americans are despised. Their only hope for escape lay in a dangerous underground that would not take her child...
Now the true story of this courageous woman and her breathtaking odyssey bursts upon the screen in the Pathe Entertainment production starring Academy Award-winner Sally Field!