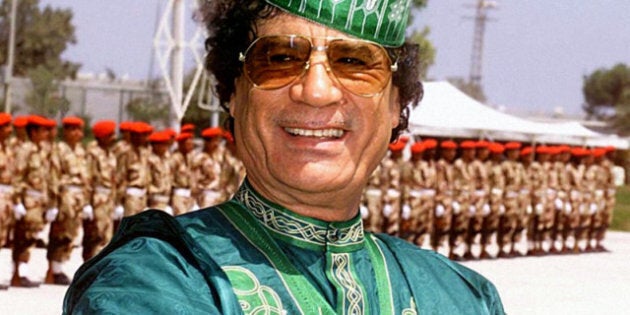 Another international bad guy has been taken down on Obama's watch: Col. Gaddafi will join Osama Bin Laden in whatever circle of hell is designated for history's mass-murderers and brutal dictators. If Dante is right, they will spend eternity in the seventh level, seething in
The river of blood, within which boiling is
Who'er by violence doth injure others.
Already there is speculation as to whether Gaddafi's death will boost the president's approval rating, which hit a new low last week of 41 per cent (his popularity soared to 60 per cent after the killing of Osama). I'd bet that Obama won't get too much bounce from this one: The Seal Team 6 operation that destroyed Osama was brave and laudable; by contrast, there was something deeply sickening about seeing the bloodied Gadaffi being set upon by a chanting mob. Reacting to these images, HuffPost contributor Tarek Fatah bemoaned the onset of an Arab Winter:
"For me this was the turning point. Had the captors of Gaddafi arrested the butcher of the Libyan people and subjected him to a public trial, I would have said the Arab Spring has blossomed and that rule of law, the essence of contemporary civilization, had finally arrived for the Arabs to savour. Too bad. It seems the course the Arabs have chosen in dealing with their oppressive dictatorships has little to do with individual liberty, rule of law or a sense of justice."
Peter Worthington, who has been witness to more foreign wars than perhaps any other living correspondent, took the opposite view. On HuffPost he writes:
"Arguably, the last thing anyone should have wanted was Gaddafi alive and put on trial that would almost certainly have become a disruptive circus and fiasco. In Iraq, Saddam Hussein faced trial that was more fiasco than jurisprudence -- prior to his being ghoulishly hanged. Facetiously, it could be said that the American soldier who captured Saddam should have been court martialed for not shooting him."
On a less ghoulish note, it's rare that the government reacts quickly to anything, let alone the advice of a blogger. But that seems to have been the case when Tory MPs released a video in reaction to the suicide of bullied gay teen Jamie Hubley. In a blog published on Tuesday, entitled "Jamie Hubley Didn't Have to Die," lawyer Josh Scheinert implored Canadians to follow the "It Gets Better Project":
"Before we have another case like Jamie Hubley's on our hands, it's time to take a stand. It's time for Canada to stand up loud and proud and say, 'It Gets Better.'"
Scheinert called out Harper's government on its silence in reaction to the Hubley death. And then lo and behold, a group of Conservative MPs got together and released an anti-bullying video, in memory of Hubley, entitled guess what? "It Gets Better."
Since last week, meanwhile, the Occupy movement in Canada has become less... pre-occupying. A very important demonstration, however, that attracted thousands in the pouring rain, went way under-reported (except by us). As contributor Malcolm Jolley noted in his coverage of "Foodstock," about 100k away from Toronto's St. James Park,
"Somewhere between 20,000 and 30,000 people showed up at it on a potato farm on a cold, often wet and blustery day to protest the mega quarry that is proposed to be dug next door. The quarry will destroy thousands of acres of prime farmland and disturb the water table at the headwaters of a bunch of rivers that an estimated 1,000,000 people use for drinking water."
At least these protestors did not go under-fed. Some of Canada's finest chefs, including Michael Stadtlander of the Canadian Chef's Congress, joined the demo to serve food. Which alone would have been reason to join in.
Stay tuned tomorrow when we launch a four-part series by young contributor Daniel Portoraro on his experience as a new recruit in basic training (spoiler alert: he will somersault backwards out of a moving speedboat). The series was inspired, in part, over the ongoing debate about cutbacks to the Canadian military. Daniel gets reaction to this prospect from, quite literally, the boots on the ground (and in the water).
And we welcome this week two new Huffington Post Canada contributors: Award-winning journalist Brian McKenna, who shared his memories of the late, legendary Ron Haggart, and songstress Jane Siberry, who turns her lyrical thoughts into prose for our readers.