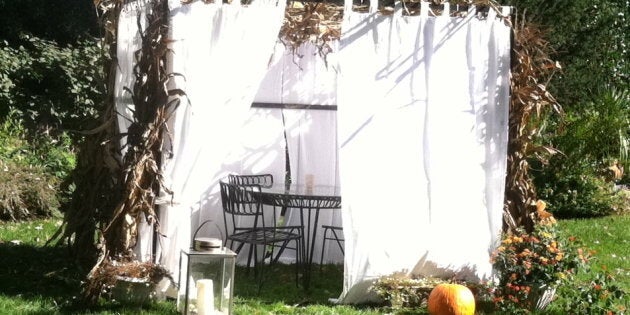 They came, they saw, they occupied -- occupied, at least the attention of the media. Canadians unleashed their own version of Occupy Wall Street over the weekend. What they lacked in message they made up for in passion and colour. Numbers turned out to protest -- what exactly? It was a long, often vague list. Banks. Corporate greed. Capitalism. The teetering world economy. Some protesters seemed to show up purely out of nostalgia for the Toronto G20 demos of last summer. There were even Air Canada flight attendants who turned out to show their anger at the Harper government for shutting down their near-strike.
The frustration is understandable, especially down south. The United States is facing its worst economic depression since, well, the Depression. None of those responsible for contributing to the crash -- and here, there are actual names and faces -- have been brought to account. (For those who haven't already seen it, I highly recommend the Academy Award-winning documentary, Inside Job, which is like an Idiot's Guide to the economic meltdown, but gripping and shocking.) In Canada, however, the banks have behaved... pretty well. Canadians have escaped... the worst of the recession (and I say that with a qualified "so far." If Europe falls, we're all toast). In an odd way, Canadians should be turning out by the thousands to celebrate the economy, not protest it. Still, fears are real. And so is the uncertainty of our future. So what the hell. Get out there if that's your bag -- and here at HuffPost, we'll continue to provide you with the best coverage and commentary of the movement on both sides of the border.
In happier news, women continued to make political history with the election of Kathy Dunderdale (PC), as Newfoundland's first female premier. Her win now brings a total of four women to some of the top spots in the country. In male political news -- :) -- our fabulous Ottawa Bureau Chief Althea Raj noted Thomas Mulcair's jump into the NDP leadership race -- maybe the first serious candidate who might give Stephen Harper pause. As Raj reported:
"Prime Minister Harper is like a T-Rex, you don't send a small dog to face him -- he's going to get beaten to shreds in a second," Marc André-Morin, MP for Laurentides -- Labelle, told The Huffington Post Canada. "Whereas Thom will be able to take (Harper) on."
On the homefront, meanwhile, I oversaw the raising of a Sukkah in our backyard. For those unfamiliar with the Jewish festival of Sukkot, it's an annual celebration of the fall harvest. Traditionally you are supposed to build an impermanent and often dubious outdoor structure, strung with ornaments of fruits and vegetables, meant to show solidarity with your ancient field-working ancestors. Ideally and weather permitting, you will eat most meals in it. In modern North America, there are multiple sources for these Sukkahs. Naturally you can buy them online. But alas, most are truly ugly, and quite literally descend from Chinese military tents. Last year I got fed up with the ugliness and took my Chinese military-issue Sukkah, with it's horrible tarp walls, and decided to go all Martha Stewart. A can of outdoor black spraypaint effectively eliminated the militia coloring. White outdoor panels from Ikea replaced the weatherproof tarp siding. By stringing a loose net of unbleached twine for the roof, I was able to balance very North American-themed cornhusks atop it--and also meet all the religious requirements for a kosher Sukkah. A few candles and lanterns, some fall plants and voila! An elegant sukkah. Maybe even a stylish Sukkah: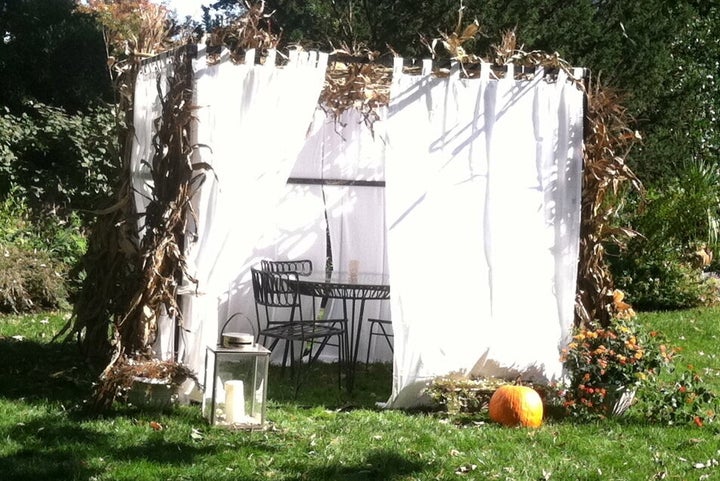 After it was done, I suggested we might have cocktails in it that very evening. My son, always attuned to these things, said, "Mom, I don't think God intended it for cocktails." Maybe not. In any case, happy Sukkot to our Jewish readers, however you choose to celebrate it.