Yes, here I am! Late start this morning because someone changed the clocks on me. Must have been my teenage son, the prankster. Funny!
So the week that was: I hope you all joined us last Monday morning for the long awaited announcement of the winner of the prestigious Charles Taylor Prize for Literary Non-Fiction. We live-streamed the ceremony -- and, as our regular readers know, had run excerpts from each of the five finalists. Huffposter's had a chance to vote on their favorite: You folks chose J.J. Lee, for The Measure of a Man, but the judges picked Andrew Westoll, for his moving and wonderfully told The Chimps of Fauna Sanctuary -- about rescue chimps recovering from horrible backgrounds and getting a second chance at life.
You can read his excerpt for us here (and buy the book!).
In news (and in our blog rail), there was much debate over the Tories' Bill C-10, the omnibus crime bill, which was before the House on Friday. Sheryl Saperia likes what it will do for fighting terrorism. But wait, did I say there was much debate? Well, maybe not -- as frequent Huffpost contributor (and legendary MP) Irwin Cotler wrote, it turned out to be "The Debate That Wasn't":
Simply put, the entire C-10 debate -- consisting of repeated invocation of time allocation and summarily rejecting all opposition amendments -- is endemic of the government's ill-considered, unthinking, and intemperate "rush to judgment." I say "rush to judgement" because, in a sad irony, that is what this bill seeks to do. It is quick to judge non-violent offenders as needing lengthy mandatory minimum prison sentences in the face of all evidence to the contrary.
(Do you mind if I pause to give a personal shout-out to Irwin? Here in Blogtown, we marvel at the guy's prolific output -- last week alone he wrote for us three comprehensive and important blogs ranging in topic from the crime bill, above, to the ongoing and horrific slaughter in Syria and what we can/should be doing about it, to recognizing women's contribution to the Canadian Charter of Rights. He rivals our other most prolific blogger, Peter Worthington, in output, quality, interest, variety, and maybe above all, drawing our attention to causes and people most of us might otherwise overlook. Actually, an additional shout out to Pete -- whose output this week for the first time officially surpassed our ability to publish it all. And this is the internet. And the guy just turned 85!! Our young blogging pups could learn something from these veteran journalists. This week, among other things, Pete wrote about Iran, Super Tuesday, Putin's election, Rush, and hockey [twice]. One of the hockey columns was vintage Pete -- recalling how during the Korean war, where he was a platoon commander at the infamous "Hook," he and his fellow Canadian troops managed to set up an ice rink on the Imjin River to play pick-up games of shinny. More than 50 years later, a Canadian expat in South Korea found out about the games, and re-launched them -- with local teams taking on the patches of the different regiments that fought there. I'm sure the atmosphere is a little different now than it was then. As Pete recalled:
What I remember most about the "Hook" was the ever-prevailing smell of rotting bodies, many of which were buried by shellfire in the defensive breastworks of the trenches. All were Chinese bodies, which we didn't give much of a damn about... [After the rink was set up,] sandbags constituted the boards. First it was the Princess Pats playing, then other Canadian unit teams. At the start, there were no hockey uniforms. Players wore battle dress, no pads, no shin guards, no real equipment except skates and sticks. But it was immensely popular. "To calm and divert soldiers in the war," is how Vince Courtenay, formerly of "C" Company remembers the hockey.
I've managed to get some photos of the original "teams" playing on the river, which didn't accompany the blog. Here they are, courtesy of the Korean War Veteran Internet Journal: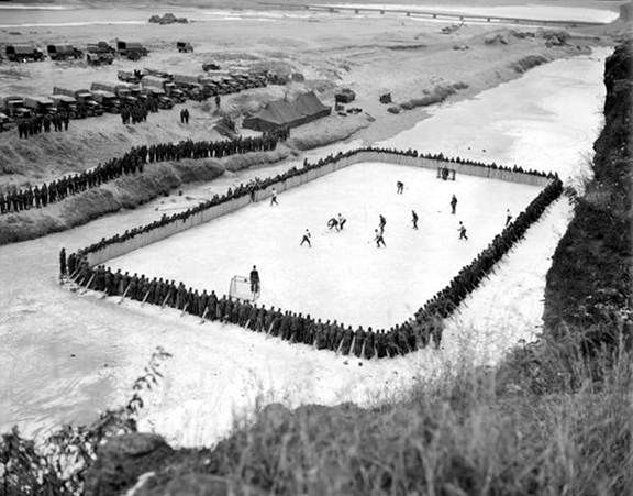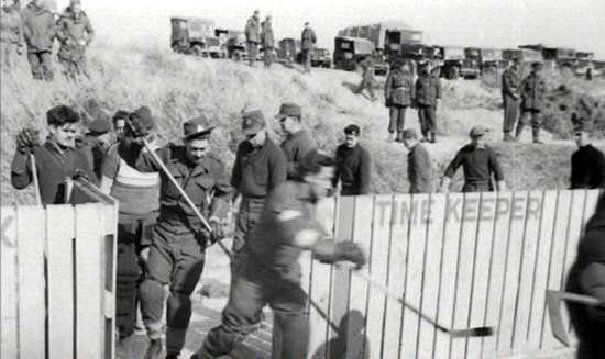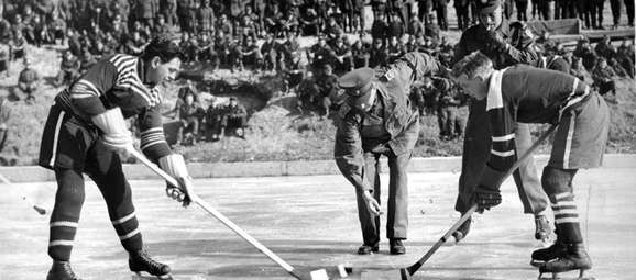 How cool is that? The games only lacked a uniformed Don Cherry...)
Sorry, where was I? (Pouring more coffee.) Ah yes -- news. It was International Women's Week, culminating with International Women's Day on Thursday. The theme this year was "connecting girls and futures," and our Lifestyle team was all over it, doing just that. You can read and watch here our series of interviews with ordinary girls and women speaking about what is most important to them. Our bloggers warmed to the theme as well, among them Barbara Stegemann, who called for "a makeover" of the day, and Supriya Dwivedi, who warned against "celebrating" it by getting drunk and denouncing feminism.
Meanwhile two of our bloggers had original takes on the Kony2012 campaign that is going viral internationally: read Mara Sofferin's here, and Josh Scheinert's here.
We ended up the week with coverage of the one year anniversary of the Japan earthquake -- and what has (or has not) been done in the nuclear power industry to avoid future meltdowns. If you read Huffpost's Rachel Mendelson and Althia Raj's excellent reporting on Canada's reaction with its reactors, you might be left feeling nervous. But then if your eyes strayed over the blog rail, you would have read environmentalist John Brian Shannon's heartening description of a new, "baby" nuclear reactor that is also ... wait for it ... green!
Other highlights: Read entertainment reporter Josh Ostroff's interview with actor Martin Sheen, who had harsh words for progressives going wobbly on Obama. And of course the new iPad was launched, in time for Mother's Day, hint hint. Our tech blogger Robert Whent drooled over the new features.
We welcomed two new regular contributors to Blog Town: veteran newsman Tim Knight, who will critique the nightly news programs for us in "Watching the Watchdog." Today he writes about Sun TV; and Lori Gard, who will contribute a modern version of "Please Do Not Eat the Daisies" style column (look it up, pups) about small town life in PEI, called Dispatches from Down East.
Still with me? Oh gosh, look at the time. Where did it go?