 So many awful things have been happening recently around the world, including the recent elementary school attack that left the world devastated and in mourning. The future looks bleak. But there are things that we, as individuals, can do to bring back inspiration and hope to the world in small ways (or waves).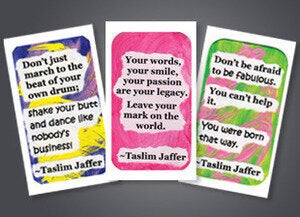 I've always loved the concept of paying it forward. You read about those wonderful generous individuals in Tim Hortons' lines paying for the person behind them and it warms your heart. It makes you feel even better when you do it yourself. There's just something thrilling about leaving your mark anonymously on a stranger in a positive way. I've done it for others and had it done for me and I can personally attest to the fact that you feel a boost in energy and affection, whether you're the giver or receiver.
I recently read about a fellow Canadian blogger, Taslim Jaffer, who is doing her own "pay it forward" in a uniquely creative way with her Make-A-Wave Cards. Essentially, you can purchase a 12-pack of these tidbits of inspiration (small one-liners) for a measly $9.99 and give them to your friends, colleagues, family and yes, even strangers. Many of her motivational cards say such as "Don't be afraid to be fabulous. You can't help it. You were born that way," or "Don't just march to the beat of your own drum; shake your butt and dance like nobody's business."
Can you imagine having a cup of coffee or eating a meal at your favourite restaurant and then just before you get up to leave, you drop one of these cards for the waiter, or even the next customer? How do you think they'd react? Everyone has a bad day, and these uplifting quotes may just be the thing that will perk them up and definitely something that they will remember for a very long time.
I don't presume purchasing these cards and sharing them with others will change the world, but it might change a person. And that's a start.
In a world where we are terrorized by hunger, poverty, homelessness, abuse and violence on children (among other tragedies), why not do our part and fill the world with a little bit of hope? Make it your New Year's resolution.
So go through a Tim Hortons drive-thru and pay for the stranger behind you, leave a Make-A-Wave card for another at your local coffee shop, or just compliment a stranger on the street. But do something. What have you got to lose?
To check out Taslim Jaffer's blog and to purchase her unique Make-A-Wave cards, visit her site.