Danko Jones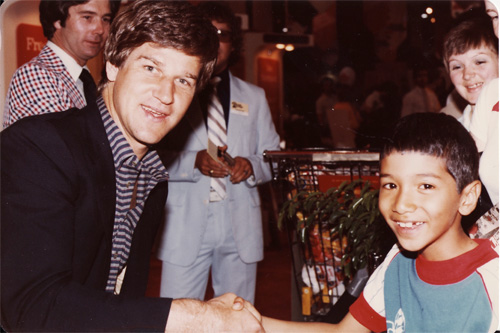 Bobby Orr never let Danko down
Growing up in Canada, most boys tend to fall under at least one of two categories: a) Hockey Fans, and/or b) Rush Fans. It just comes with the citizenship kit. I definitely fall under the latter. Being that I play in a band for a living may have something to do with it; the fact that the house I grew up in is in Rush's "Subdivisions" video might have something to do with it, too. There's just something about the band that evokes automatic fandom if you're born above the 49th parallel. Maybe it's the musicianship mixed with their artistry that mirrors the Canadian experience of rigorism and resourcefulness dealing with the country's harsh climate that Canucks identify with. Or maybe it's just 'cause they Rock.
When it comes to sports, I tendered my resignation as a hockey fan years ago. As much as I always pick the Maple Leafs when it comes to playing video games, these days I only know who won the Stanley Cup long after the playoffs are over. Like a lot of Canadian kids, I used to live and breathe hockey. I used to watch "Hockey Night In Canada" every Saturday night and collecting hockey cards took up most of my childhood allowance. So what exactly is it that made me fall out with the game that I loved so much as a kid?
To start, although I learned how to ice skate at a very early age, I was never allowed to play organized minor hockey due to overprotective parents. With the recent discussions on the link between hockey and concussions, maybe my mom was right to make me sit out hockey and take up soccer instead. That said, I still wish that whenever I laced up my skates I would've been holding a stick.
But my mom's embargo only fuelled my love for the game. Not being allowed to do something just made me want it even more. And as much as I wanted my beloved Leafs to win something, anything, I slowly got wooed over to the other side and, to my own surprise, became a New York Islanders fan. The Islanders created a dynasty in the '80s and their line-up read like an all-star hockey game on its own -- Clark Gillies, Butch Goring, Billy Smith, Bryan Trottier, Bob Nystrom and my favourite hockey player, Mike Bossy.
I loved Mike Bossy. I loved him so much that my mom wrote into the Canadian show, "Thrill Of A Lifetime," probably out of guilt for not letting me actually play hockey, and told them so.
Thrill Of A Lifetime, was a popular show that ran for six seasons on the CTV network that invited viewers to write in and tell them their dreams. The show would then do their best to make a person's "thrill" happen. Playmate of the year Shannon Tweed had her dream fulfilled when she was granted an audition with Playboy magazine and we all know how that turned out. Whether it was flying a jet fighter, swimming with dolphins, or appearing as an extra on a television show, Thrill Of A Lifetime would make it happen.
The show's producers responded to my mom's letter in turn by contacting us, interviewing me and asking what I'd do with Mike Bossy if I got the chance to hang out with him for a day. Me, being a dumb kid, said something to the effect of "go to a movie." I immediately received my first "don't call us, we'll call you." It never dawned on me that, from a television show's standpoint, watching people watching movies was boring as fuck. What I should've said was "PLAY HOCKEY WITH MIKE BOSSY."
When I watched another person get to PLAY HOCKEY with Mike Bossy the following season (season 2, episode 8), I was devastated. I was devastated to the point that even to this day I change the subject if his name is brought up in conversation, or change the channel if he just happens to be on television. I also never watched the show again.
From that point, my interest in hockey greatly declined. Although turning my back on hockey sounds like a betrayal to my home and native land, considering how deeply this event embedded in my psyche, can you blame me?
On the other hand, my fandom for Rush has only increased. I became aware of them around the time they released "Signals" but, believe it or not, it was "Grace Under Pressure" that got me into the band and I worked my way backwards through their discography after that. Sure they can be an acquired taste for some, but if you stay the course they will return your effort tenfold.
Touring around the globe, you quickly realize that Rush are so synonymous with Canada that when people find out we're Canadian it only takes five minutes before they start giving us their best "Tom Sawyer" or "Closer To The Heart" air guitar impression. They're good ambassadors for our country -- lionized yet gracious, cultivated yet robust.
Rush drummer Neil Peart has even become an author in recent years and reading some of his books inspired me to write him a hand-written fan letter in 2004. After years of seeing behind the velvet curtain and turning my ever-growing jadedness into a fine pointy lance, I'm still not above writing fan letters. OK fine, I admit I was able to circumvent Canada Post and deliver it directly to a certified Rush team member, but Peart is infamously known to be somewhat reclusive. I didn't expect an answer back, and being that I was an otherwise serious adult, just the writing of it was enough to make me feel good.
Still, ever the jaded hopeful, I waited for a reply. 2004 turned into 2005. 2005 turned into 2006. 2006 turned into 2007. Then, in November of 2007 I received a hand-written reply from Peart in the mail. It had taken so long that I had forgotten I even wrote the letter in the first place. My heart stopped, my pulse raced, my brow beaded, Neil Peart had written me back!
Since then I've probably stared at Neil Peart's letter so much that it's totalled hours. I've played air drums in front of it, I've played air bass to it, jerked off beside it, used it to pick me up when I was down and even talked to it.
It took almost a lifetime, but I finally got my "Thrill Of A Lifetime."
Peart 1, Bossy 0