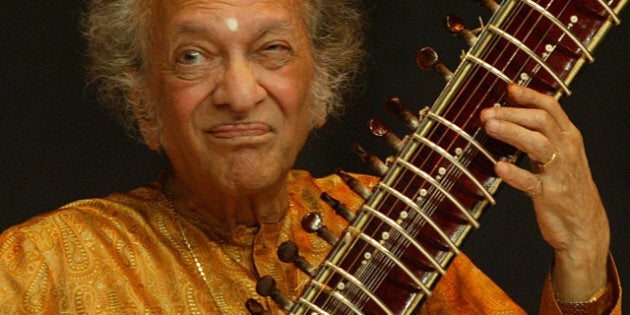 When it comes to music, my parents and I have never seen eye-to-eye. Let's face it, my parents and I have never seen eye-to-eye on most things. If they say stop, I say go. If they say white, I say black.
Over time, and through much trial and error, we have learned to construct dividing lines in the invisible sand in order to keep each other in our lives. And even though it might be a facade that buries the issues that keep us from truly emotionally connecting, some may say that it's better than not being in each other's lives at all. No matter how many issues we have with each other, at the end of the day, we love each other, albeit tumultuously.
I'm very grateful to my parents whether they realize it or not. I'm grateful to them for instilling me with a set of morals that I use as a compass to this day. I'm grateful for their love and care and their best intentions for me at all times. And I am grateful for that night they took me out, to stay up way past my bedtime, to see Ravi Shankar play with Alla Rakha at the Minkler Auditorium which used to be part of the Seneca College Newham Campus in Willowdale, Ontario when I was eight years old.
Did I have a clue as to who I was watching that night? Absolutely not. I do remember that I was so not psyched to be in the audience before the show started. I saw a few long hairs and figured it must be a rock concert of some sort, but knew my parents HATED rock music, so it was confusing. I capitalize the word "hated" because nothing has changed with them to this day, even though I'm in a successful international touring rock band.
When the show started, my recollections are vague probably due to my young wandering mind and my wish to not even be there. How I wonder what Shankar would've thought knowing that no matter how much the entire room, the entire world, revered his playing there was an eight-year-old kid in the crowd just wishing he was at home playing with his Empire Strikes Back action figures.
My most vivid memory of watching this intimate performance, in basically a glorified college lecture hall, is watching Shankar play on the floor with his eyes closed -- which I found mildly impressive -- with his trusted tabla player, Alla Rakha, beating out rhythms by his side.
No matter how many great bands and great shows I've witnessed over the years, there's no show that carries the weight of this one. And even though I didn't appreciate the moment while it was happening, I remembered that feeling 15 years later when it hit me like a thunderbolt. My mind was being expanded and my music tastes widening, and I had seen Ravi Shankar. I remember sitting in my room kicking myself for not taking it all in properly. Even when I found out Shankar had passed away late this past Tuesday, it took me a full 10 minutes to remember that I had indeed seen him perform all those many years ago, so surreal is the memory.
I never did see Shankar live again and get the chance to atone for my earlier disregard, but over the years my love for classical Indian music has grown to the point where I even took Trichy Sankaran's World Music class at York University.
When my father made a trip home to New Delhi one year, I begged him to bring back as much Shankar music as he could fit in his luggage. I think the request surprised him but he gladly obliged. Coming from a household where academia was valued above all else and seeing the quiet sting of disappointment in my parent's eyes when I chose a musical vocation, they can't deny that by exposing me to Ravi Shankar at such an early age they were complicit in this Rock 'n' Roll thing I call a "job."
Pandit Ravi Shankar, Aapki Aatma Ko Shanti Mile