I feel like it's time to put the modern Disney tale fight to an end. Let's take Frozen, Brave and Tangled, and gauge them component by component to get at the real winner in all this. Preferences are fine and all, but don't we really need to examine which of the three feminist princesses is the best one. It's not like we can all get along, right?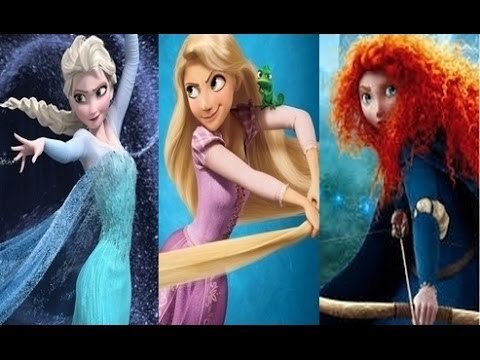 The Main Character:
Frozen: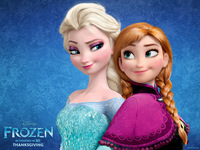 Anna and Elsa: Anna is really the main character, but you could argue that Elsa makes the storyline. Or is Elsa really the main character and Anna is just filler learning a few side lessons while Elsa figures herself out behind closed doors? Either way, they need each other and we need them both. They do it alone, without anyone else.
Brave: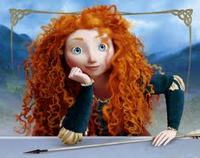 Merida has had enough of your bullshit. She's headstrong, free-spirited and, well, brave. She makes some pretty serious, I'm-a-spoiled-princess mistakes (like feeding her poor mom that damn cake), but it's not like her mom is even trying to understand how awesome she is, so forgiven.
Tangled: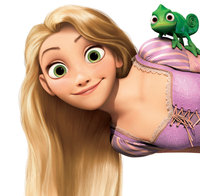 Rapunzel is totally rad. She's utterly optimistic at every turn. She sees the best in absolutely everything. Her friendly and naive demeanor don't really make her nearly as kickass as the other three heroines, but she's willing to give anything a try, and she goes for anything she wants.
WINNER: TANGLED
Okay, okay, REMEMBER these are all my opinions. You make your own winners. I know most of you will pick Anna/Elsa. It's okay.
The Parents:
Frozen:
Mom never even speaks. Come on, Disney.
There is grave disagreement here, and many people feel I'm a cruel-hearted SOB for my opinion, but I think Anna and Elsa's dad is abusive. Full stop. You don't lock your kid up in a room for a decade to "protect her". Sure, do it for a week while you research other things to do, and go in there to constantly reassure her that you're working to help her, but just handing her some thicker gloves every five years, and basically being like, peace out and also never talk to your sister again? Because we love you? Nope.
Brave:
Mom's stubborn, she doesn't listen to what her daughter needs, she projects her problems onto her daughter, she's a traditionalist because she was forced to be so and therefore others should be, too, she's unbending, can't talk to her kid, and frequently gets angry in ways that are not productive.
She's also the raddest motherfucker ever. She learns from her mistakes, and she totally forgives her kid for turning her into a gd bear. Plus, everything she does in that paragraph up there she does out of a deep love. It's just a bit misguided, that's all.
The dad? Amaze.
Tangled:
I really find it hard to believe that they searched all over the kingdom and never thought to check that tower, but Flynn Rider just ran from a horse and climbed it, nbd.
WINNER: BRAVE
The Bad Guy:
Frozen:

This is a tough one because Hans isn't really the bad guy so much as he's just an ahole. Elsa isn't the bad guy because Disney changed her tune and made her awesome instead. In Frozen, one of the messages is that the bad guy is fear, the bad guy is ourselves, the bad guy is quick decisions driven by emotion bereft of critical thinking.
That's a pretty important bad guy, guys.
Brave: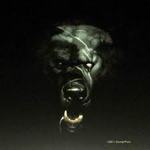 Mordu, y'all. Mor-effing-du. You can't. I can't. I mean. I was pissed when we saw this in theaters, because why didn't anyone tell me about the damn bear fight, omg my toddlers!
Anyway, the awesome thing about Mordu is that he represents what the mother could have become if she gave up on love and family. Instead she fought that off. People need each other, families need each other, and sometimes being right isn't as important as being, well, good. Well done.
Tangled: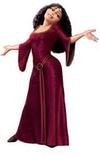 I love Mother Gothel. She is the most hilarious abusive pos I've ever laid eyes on. The manipulative games she plays with poor Rapunzel would have made me cry if they weren't so obvious, overdone and meant to make me laugh instead. "Mother Knows Best" is a pretty singable song, tbh, and the narcissistic tones of her badness really underscore the mental damage she is inflicting.
WINNER: FROZEN
(But, damm, that was a tough choice. These bad guys all rock hard.)
The Lovable Sidekick:
Frozen: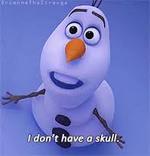 Okay, okay, I'm happy for you, and I'mma let you finish, but Olaf is the best sidekick of all time.
Everything he says is wonderful. He single-handedly saves Frozen for me. What can I say? I'm a total sucker for childlike optimism in the face of all odds. Plus, I really fucking like warm hugs.
Brave: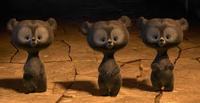 Tricky one here. Merida doesn't have a legit sidekick. She rides alone, yo. But her little brothers are damn cute. Other than that cleavage scene, though.
Tangled: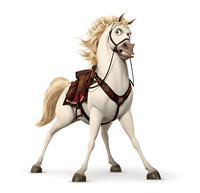 Is there any way to not love a horse with moral fiber of steel and a heart of gold? I think not.
WINNER: FROZEN
Yeah, why?
The Music:
Frozen:
Okay, so Frozen had some MAMMOTH songs. Do You Want to Build a Snowman can plunge me into a depressive state the likes of which I've never previously known, and Let It Go is a power ballad to end all power ballads. It speaks to deep, entrenched issues within people themselves. Tough stuff. But they're not well spaced, and they don't really work together as a whole ensemble.
Brave:
No music because Pixar does what it wants. So there.
Tangled:
I love the songs and the distribution of songs in Tangled. They're not as deep or nearly as powerful as those in Frozen, but they work for the story, they accentuate each character in good form, and they bring the piece together. Flynn even remarks about the damn silliness of everyone breaking out into song all the time, because seriously wth.
WINNER: TANGLED
I don't like crying the ugly tears down my face, and I love enormous piles of money. Sue me. Yes, I totally know this is the wrong answer. w/e
The Primary Message:
Frozen:
You don't have to shut yourself away just because you are different. Fear is the enemy. You have the power to make a change in your own life
Brave:
Tradition is not always right, love is not always prescribed, you deserve to make your own way and find your own happiness and you are strong enough to do it.
Tangled:
Follow your dreams because the life you know now may not be at all what you think it is. Don't let anyone else hold you back from what you need in life.
WINNER: TANGLED
Another contentious one. I realize this may not be a popular choice.
The "Prince":
Frozen: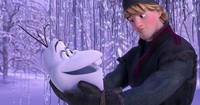 Honestly? He's nice and everything, but just an outline of a character. Meh.
Brave: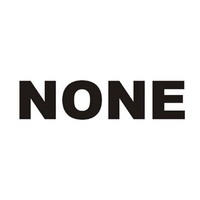 Winning. Don't need no suitor.
Tangled: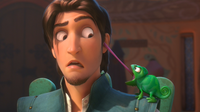 I love Flynn Rider, I love everything about him. EVERYTHING. I. Love. Him. He might be one of my favorite Disney characters of all time.
WINNER: TANGLED
I almost want to give this to Brave, because it is so important for girls to know that they do not need a boy to be happy. ACTUALLY, I change my answer. NEW WINNER: BRAVE
In Tangled, though, our runner up, it is important to note that you can't judge someone by their reputation alone, and that trust is very important in life, when given due reason.
This also isn't to discount Kristoff. Of all the Disney men so far, he GETS consent and politeness and feminism. Rad.
The Most Important Relationship:
Frozen:
Sister-sister
Brave:
Mother-daughter
Tangled:
Romantic
WINNER: BRAVE
Sorry, guys, I'm just feeling the mom-daughter relationship more than I feel the sister-sister. I think it was much better development, better paced, and more involved. It required fewer assumptions and was explicit in its growth throughout the movie.
So, okay, if we tally these up...
Looks like, by my count, three for Tangled, three for Brave and two for Frozen.
But toss in lasting messages for girls growing up in this changing landscape and Frozen gets another point. WHICH MAKES IT A TIE. Okay? We can stop arguing now because they are all the best.
But, Tangled for life, everyone, just saying.