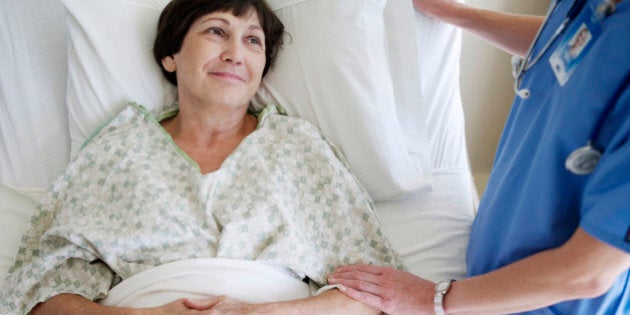 My family and I essentially lived at the Grand River Hospital's ICU the last two weeks. We were there to give comfort to my mom as she fought a valiant but losing battle with cancer.
As odd as this may sound, they were two of the most inspiring weeks of our lives.
An ICU is the strangest of places. A mere three weeks ago, I would have over simplistically described it as "the saddest spot going on, full of very sick people." I now see it much differently. For beyond the courageous patients, there are two other groups of people always there -- people that together have made my family and me view life more positively than ever. People whom we will always be grateful to.
In an ICU there is no racism. No homophobia. No class structure. People treat each other as equals.
The professionals we watched perform daily were truly awe inspiring. The doctors' compassionate approach, communication skills and energy levels left each of us motivated to ask more from ourselves, to look harder for ways to help people in need.
Many times we witnessed doctors sprinting down hallways to get to the Emergency Unit as quickly as possible. Thirty minutes later we would watch as they sprinted back to the ICU. Miraculously, through all the chaos, they were always composed and calm, somehow able to stay in the moment. They had their A games with them at all times. Incredible.
The nursing staff's work ethic, depth of knowledge and caring attitudes brought us to tears many times. Wonderful women and men working tirelessly in the toughest of environments day after day often without a break.
My mom felt it was a great blessing that cancer had led her to spending her final days surrounded by such high-quality people. One of the nurses told us that their team considers it an honour to serve people in the ICU.
The second group we were exposed to consisted of other families visiting their loved ones. It was stunning how quickly relationships were formed. Complete strangers until eyes met in the waiting room, then, amazingly, instant friends -- connected by the strongest of bonds: empathy.
Everyone was quick to offer a chair. Or a smile. Or an ear. Conversations flowed surprisingly naturally. People came together to handle the most challenging of situations with compassion and sincerity.
In an ICU there is no racism. No homophobia. No class structure. People treat each other as equals. With kindness. With dignity. With respect. It is the way it should always be.
It was incredibly uplifting to see that the worst of times could bring out the best in people. But it was even more uplifting to see that "the best in people" is nothing short of spectacular.
Follow HuffPost Canada Blogs on Facebook
Brief History of Female Nurses in the Military, from the American Revolution to World War II