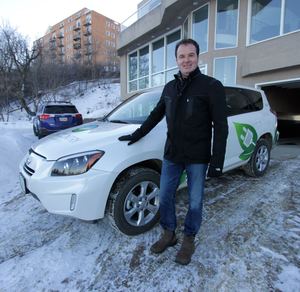 Saskatoon, Saskatchewan is a pretty unlikely place to find one of the rarest electric vehicles, or EVs, in Canada. But Kent Rathwell, the owner of one of only three Toyota RAV4 EV's north of the American border, is a pretty extraordinary dude. He's the
founder of Sun Country Highway
, a company which has installed electric vehicle charging stations across Canada. And while I was in Saskatchewan
working on some stories
he invited me over to show off his RAV4 EV. "The handling's incredible. The battery pack is along the bottom of the vehicle, so it's incredibly stable. And I just can't talk highly enough about this vehicle. Even though you can't buy them today," says Rathwell. I actually own a regular RAV4 and the difference between my car and his is quite noticeable, it just feels more solid and when you hit the acceleration pedal in sport mode the tires squeal. Unfortunately these RAV4 EVs aren't made anymore and only 2,600 were made exclusively for the California market. And Rathwell is no outlier, people really love their EVs. For the past four years Consumer Reports' highest customer satisfaction award has gone to either the Chevy Volt (2011 and 2012) or the Tesla Model S (2013 and 2014). But meeting with Rathwell piqued my interest. Just how well are EV's doing in Canada? Thankfully Matthew Klippenstein, a 13-year veteran of the fuel cell industry has been tracking EV sales in Canada. He
writes about Canada's EV sector for Green Car Reports
and maintains
a public spreadsheet detailing EV sales.
Canadian electric vehicle sales
More than 11,000 plug-in electric vehicles have been sold in Canada since 2011. The Chevy Volt leads the pack account for 37 per cent of all EV sales in Canada, while the Nissan Leaf and the Tesla Model S come in second and third respectively. Those three vehicles represent more than 70 per cent of electric vehicles sales in Canada so far. As of the end of 2014 plug-in electric vehicles have 0.27 of total vehicle market share in Canada. Roughly speaking one out of every 300 cars sold in Canada is an EV. That's grown almost ten fold since 2011. In the U.S. electric vehicles have more double the market share they enjoy in Canada with EVs making up one of every 150 new vehicles sold. In the U.S. the Chevy Volt wins the all time sales record with 73,757 cars sold, then the Nissan Leaf at 72,322 followed by the Toyota Prius Plug-in at 38,088 and the Tesla Model S with an estimated 35,817 cars sold. While our numbers are small compared with the US Klippenstein is still optimistic. "That is nice year over year growth and if we keep it up we'll be doing quite well in a few years time," says Klippenstein. The industry watcher sees plenty of further growth in the EV market as manufacturers start venturing into the minivan, SUV and truck market segments. Those non-sedan options include vehicles like Rathwell's now discontinued RAV4 EV. It's a shame that they stopped making them, as Rathwell loves his even in Saskatoon's harsh prairie winters.  Klippenstein is also excited about the next generation of EVs: "Early indications that the next Volt will be more mainstream. I expect the second generation Nissan Leaf to do the same. This should help push EV sales substantially and keep us on the 50 per cent per year growth train that we've been on." In Canada,
Quebec
and
Ontario
lead the way in EV sales. Not only do they have the largest populations but they also both have fairly healthy rebates for electric vehicles. British Columbia
recently let their electric vehicle incentive program expire
.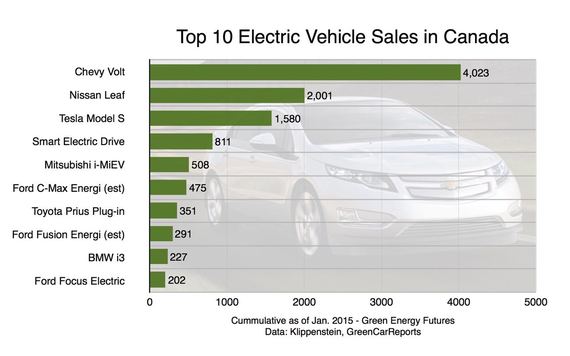 Total cost of ownership
As EVs become more popular and the second and third generation of these vehicles rolls out an important thing to consider is the total cost of ownership. Owning an EV costs less than owning a comparable combustion engine car. With fewer moving parts to replace and with electricity far cheaper than gas you might pay more upfront but you pay less to keep the car running.
A study out of B.C.
found that electric vehicles would save fleet operators an average of $16,000 per car compared to the vehicle they'd be replacing over a service life of seven years.
Eye popping EV advertisement
And perhaps the best advertisement for electric vehicles
is this video that's been making its way around the internet
. In it people react to experiencing "insane mode" in a Tesla Model S. The 864-lbs of torque that are instantaneously applied thanks to the electric motor pushes people back into their seats, bugs their eyes out and is usually followed by a string of exclamatory obscenities, even from a delightful old grandma. Watch it and if you can try amd get a ride in one of these amazing vehicles.