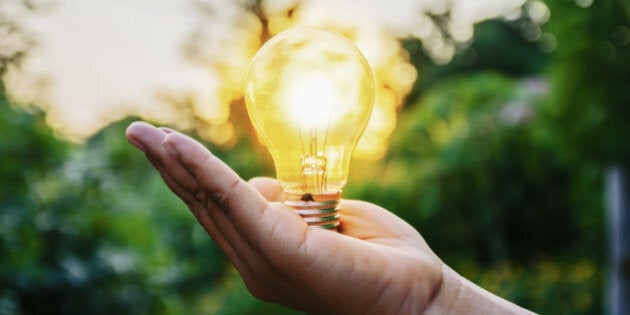 On March 2, 2016, energy efficiency companies and experts from Canada and the United States gathered in Edmonton to talk about Alberta and energy. On the surface, that doesn't seem odd. Alberta is almost synonymous with energy in a lot of circles. However, when it comes to energy efficiency programs, the province is a big red rectangle among a continent of green.
"There's a chart that I shared that identified the budget per capita for energy efficiency programs across North America," says Dain Nestel, of ClearResult, an energy efficiency company from Portland, Oregon. "You see a lot of numbers in the United States. You see a lot of numbers in Canada. But the really big number you see in Alberta -- zero. Because Alberta doesn't have energy efficiency programs."
This becomes terribly ironic when you look at Canada as a whole. Nestel notes that an International Energy Agency study looked at the impact of energy efficiency programs on reducing energy use, and Canada is tied with the United Kingdom for second place behind Germany as being the best at energy efficiency in the world.
But people came from across Canada and the U.S. to the Alberta Energy Efficiency Alliance's event, "Advancing Energy Efficiency in Alberta," not to berate the province, but to talk about how it can leap right from energy efficiency tadpole to a majestic bullfrog.
The Alberta [dis]advantage
The opportunity is actually quite staggering, and not just from an environmental standpoint, either.
"I would say it boils down to three key things: jobs, jobs and jobs," says Nestel. "The money that's freed up stays local. [One study] showed that if you made a $30-billion investment in energy efficiency, the total economic value would be a $150 billion. That's a nice multiplier. $94 billion of [that] would stay in Canada. Those are huge numbers."
As if to spite Alberta's shiny new climate change plan, sagging oil prices continue to drag the province through the mud. However, Nestel and others believe this presents a great opportunity for energy efficiency programs which have a compelling bang/buck ratio when it comes to saving energy, creating jobs, reducing emissions and stimulating the economy.
And that's exactly what Alberta Minister of Energy Margaret McCuaig-Boyd said when she addressed the audience later at that same event.
According to McCuaig-Boyd, the government plans to use revenue from their newly implemented carbon tax to fund the efficiency initiatives.
"By investing the carbon levy funds in the right energy efficiency programs we can create green jobs, stimulate the economy and further reduce emissions," she told the audience.
Jesse Row, the executive director of the Alberta Energy Efficiency Alliance, says they've crunched the numbers. If Alberta invested $34 per capita, the average of other provinces, Alberta would generate $510 million in energy savings and 3,000 jobs while reducing emissions and making Alberta more competitive.
Row says this is exactly what the U.S. did when their economy was flagging: "When we look at the United States during the last recession and recovery, they actually doubled their investment into energy efficiency programs, because they saw it as a good thing for the economy."
Nestel explains how it works: "There was a farm who invested $175,000 in updated refrigeration," says Nestel. "That allowed them to reduce their total energy consumption by 40 per cent. That drives the price of production down and allows them to be more competitive in the markets that they serve. In addition, they invested to capture the lost heat from their compressors and use that to heat their water. So now they're spending less money on propane, like 70 per cent lower consumption for propane. That's pretty incredible."
So what would energy efficiency look like in Alberta?
McCuaig-Boyd did not reveal any details of what Alberta energy efficiency programs might look like, but Dain Nestel has some ideas: "I would look at a couple of approaches for residential, because there are so many existing homes out there," says Nestel. "Weatherization, LED lighting, water heating, et cetera. Also a consumer products program, because that's gonna get you so much leverage across all the people that live in Alberta. It's so easy, because they're going to the store anyway."
McCuaig-Boyd said when Alberta implements a program, it will target homes, businesses and communities. She also said education will play a role along with training of the workforce. In the Alberta Speech from the Throne on Mar. 8 Alberta committed to "Create an energy efficiency agency to help families, businesses and communities reduce energy costs and greenhouse gases."
Row says best practices suggest Alberta will use rebates, good solid information and other strategies to target homes, business and industry.
When asked what the coolest energy efficiency thing he has done in his own life, Row said he added insulation to his attic, not the hippest or sexiest thing, but an easy step you can take to get big savings in kilowatts and dollars.
Personally I have become intrigued with condensing clothes dryers. They offer the chance to tame one of the big energy hogs in our homes, the cost of keeping clean.
McCuaig-Boyd said Albertans will know what these programs will look like in the coming weeks and months. So I'll have to wait and see if there's a program that will help me buy my dream dryer on the cheap.
Follow HuffPost Canada Blogs on Facebook