 When the White Rabbit in Alice in Wonderland said, "I'm late! I'm late! For a very important date," he could have been talking about humanity's transition to a sustainable energy future.
While the pace of our transition to a lower carbon world can be frustrating, we have learned in a short time at Green Energy Futures there are some pretty inspiring and innovative people building a green energy future right now.
"We need to move to wind, solar, biomass, geothermal, some small-scale hydro, maybe some large-scale hydro and maybe some nuclear," says Turner.
While the media seems preoccupied with issues like the oilsands, noisy anti-wind protesters and the political horse race we easily found many amazing people and groups engaged with green energy solutions in their homes, businesses and communities.
Dawson Creek -- Green solutions in B.C.'s gas patch
One of our most inspiring stories came from an unlikely place, the heart of the oil and gas industry in north eastern British Columbia. When I went to Dawson Creek I was greeted by Councilor Cheryl Schuman underneath a massive three-megawatt Enercon wind turbine. An infectiously positive person she told us the story of how Dawson Creek residents formed the Peace Energy Cooperative and helped build a 102-megawatt wind farm that overlooks Dawson Creek and produces far more energy than 12,000 residents use.
It wasn't just the residents, the local politicians got into the act too. The city set up it's own carbon tax and pays $100 a tonne for the city's own carbon emissions into a fund that pays for greenhouse gas reducing projects. In 2011 Dawson Creek set aside $360,000 into that fund, money that will go to projects that will continue the virtuous cycle of reducing their carbon emissions.
We would be remiss in not mentioning Dan Balaban, the no-holds-barred wind energy cowboy from Greengate Power who is developing big wind farms with plenty of community support in Alberta. Standing in the cold rain, in the shadow of a large wind turbine south of Drumheller, Alberta, Balaban talked about his planned projects that could increase Alberta's wind capacity by 50 per cent. This year, after seven years of very hard work, Balaban got to see his first project constructed and tied into the grid.
The 150-megawatt Halkirk wind project near Red Deer, Alberta consists of 83 giant Vestas V80 turbines, enough to power 50,000 homes in Alberta. Balaban sold this huge project to Capital Power who took the project over and finished construction this fall.
And he's not done there; one of his next projects is twice as big as Halkirk.
Green energy far and wide
Deb Doncaster at the Exhibition Place wind turbine. She helped get that project off the ground and is a key part of Ontario's renewable energy space. In Ontario I met Deb Doncaster who rode her bicycle to meet me at one of the most striking green energy landmarks in Canada, the Exhibition Place wind turbine on Toronto's waterfront. From her beginnings as a young staffer at TREC in Toronto she was part of a group that brought in the first urban wind turbine in North America. It wasn't easy, but now 200,000 commuters a day on the Gardiner Expressway see this urban green energy sentinel.
And that truly is the story of green energy. It's something people really want to do, sometimes against all odds.
"Fundamentally we just wanted to get off of fossil fuels and we wanted to have a stable, sustainable, long term energy supply," said Dexter.
Their goal is certainly ambitious -- 25 per cent renewable energy by 2015 and 40 per cent by 2020.
BLOG CONTINUES AFTER SLIDESHOW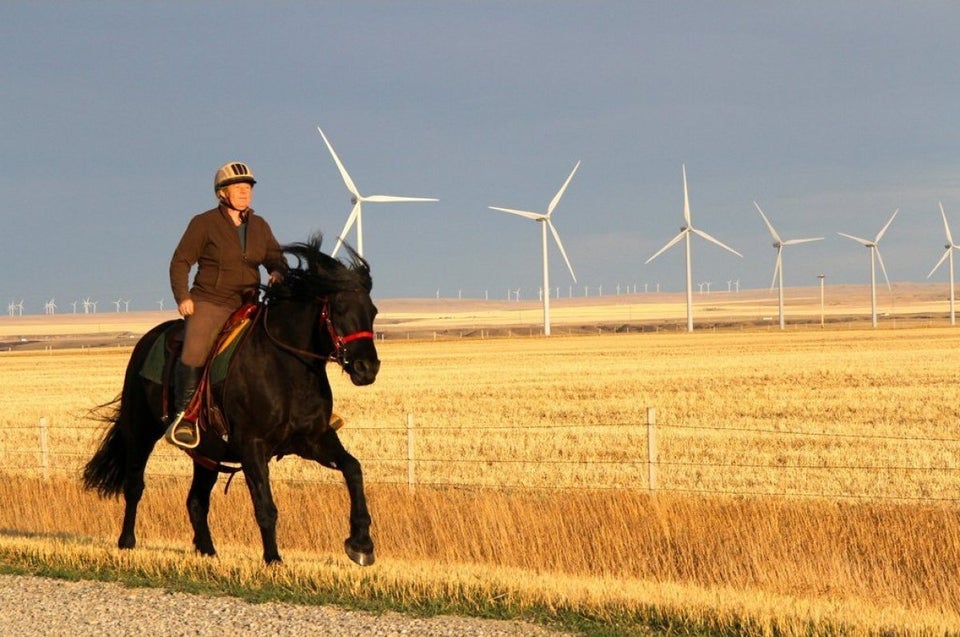 Best Green Energy Futures Photos of 2012
The funny thing is Eijgel looked more nervous doing a video interview in her home on her farm near Pincher Creek than she did addressing a crowd that contained more than a few hostile people in London, Ontario.
Constant amazement
What I really enjoy about working on the green energy file is that we learn something every day.
"I've gone 6,698 km since the beginning of December and I've now used a tank and half of a gas and maybe $30 worth of electricity," said Dayson in August.
Dayson shattered one myth after another when it comes to electric cars. Even though Dayson once owned a company that produced the Dynasty IT a car that could only go 55 kilometres per hour the Volt will do 0-60 in 8.3 seconds. And Dayson who says he's is not really a "car person" confessed he has a Tesla on order. The Model S Tesla can do 0-60 km/h in 4.4 seconds, a number that would give a Corvette a run for its money.
To close out 2012 we look to the young leaders of tomorrow in NAIT's Alternative Energy program. Student Preetpau Atwal said she joined the green energy program because "green technology seems to be the answer for things, for problems environmentally and because demand is increasing and because I wanted to make a positive change in the world."
I started the Green Energy Futures series because I kept hearing stories about people doing positive things to advance green energy solutions. Unfortunately these stories don't get the play they necessarily should. That's where we come in.
It's an amazing experience and I'm grateful to be able to tell the stories I do.
We send the best of the season to you from Green Energy Futures. If you have ideas for future columns please drop us a line any time -- @greenergy_dave.