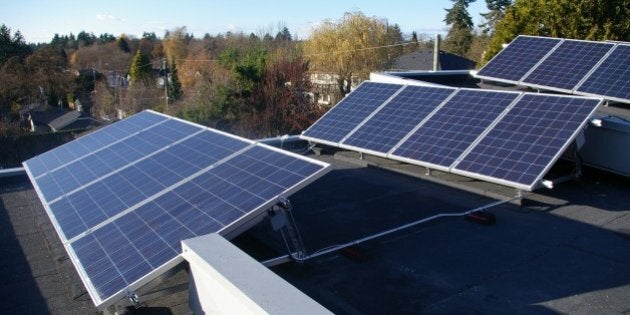 www.vrec.ca) . Licensed Create Commons for non-commercial use. Please link to original and credit VREC." data-caption="Solar Photovoltaic Installation in Vancouver, BC completed by Vancouver Renewable Energy (www.vrec.ca) . Licensed Create Commons for non-commercial use. Please link to original and credit VREC." data-credit="Rob__/Flickr">
So when a city says it's going to go 100 per cent renewable, that definitely got our attention. Vancouver's commitment came in March 2015, and they're not wasting time to put it in place.
Vancouver has the advantage of British Columbia's legacy big hydro grid. Almost 95 per cent of the city's electricity comes from renewable sources, so the big issue isn't necessarily electricity.
"A lot of it will hinge on the transportation technology and how quickly zero emission vehicles become the norm. And that's one that we don't necessarily control, but we can make sure we have the electric infrastructure for charging all the vehicles that the city would need," says Vancouver Mayor Gregor Robertson in this interview.
"We see this as a huge economic opportunity for Vancouver. We're partnering with a group of 17 cities around the world that are looking at how we do this, how we work together, share best practices and really develop a framework for all the cities of the world to go 100 per cent renewable," says Robertson.
And while Vancouver became the first city in Canada to make the 100 per cent renewable pledge, they were soon followed by Oxford County in Ontario; 29 cities in the U.S. and 26 more around the world have done the same.
Even though it's a really big change, Robertson wants to do it in sustainable manner, one that "creates great economic opportunity, and ultimately, will serve the generations going forward and keep this world healthy."
"In our greenest city plan we have a goal to double the number of green jobs in the city and we've seen that increase 19 per cent in the past three years," says Robertson. "We're seeing an incredible surge in green jobs whether they're in renewable energy or green buildings or local food production. It's been great success in creating new jobs and new opportunity by greening the city."
And while city staff are working to improve the solar permitting issue the issue does give us one data point that suggests Vancouver may not be the perfect, over-achieving grade A student on the environment -- at least not yet.