By David Dodge & Dylan Thompson
On the roof of the Two Twenty building in Saskatoon, Saskatchewan are 90 solar modules comprising a 27.5 kilowatt solar system, the very first project built by the newly-formed SES Solar Co-operative.
The co-op is an offshoot of the Saskatchewan Environmental Society (SES) that works on conservation, sustainability and yes, energy issues. In fact, in its early days the SES fought the construction of a dam on the Churchill River. The society offices are in the Two Twenty building, a co-working space for social innovators in Saskatoon.
The SES wanted to push the envelope on solar and, let's be honest, "Environmental organizations are always strapped for funding so we decided what if we could form an entrepreneurial arm of the society, that would do things well by the planet and also make money for the society," says Joe Schmutz, president of SES Solar Co-operative.
People power
Many people seem to support the concept of community-owned power and the ability to get involved with solar without huge personal investments or loans.
"It empowers people to move from mere consumers of energy to being part of the energy enterprise," says Schmutz.
Community power is hugely successful in Germany and it's part of generating significant public support and involvement in building a clean energy grid. Some call it the democratization of the electricity grid. SolarShare in Ontario has been remarkably successful attracting $30 million in investment thanks to Ontario's feed-in-tariff. But in places like Saskatchewan or Alberta due to market structure and other barriers it's much more challenging.
But the SES Solar Co-operative in Saskatoon is determined to develop this creative way of supporting solar. While Saskatchewan has net metering in place, overproduction of solar energy gets "donated" to the grid. On the upside SaskPower offers a 20 per cent rebate on solar capital investments to a limit of $20,000.
Shares snapped up
Armed with ideals and the goal of building clean energy SES Solar Co-op ran an Indiegogo campaign and 100 investors each put up $1,000 to get regular and preferred shares.
The co-op also got seed money from Affinity Credit Union who ran a social enterprise competition in 2014. The SES came out on top and received $50,000 in start-up funds. Then Bullfrog Power stepped in a provided a $100,000 interest free loan. All together, SES Solar is now well on their way.
Their first completed project on the Two Twenty building is a collaboration with Shift Development, their landlord. The co-operative will own the system and Shift Development will use the electricity and return savings to the coop.
Despite being finished first, this is actually the co-op's second project. Their first project being a 26 kilowatt solar project in partnership with the City of Saskatoon at the City's landfill gas plant.
"The city wanted to take one extra step and install a solar operation to replace the power they buy from SaskPower, and we teamed up with the city. That project is 26 kilowatts, and we teamed up with the city 50/50," says Schmutz.
Why a co-op?
Any form of business could have potentially made the SES money. Mark Prebble is on the board of the SES Solar Co-operative. He explains why a coop made the most sense.
"The pooling of a diverse range of expertise and resources has been critical to our success," says Mark Prebble. "The co-op model has also certainly improved accessibility for many in reducing investment risk and encouraged entry into solar generation for those that are perhaps interested but wish to learn more through participation before committing to a greater solar investment."
A solar co-op "provides a mechanism to raise funds from a community for a community to best serve their needs" says Schmultz. "It also allows people to participate in solar even if their own house roof may be shaded."
The SES Co-op is "expecting and targeting a return of two per cent to three per cent over the 25-year lifetime of the panels," says Prebble, while Schmultz says this is about pushing change: "The buy in we got, we got primarily from Saskatchewan Environmental Society members and they weren't so concerned about the return. They wanted to make this work, they believed in solar, they believed in the planet and they believe that we need to make an energy transition."
Regulatory hurdles
The Financial and Consumer Affairs Authority of Saskatchewan was rigorous (perhaps rightly so) in ensuring that this type of coop would comply with their existing regulations. Because of this, the co-op was unable to raise more than $100,000 in funds, which is quite limiting for a start-up.
After 18 months they have finally received the thumbs up from the FCAA and may now actively market to Saskatchewanites. Currently, the coop has 98 paid members but this is sure to increase.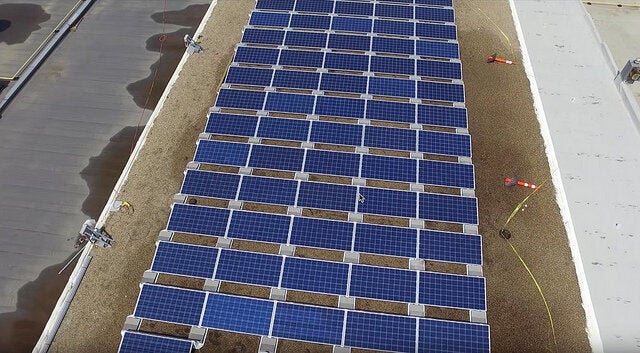 Follow HuffPost Canada Blogs on Facebook