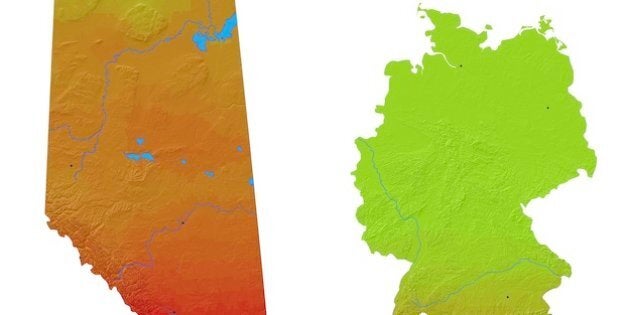 When you put the words 'resource' and 'Alberta' in the same sentence you're usually talking about the kind of resources that get drilled, steamed or dug out of the ground. Oil and gas are king in Alberta but a new report from the Canadian Solar Industry Association or CanSIA says Alberta has the best solar resource in Canada.
However, when you start comparing Alberta to the largest global market for solar energy technology in the world, Germany, it's time to start scratching your head.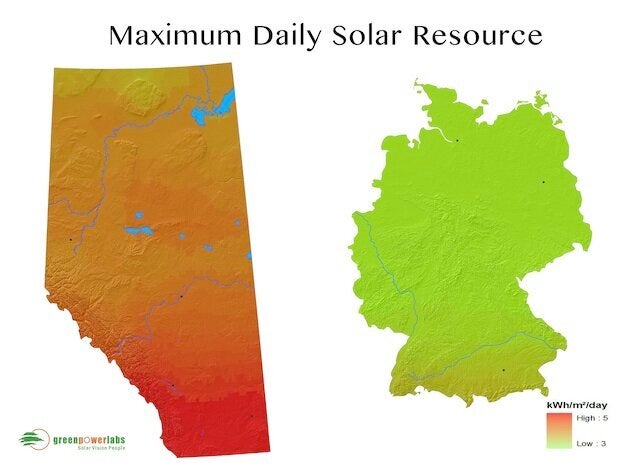 Here's where you play the sad trombone. Sunny Alberta has 2.3 megawatts of installed solar capacity (Source). Germany has around 30 gigawatts of installed solar energy capacity. Thirty gigawatts equal 30,000 megawatts. This means Germany has 18,000 times more installed solar capacity than Alberta.
However, when you compare Calgary's solar potential to Berlin's it doesn't even come close. The yearly photovoltaic potential in Calgary is 1292 kWh/kW. Berlin's photovoltaic potential is 848 kWh/kW. (Source) This means a one-kilowatt solar system in Calgary will produce 52 per cent more electricity than one in Berlin.
In fact, Calgary has more solar potential than both Rio de Janiero and Rome. And the numbers are even better for southern Alberta cities Lethbridge and Medicine Hat.
That might be a bit counter-intuitive, but solar panels work best in cold, sunny conditions (Here's a technical explanation). It turns out cold, sunny Alberta is sitting on another gold mine.
Now, the challenges of developing solar resource are much different than the oil and gas game but the solar numbers are inescapable.
Gordon Howell is a professional engineer and a long-time solar advocate. He was the first person in Alberta to have a grid-connected solar system. He put it on his house as a trial in order to find the barriers to implementing roof-top solar in Alberta. He's been working in the solar industry since 1977 and has been involved in more than 100 solar projects.
When you start talking about how best to maximize this solar bounty, Howell has thought it through. For oil and gas development "we've had policies that have facilitated it, opened up the doors, reduced the barriers. We've actually had subsidies for all of the coal, oil, gas and bitumen industries to help them get going."
Subsidies often get thrown around like a curse word by the budget hawks of the world but without subsidies we would have never had a reliable, nation wide electric grid. And without subsidies we would have never developed Alberta's current economic engine, the oilsands.
"And so when I look at how that has been successfully organized to help use coal, oil, gas and bitumen then I say that's what we need for solar energy also. We need policies that facilitate it, remove barriers and provide leadership. We need some minor subsidies, incentives to help people and industries and commercial places and municipalities."
Also due to what their website calls "tremendous interest" the province of Alberta closed applications for their Growing Forward solar pilot program. It was a $500,000 grant program that offered partial funding to 46 farmers to install 355 kilowatts of solar PV systems on their farms.
While Alberta's solar industry is currently small it does support 86 small to medium sized solar related businesses according to Rob Harlan, the executive director of the Solar Energy Society of Alberta. That's not an insignificant number and when you start talking to people on the trade show floor these are fundamentally optimistic people. These are people who have been slugging it out with hardly any support from the government in a small industry with huge potential for the past decade or more.
Randall Benson of Gridworks Energy Group has been supplying, designing and installing solar pv systems for the past 12 years.
"I've been optimistic for the past twelve years," says Benson.
"It's going to be huge. We're going to see a lot more players in the game as well. Not just small boutique players like me but very large players, manufacturers, installation companies that are much larger than mine. It's going to be a big game changer when it happens."
When exactly "it" happens is anyone's guess but there are some encouraging signs. John Gorman is the president of CanSIA. He presented CanSIA's study on the quality of Alberta's solar resource to a packed house at the Shaw Convention Centre at the Solar West symposium.
"We're seeing a lot of grassroots activity with municipalities, individuals, entrepreneurs, and utilities building projects. We're seeing a real grassroots movement. What is promising about Premier Redford's latest announcement is that the province is going to be introducing a framework to direct all of that grassroots, entrepreneurial approach that Albertans show in almost everything they do to make Alberta the Canadian and global leader in solar resource development."
That grassroots movement has led to creative efforts like Light Up Alberta, an electricity retailer led initiative to pay more for exported solar energy in Alberta.
Redford's minister of environment and sustainable resource development, Diana McQueen, was on hand to deliver the keynote address. We caught up with her afterward.
"We know that as we move towards a renewable strategy that solar in Alberta will play a significant role," says McQueen.
"There is some excitement. People know that renewable energy is a very important part of our energy strategy. Premier Redford has talked about that as well, we look at AOSTRA II and the potential not just for oil sands ... [but] the potential for all forms of energy in this province - they're outstanding. Alberta is rich in many energy forms, solar certainly plays a huge role for us," said McQueen.
If Alberta devotes even a portion of the brains, money and time it devoted to turning the oilsands into a useable resource to doing the same with solar, we might be onto something. Alberta has certainly taken a lot of black eyes for the way it develops its non-renewable resources, developing it's other greatest natural resource might be a way to address them.