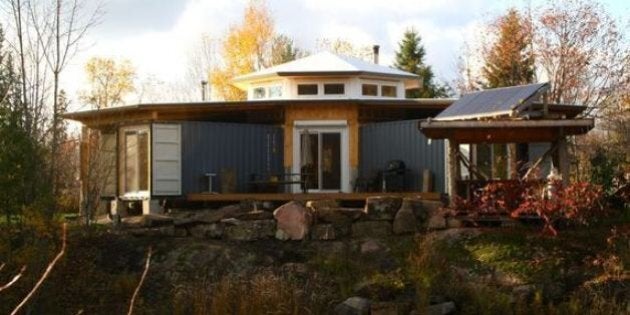 Whether you call it a cottage or a cabin, Jason Rioux's summer home built partly out of shipping containers near Bobcaygeon, Ont. is pretty cool. With its rustic décor and innovative off-grid approach this solar-powered getaway is an interesting take on shipping container architecture.
It has a large octagonal central room built in a standard post and beam style, it's got your wood stove, some comfortable couches and a beautiful ring of clerestory windows that keep it nice and bright. Radiating out from there are seven steel shipping containers, each serving a different purpose: bedrooms, kitchen, dining room, mudroom, rec room and bathroom.
The exposed wood, high ceilings and natural light make the hub of this 1,450 square foot cabin feel super cozy.
"It's just the neat feeling of sitting in the center and being able to know what's happening in every room. It's the center action point, and it's got such a good vibe around, the flow, the lighting, the natural lighting, backlighting coming in to the space. It's turned out very, very, well," says Rioux.
Buildings and homes built out of steel shipping containers have become a popular trend over the past decade. As a building material shipping containers have the benefit of being modular, stackable, relatively cheap, incredibly sturdy and very common. Rioux picked up his seven sea containers from a shipping yard for less than $5,000 each.
Outside on the roof of a gazebo sits a humble 4-module solar PV system. This one-kilowatt solar PV and six-kilowatt-hour battery system powers the entire cabin. That's pretty small as the net-zero homes we usually feature have eight to 10 kilowatt systems. But Rioux is able to do it thanks to extreme energy conservation -- no energy-sucking toasters or microwaves -- and by using DC power as much as possible.
The energy efficient LED lights, fridge and air circulating fans all run on DC power directly from the solar/battery system. A small inverter provides power for the TV and radio and other small appliances.
A one-foot length of inexpensive LED strip lighting cranks out plenty of light and uses only one watt. In the central living room, Jason made a beautiful handmade copper light fixture that is jammed with the stuff. It kicks out a ton of light for only a few watts.
Solar-powered water tower
One of the most important features of any cabin is the water system. Rioux uses a solar-powered DC trickle pump to take water from his well up into a 300-gallon water tower above the central living room. Powered by two small solar modules, it's totally separate from the house's energy system.
"And so, the beauty about this is that pumping the water to a water tower gives you energy storage in the form of elevated water and so that when you want the water for at your fixtures or flushing the toilet there 's no electric pump that kicks in to pump the water again, it's gravity-fed to those fixtures," says Rioux.
Bathing happens in an old school, Finnish sauna. A wood stove heats the sauna and heats buckets of hot water for bathing.
An innovative hybrid heating system
An airtight wood stove in the central room heats the Octopod. But to get warm air into each shipping container he has an innovative DIY solution.
"What we have are very high-efficiency DC-powered basic computer cooling fans that circulate the warm air from this living room space and push it through the ductwork, and push it all the way... to the back end of each of the containers," says Rioux.
He got a 10 pack of the computer fans from Alibaba Express for $20.
To keep the heat in the house it's insulated with high-density spray foam insulation. It's got R values ranging from R9.5 to R45 depending on the part of the house that you're in.
And Rioux built it all for less than $100 a square foot. The total price for the Octopod comes in at $130,000 for 1,450 square feet. He wanted to demonstrate sustainable building methods in Canada's climate with shipping containers and he did it.
And thanks to its hub and spoke design there are also seven V-shaped rooms on the outside of the cabin for storage, patios and extra rooms. The cabin has decks on two sides, one overlooking a small lake and the other outside of the sauna.
The Octopod is a quirky off-grid home that combines rustic cottage touches with modern technology. And it's one of the most interesting places we've ever had the chance to visit.