Czarek Sokolowski/AP
There's no way around it. The Canadian Armed Forces (CAF) is crumbling from within. Don't get me wrong, I have the utmost respect for our soldiers, but over the last week, two troublesome reports paint a disturbing image.
On Sunday, Statistics Canada released the findings of survey that reveals widespread sexual assault in the CAF. More than 960 individuals in the army -- or 1.7 per cent -- reported being sexually assaulted in the last 12 months according to the report.
When these figures are further analyzed, it includes 570 men and 380 women and the perpetrator often involved an authoritative superior.
It doesn't just end there though. Statistics Canada reveals one-quarter of women have experienced at least one incident of sexual assault during their military careers. Nearly 80 per cent of the Regular Force -- meaning full-timers -- say they've seen, heard or experienced instances of sexual violence around them.
It's horrifying to think that our soldiers are prone to an array of violence on the battlefield, but it's now clear there's widespread violence within the army's own ranks. A cycle of systematic abuse exists and nothing's being done to stop it.
Another somber report was released on Nov. 23 detailing the suicide rates of Canadian soldiers. After combing through the detailed literature, it's clear our soldiers are prone to an array of social issues including mental illness, which drives them to commit suicide.
The 2016 Report on Suicide Mortality in the Canadian Forces revealed there were 18 reported suicides last year alone. Out of the total figure, several were suffering from depressive episodes, anxiety, substance abuse and post-traumatic stress disorder, with nine of the soldiers had previously attempted to commit suicide.
It's also noted nearly all of the 18 individuals faced at least one work or life stressor before taking their lives. Some of these stressors include a failing relationship, accumulating debt, problems at work or home and legal issues just to name a few.
These figures are absolutely heartbreaking to say the least, and shine a light on a really complex and dark subject. It's clear our soldiers are continuously in battle, even when they return home from an overseas mission.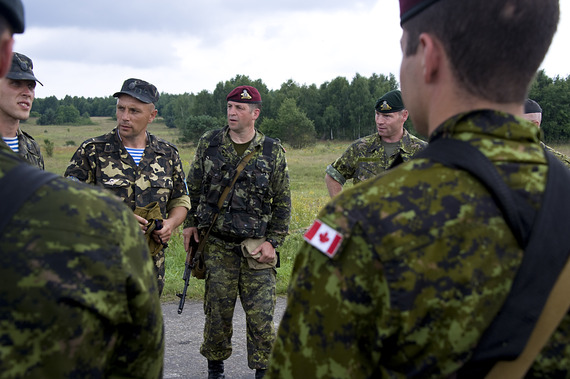 Photo via Wikimedia Commons.
It's also apparent our society and our government have failed those who loyally serve and protect our country and our very freedom that we take for granted. We need to divert more resources and care to our armed forces in a bid to curb these rates.
This means better access to health care professionals who can assess both their physical and psychological needs when they return back to Canada, after deployment. After all, nearly 80 per cent all of the soldiers who committed suicide in 2015 sought mental health services in the year leading up to their death.
Col. Andrew Downes, director of mental health services for the Canadian Forces, said the military's research indicates a higher suicide rate for soldiers who've been deployed to war-torn nations such as Afghanistan, according to a recent interview with CBC News.
Canadian Forces fought in Afghanistan from 2001 until 2014, and 158 soldiers lost their lives during the combat mission. What the Canadian Armed Forces did not tell the public was that 54 soldiers and veterans -- who all served in Afghanistan -- committed suicide after returning home, according to an investigation by The Globe and Mail in August 2016.
The investigation revealed senior government and military members tried to conceal these figures for nearly a year until The Globe obtained the information through the Access to Information Act.
It's also important to note the suicide rate in our national army is quite different compared to other nations, namely the United States. A 2011 investigative report by News21 -- a multimedia initiative for journalism students -- discovered the American army suicide rate was almost twice as high when compared to the civilian rate. Meaning 22 soldiers or veterans were tragically taking their own lives every day, which translates to a suicide every 65 minutes in the U.S.
Now the two aforementioned reports regarding sexual assault and suicide demonstrate how the Canadian army is in a complete state of disarray. Our soldiers -- who dutifully serve our nation and risk their lives -- are in a constant danger, especially from internal forces.
These problems aren't going to disappear anytime soon, so we must trace the root causes and begin to envision new preventive measures.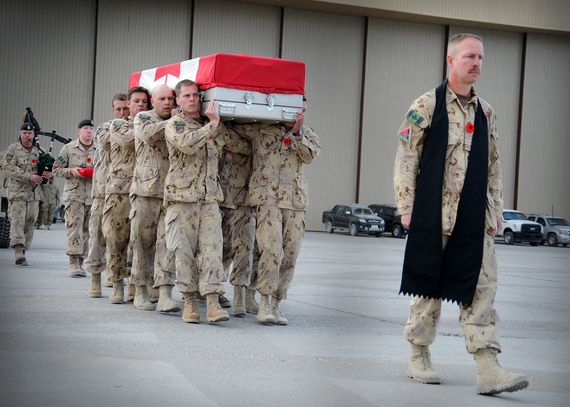 Photo via Wikimedia Commons.
These include working more closely with military families to help them recognize suicidal tendencies in their loved ones, whilst also being able to report any of their concerns to dedicated team of health professionals. Suicide prevention methods must be updated, in order create a greater awareness amongst soldiers, especially right before they're deployed.
It also means establishing a stricter sexual assault policy that includes hefty legal consequences for the perpetrator, while creating secure channels for lower ranking soldiers to report any incidents of misconduct by their superiors, in order to reduce the rate of sexual violence.
The federal government must also act immediately, for these issues cannot be overlooked. There needs to be a renewed dialogue between Ottawa and the military to ensure some sort of change is implemented. After all, we can't have our soldiers risking their lives on the battlefield, only to return home in a vulnerable state and face even greater risks.
Follow HuffPost Canada Blogs on Facebook
Also on HuffPost: