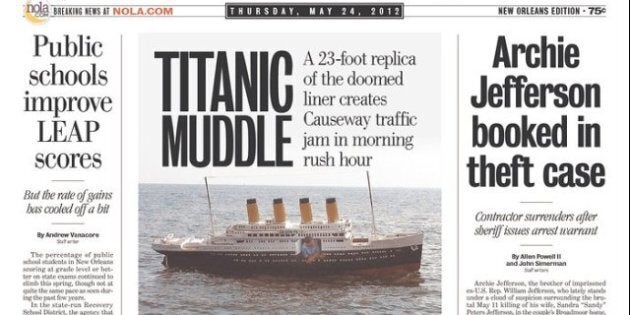 OTTAWA -- Hot weather in Central Canada and early departures for the cottage pushed Canada into a significant news deficit in the second half of June, Statistics Canada reported Friday.
All told, Canada exported only on major news story in the second half of June: the UN Human Rights Council's citation of Canada for its handling of Quebec student protests.
By contrast, Canada was a net importer of news from the Eurozone, the United States, and -- for the 55th consecutive year -- from the Middle East.
The month had opened very strongly, with a record-breaking surge in news exports.
"Global manhunt for Canadian porn-star cannibal" dominated news markets everywhere. Canada however could not sustain this one-time venture into the lurid dismemberment marketplace. International buyers showed little interest in a mass shooting in Toronto's Eaton Center, preferring to rely on their traditional supplier of mass-shooting news, the U.S. postal system.
After the month's strong first week, the Canadian news supply industry tumbled into a deep slump.
News about the leader of the Parti Quebecois first wearing -- and then ceasing to wear -- a small piece of red felt failed to excite consumers. A casual remark from a police official about too many 911 calls about dogs locked in cars generated some local news manufacturing activity in the Greater Toronto Area, but the stimulus proved short-term, expiring within 24 hours.
Not even an amusingly candid email by a federal cabinet minister could overcome resistance from consumers who shifted their attention from disasters and massacres to swimming and boating.
Forecasters warned that Canada's news deficit would likely remain wide through July and August.
"Canada is competing against a whole planet filled with mayhem and misery. Political stability, economic growth, and a chronically declining crime rate simply do not provide the basis for a strong news industry. I think we have face the fact that Canadians may just lack what it takes to be a major news export power," explained a spokesperson for Statistics Canada.
Meanwhile, Canada's historical demand for imported news continues strong. Emerging products like the pending Islamist takeover in Egypt have supplemented traditional suppliers like the U.S. political cycle and the British royal family.
However, some analysts in private industry offer a contrarian view. "We see major constraints ahead for Canada's news-production competitors," argued a trader who specializes in CBC stock for CreditZurich. "We don't think a U.S. presidential election featuring Mitt Romney will be able to sustain enduring global consumer demand for the American product. Plus, we think the Eurozone story is over-bought. It will not end in the collapse of the currency and a global depression. Failing that, who wants to watch more video of the Slovenian finance minister walking into and then walking out of an office building in Belgium?"
She added: "Plus, we think the Canadian industry has shown impressive capacity to innovate with its porn-star cannibal line of business. We strongly believe that the porn-star cannibal model is scalable, and can grow into an ongoing export item."
Yet the predominant view is bearish. "Let's face it," said the Statistics Canada spokesperson. "Unless you have Chinese-style economies of scale, you simply cannot possibly generate porn-star cannibal news with any regularity.
"Canada's most important news trading partner is the United States. Always has been, always will be. And the American market looks overwhelmingly for one steady, standard product from Canadian news suppliers: Is there a cold front of Arctic air heading south from Canada? If yes, they buy. If not, not. Until the cold fronts start moving again in late November, we don't see much chance for any kind of consistent recovery in Canadian news exports."
David Frum be away next week, on assignment covering the Euro crisis from the Bay of Naples, with special attention to the impact of the crisis on restaurants, cafes, and makers of men's shirts.
This blog is cross-posted at the National Post.