I vividly remember the best lobster roll I have ever tasted. Picture it: a half pound of beautiful fresh lobster meat nestled into soft, lightly buttered and toasted white bread.
My mouth is watering just thinking about it.
I devoured this delicious lobster roll at The Compass Rose Inn in Grand Manan, New Brunswick, Canada, as I watched the lobster boats return to the wharf with their daily catches.
Debate abounds when it comes to making the perfect lobster roll. There are staunch "for" and "against" camps on everything from celery, onions, lettuce, spices and type of bread.
In New York City these days, it's 'the bigger, the better' when it comes to lobster rolls. Just look at the ones being served up at Luke's Lobster. In my own home province of New Brunswick, Canada, volunteers are building 62 feet of lobster roll next weekend as part of Bay of Fundy Seafood Week.
I have no idea how Algonquin Hotel Executive Chef Jasmin Kobajica will prepare this giant lobster roll, but I do know it will be tasty because he plans to use fresh Bay of Fundy lobster. Fresh lobster is the most important secret to the perfect lobster roll.
At our hotel, the star of our lobster rolls is fresh New Brunswick lobster from Paturel International on Deer Island. It's not frozen. It's not canned. For our Sunday Brunch in Peacock Alley, we also bring in live lobsters from the pristine Bay of Fundy and cook them in salt water.
Be sure not to overcook your lobster because the meat will become tough and chewy. Cooking time depends on the heat source, the size of the pot and the size of the lobsters, but generally I never cook mine more than 10 minutes. Cool immediately in ice water and extract the meat.
My other top tips for lobster roll perfection are: use real mayonnaise and freshly baked bread. The bread doesn't have to be fancy. As long as they are fresh, white hotdog buns that you find in any grocery store are perfect for traditional style. Another must: butter and toast your bread on each side.
I'm a fan of celery in lobster rolls, but not onions. Chives or green onions work. I also love it with shredded iceberg lettuce but arugula works nicely or a chiffonade of savoy cabbage. Here at the Waldorf, we use brioche buns or mini brioche sliders.
Creating a lobster roll for our restaurant Peacock Alley was one of my first tasks when I came to the Waldorf Astoria. It's now one of our most popular items.
My recipe is below. Enjoy.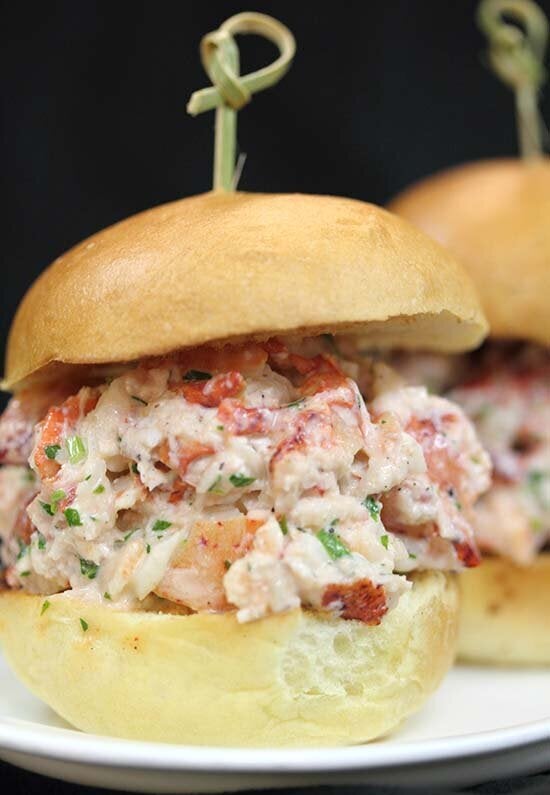 Lobster Roll Sliders

INGREDIENTS

• 1 pound cooked lobster meat (each pound of whole lobster yields about 4 ounces of cooked meat)

• 4 stalks celery

• 1 to 1 1/4 cups "real" mayonnaise (see recipe below)

• 18 mini brioche buns

• Paprika (optional)

• Green Onions (optional)

• 4 tablespoons butter, melted (optional)

PREPARATION

1. Cut or tear the lobster into bit size chunks and place in a bowl. Dice the celery into fine pieces and thinly slice the green onions and stir into lobster. Stir in just enough mayonnaise to coat the lobster mixture.

2. Butter the buns lightly on both sides and fry in a skillet or on a griddle in butter. Otherwise, toast them on both sides under a broiler. Fill with lobster mixture and sprinkle with paprika.

"Real" Mayonnaise

Makes one cup

• 1 egg yolk, at room temperature (or if you prefer use a whole egg)

• Juice of half a lemon

• 1 teaspoon Dijon mustard

• 1/4 teaspoon salt

• 3/4 cup canola oil

In a medium bowl, whisk together the egg yolk, lemon juice, mustard, salt. Whisking constantly, slowly drizzle the oil until mayonnaise is thick all oil is incorporated. If mayo is too thick, whisk in cold water.