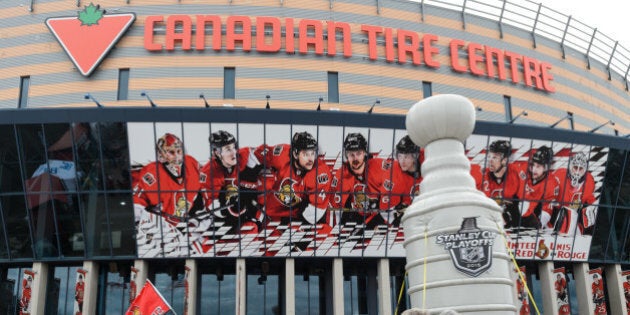 Call me old-fashioned, but I like my baseball stadiums named after the team that plays there or, at the very least, the owner or former owner of the team.
You know, like Yankee Stadium, or Wrigley Field, or Comiskey Park.
Back in the day (that day being roughly fifty years ago), most major league stadiums followed that pattern. And those that didn't still had sensible names like Memorial Stadium, the former home of the Baltimore Orioles, and Municipal Stadium, the former home of the Cleveland Indians.
Today a stadium name isn't just a name; it's a cash cow that team owners regularly milk to enhance the bottom line. No longer can you tell from a stadium's name which team claims it as their home field.
I've found this trend irritating to say the least. In recent years, most Major League baseball stadiums have sold their naming rights for significant sums. No more Tiger Stadium or Veterans Stadium or Shea Stadium. Now we know them by their corporate handles: Comerica Park, Citizens Bank Park and Citi Field.
Many of these new names are passable, I suppose, although they definitely lack any sense of history or romance. The problem is that this trend has gotten worse and has spread to all major league sports.
It's one thing to have a park named after a bank but now there seem to be no tasteful restrictions at all. Think basketball and the NBA champion Cleveland Cavaliers playing at the Quicken Loans Arena. And then there's the Smoothie King Center in New Orleans, the Amway Center in Orlando and the Talking Stick Resort Arena in Phoenix. What's next, I keep thinking?
Well, now we know what's next: the Chicago White Sox, who played for decades at Comiskey Park and then had to hide their faces somewhat while playing in U. S. Cellular Field, will now be faced with the bare-naked shame of performing at -- get this -- Guaranteed Rate Field.
Guaranteed Rate Field. Imagine. Doesn't that just roll off your tongue like a mouthful of ball bearings? What in heaven's name were they thinking?
It's bad enough being a White Sox fan and suffering year after year of disappointment without having to sit in a ballpark that sounds like it's been named after a pawnshop. At least long-suffering Cubs fans can still take solace in the fact that their losing ways remain true to tradition in ivy-covered Wrigley Field.
It's not that I begrudge team owners their right to squeeze a few more bucks out of their sporting venues. But at least I wish they would do it with some discretion and style. What's next? The Pepsi Center? No, wait, we already have one in Denver.
Perhaps the worst offender in this new naming racket is the National Hockey League. And the worst of the worst is my hometown team the Ottawa Senators.
When the Senators moved to their new home in 1996 it was called The Palladium, an impressive traditional name. But since then, the name has changed three times from The Corel Centre to Scotiabank Place and most recently to Canadian Tire Centre.
Where once Ottawa fans could take pride in watching their team perform in an appropriately named sporting complex, now when they go to a game they get the feeling they might also be able to get their tires rotated or an oil change at the same time.
Where's the commitment to history and tradition? How do you retain fan ties to a team when its stadium or arena changes its name every few years? And how do you keep a straight face when your local heroes end up performing in Preparation H Stadium or Ex-Lax Arena?
Oh well; I guess I should be thankful my Senators aren't playing in Guaranteed Rate Arena.
Follow HuffPost Canada Blogs on Facebook