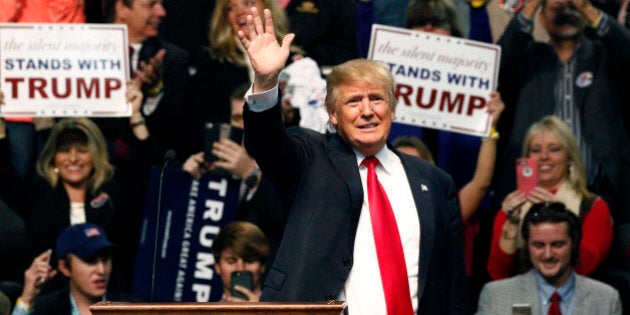 Donald Trump is sworn in as America's 45th president and his running mate, Sarah Palin, is sworn in as vice president. For first time ever, the inaugural ball is held in Atlantic City.
As his first official act, U.S. President Donald Trump orders defeated Democratic presidential candidate Bernie Sanders sent to Guantanamo Bay. "Bernie keeps claiming he won the election," says Trump. "But I clearly won the opinion polls and that's what really matters. A little Cuban holiday should clear his mind and help him finally see the light."
Hillary Clinton announces her intention to run for Democratic presidential nomination in 2020, 2024 and 2028. "It's too early to commit yet for 2032," says Mrs. Clinton. "But if Trump can win the presidency, then anything's possible."
Trump has a 15-foot illuminated sign installed atop the New Trump White House & Casino. As part of his dealmaking prowess, he announces finalization of negotiations with the Chinese for an elaborate purchase-and-lease-back arrangement. "It's a guaranteed moneymaker," says Trump. "And the Chinese will be on the hook for a 200-year-old building."
Construction begins on a 12-foot-high wall along the Mexican border. Mexico not only agrees to pay for it, they agree to actually build it in order to keep out the new wave of American immigrants.
President Trump declares February 14 National Trump Love Day as Americans are encouraged to demonstrate the many ways they love their new president. In an unrelated matter, Trump's security detail doubles.
After unsuccessfully trying to get his Muslim Prison Camps bill passed, President Trump walls off Congress and renames it the Uncooperative Legislators Internment Camp. "That's what Franklin Roosevelt would have done," says an unrepentant Trump.
ISIS surrenders. Spokesperson Abu Mohammad al-Adnani publicly announces: "We quit. We thought we were crazy but that infidel Trump makes us look like amateurs," says al-Adnani. "So long as he has his finger on the nuclear trigger, we just can't take the chance."
Trump completes his Supreme Court un-appointment process by removing eight sitting justices and leaving Antonin Scalia as the sole person on the bench to rule on his executive decisions. "Tony and I see eye-to-eye on almost everything," says Trump. "I think that together we can make America great again."
President Trump stages mass patriotism rallies under the name "Crystal Night" and nationalizes the health care system and several major industries. "It's my fabulous new program for America," says Trump. "I call it national socialism."
The president wakes up to read the front page of the New York Times announcing that his popularity has reached an all-time high of 99 per cent. Trump revels in great success until First Lady Melania Trump announces "April Fool's" and informs her husband she had a mock front page printed from TrumpSucks.com.
President Trump declares war on China and announces the immediate launch of a nuclear strike. He then declares it a belated April Fool's Day prank on his part, though he says he can't promise the same for next year.
Professing boredom with the job, Trump resigns and Sarah Palin is sworn in as the 46th president by Chief and Sole Justice Scalia. America experiences its first military coup.
Donald Trump announces he's running for Secretary General of the United Nations or Emperor of the World, whichever position opens up first.