In my first week in 2007 as the newly-minted President and CEO of the former National Round Table on the Environment and the Economy, I sat for breakfast in Toronto with a leading environmental advocate. Over bacon and eggs at the local diner across from his office, I asked why he and his ilk were so stridently opposed to the then-new Conservative government's environmental policies. He allowed that despite good work being done on chemicals and toxics and waste issues, the government was simply not doing enough about climate change. Action here was required to get credit there.
This was my first introduction to the powerful political elixir of social licence, the slightly archaic term with an academic tinge that confounds resource extraction and climate policy in Canada today.
Social licence really means "ongoing public approval." Companies must earn and keep community and stakeholder support to undertake development. Social licence was traditionally applied on a project-by-project basis, not to whole swathes of public policy and industrial sectors. But in today's Canada, that is no longer the case.
From First Nations in New Brunswick fighting shale gas exploration, to the oil and gas industry challenging Alberta carbon pricing policy, to Ontario and Quebec initiating their own provincially-focused pipeline reviews, to environmental groups resisting the Keystone pipeline to the United States on global climate grounds regardless of Canadian climate action -- all are challenging the traditional deliberations necessary to build and maintain social licence.
These are not one-off incidents. Each shades the social licence debate differently but together, they represent a growing and worrisome political phenomenon in our country with no obvious short-term fix.
The Elsipogtog First Nation in the Miramichi region of New Brunswick has established blockades and protested shale gas exploration over water quality concerns and traditional land claim rights -- taking away social licence.
Eight Canadian and American environmental groups formally trashed a reported letter from Prime Minister Stephen Harper to President Barack Obama ostensibly proposing some undefined "joint action to reduce greenhouse gas emissions in the oil and gas sector" as incompatible with either Canada or the U.S. meeting their climate policy goals let alone a global need to keep carbon in the ground and not burn it -- refusing social licence.
Ontario's "precedent-setting action," as the province labels it, on the Energy East cross-Canada pipeline sets out a "broad engagement process" of dialogue with the public, municipalities, environmentalists and Aboriginal communities -- claiming social licence where it does not currently exist.
Perhaps the most honest social licence declaration came from the Canadian Association of Petroleum Products responding to Alberta policy ruminations on prospective higher carbon intensity levels and carbon charges. "Will higher stringency requirements 'secure' social license and forestall negative policy action elsewhere? Unlikely," wrote a CAPP official in a document for the government -- giving up on social licence.
That oil and gas companies are concerned about new, imposed costs from government policy is expected; that they declare this will be of no avail in mitigating opposition to oil sands development shows how deep the divide has become.
Yet, the seemingly abject surrender of a major industry sector as to any alternative prospect, however frustrating, is cause for neither condemnation nor celebration. Social licence was never meant to be zero-sum or winner-take-all. But this is where we have arrived.
Frankly, there's enough blame to go around for why. Environmentalists equating any fossil fuel development as world-ending; energy companies resisting even modest carbon management schemes to reduce emissions; and governments reducing regulatory oversight while maximizing the political rhetoric surrounding its policies. Add the historically intractable overlay of Aboriginal communities and First Nations participation to the judicially-required "duty to consult," and the prognosis becomes even more difficult.
Social licence has landed between that proverbial rock and hard place. Intense polarization has left very little room in the middle. Worse, it is not hard to realize this actually serves many of the players' purposes. Protest on one issue garners attention for other concerns. Harsh rhetoric entices donations to political parties and environmental groups alike. Delays in development policy mean increased dividends now to shareholders.
An unwillingness to confront the decline of social licence in Canada challenges the very notion of our ability to practice sustainable development in our country.
No one really wins, but there is one clear loser: Canada's environment and economy.
Go ahead. Put that on a placard.
David McLaughlin is Strategic Advisor on Sustainability to the Faculty of Environment, University of Waterloo.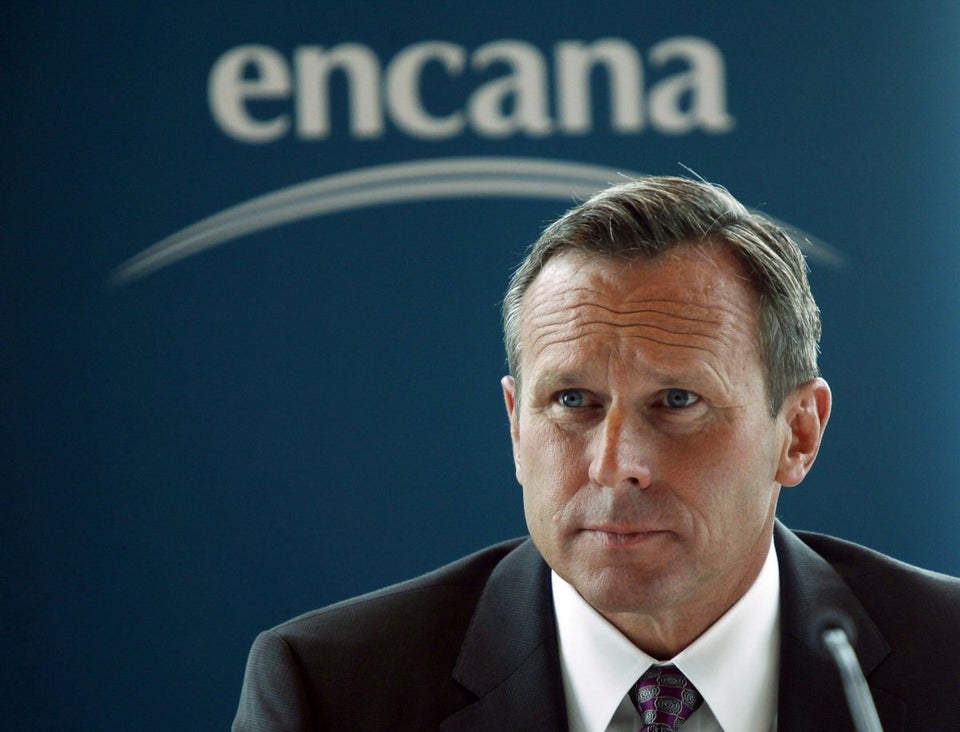 Canada's 10 Most Valuable Energy Brands