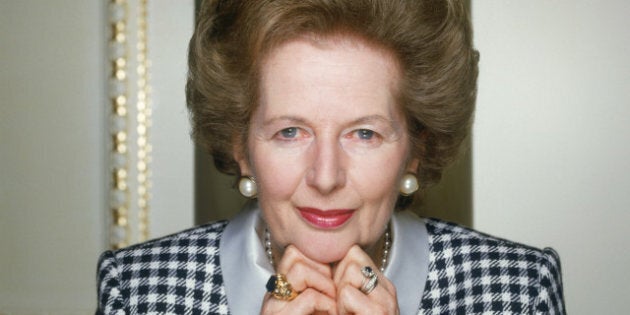 I won't forget where I was when Margaret Thatcher passed from the scene. Not when she died, but when her Conservative Party kicked her out and she retired from active British politics. For that was her political death, an "assassination" she called it. She wasn't wrong; and it played out hour after hour in full public view on British television.
I watched it all because I was there, in Britain. It was November 1990, and I was studying my MBA at the University of Bath. As I was searching for a pop machine between classes, one of my British friends rushed up to tell me the stunning news. Thatcher was resigning. It was over. Good riddance seemed to be the prevailing sentiment among most of my classmates. Because Thatcher dominated, no one was indifferent.
Living in a flat in the World Heritage City of Bath, which coincidentally was the constituency of Environment and Local Government minister Chris Patten, I too had to pay the poll tax he was forced to administer on her behalf. It brought her down and two years later, Patten himself was out as collateral damage. Thatcher was polarizing, but on this issue she had united most of Britain against her.
Canadian conservatives today cast admiring looks back at the career and accomplishments of Margaret Thatcher. Mostly, it wasn't so. Progressive and other Conservatives have had more of an inverse relationship with her brand of politics, at least at the beginning. She might have mixed Canada Dry with her occasional whiskey, but to her, Canadian conservatives were mostly all wet.
While she broke barriers to become the first woman leader of a political party in 1975, Progressive Conservatives deserted Flora MacDonald on the first ballot of the leadership convention just a year later. Pledged some 300 delegate votes, MacDonald earned just over 200, and the "Flora Syndrome" was born. In 1990, that same syndrome caught up to Thatcher as she fell just 2 votes short of beating off a leadership challenge on the first ballot of her caucus. She would "fight on" but the English know their Shakespeare; this queen was mortally wounded.
Much of her tenure overlapped Brian Mulroney's as Canada's prime minister. Consensus politics was an epithet to her with her brand of conviction politics, while it defined Mulroney's efforts at constitutional reform and keeping a restive caucus and Cabinet united. But his personality and persistence won her over even as he admonished her on apartheid in South Africa and the need for tougher Commonwealth sanctions. At the 1988 G7 summit in Toronto, she sparkled in personal support asking him "Did we win?" as Mulroney waited for word on a critical by-election in Quebec that would bring Lucien Bouchard into the House of Commons and kick start a second majority PC government win that fall.
More obvious political comparisons can be made between Thatcher's imposition of a poll tax on every adult in England, Scotland, and Wales in 1990 and Mulroney's new GST which came into force on January 1, 1991. Neither recovered from the decision, but the GST at least became law while the Thatcher poll tax was reversed by her successor, John Major.
Some politicians cast large shadows, even out of office. At the 1992, G7 Summit in Munich, I stood next to prime minister Mulroney as he held an impromptu corridor conversation with Major whose office was down the hall at the opulent Residenz palace. Major had narrowly won re-election just three months before but struggled throughout with Thatcher's proclamation of being a "good back seat driver." The casual conversation between the two leaders on Summit matters quickly turned to politics. As Mulroney shared observations of his own recent political travails, Major listened politely, perking up with a rueful smile saying, "Trade you for one predecessor." My burst of laughter was cut short by a glance from the PM -- Mulroney not Major. Aides are meant to be seen, not heard. Brian Mulroney's shadow would have its own fateful consequences for his successor.
Arguably, Thatcher's conservatism influences Canadian conservatives more today than at the time. The state is being downsized; privatization has occurred; public service entitlements are being rolled back; central bank monetarism is part of the secular state. She was ahead of her time, but Britain was not Canada, then or now. While the mother country's ties still bind, Canadian conservatism is uniquely our own.